New Hilltown restaurant that opened amid the pandemic is 'thriving every day'
Friday, August 14, 2020 - 20:56
HILLTOWNS —   After nearly a year of delays, The Foxenkill Experience opened its doors for the first time last month — right in the middle of a pandemic.   
Born out of the old Foxenkill Tavern in Knox, the Foxenkill Experience is a Renaissance-themed family restaurant run by Berne resident Kelly King and her  fiancée, Joe Plouffe, who purchased the property more than a year ago. 
Had all gone according to plan, the restaurant would have had its grand opening in the fall of 2019. 
Instead, King and Plouffe were delayed by an unexpected remodelling. And delayed again when the necessary remodeling turned out to be more thorough than anticipated. And delayed again, and again, and so on until March, when the coronavirus began its slow havoc on the United States, not the least of which fell upon the restaurant industry. 
"COVID definitely put a damper on things," King told The Enterprise with a laugh. "But the way we saw it was, 'We're going to open it up. We're ready.'"
So King and Plouffe announced their grand opening date of July 24, and in so doing, felt the warm response of a community that had been following the couple's progress on social media for the past year, eagerly awaiting the day they could finally sit down and eat. 
"When we posted our pictures on Facebook of our grand opening and our ladies," King said, "we had 14,000 hits, so we looked at it like, 'OK, the community is ready for us to open.' They've been watching us for a year and everyone who's come in has wanted us open and they're glad that we're here."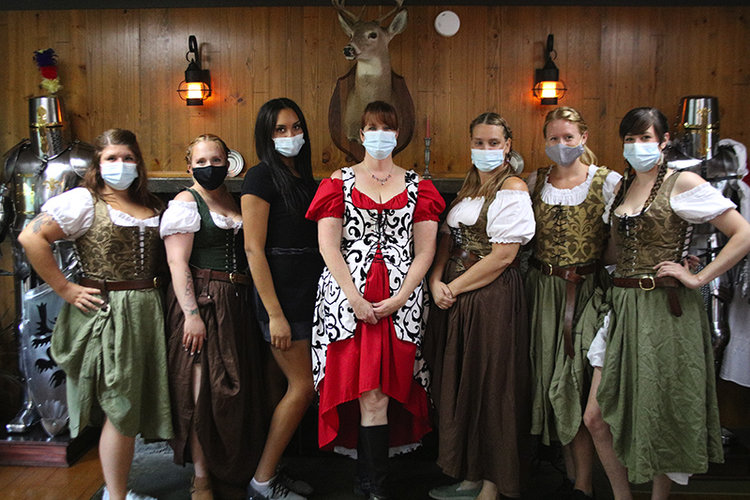 The Enterprise — Michael Koff
The "wenches" of the Foxenkill Experience stand around owner and "lady of the inn," Kelly King, seen in red. From left, they are Samantha Cook, Sarah Bareis, Alexis Williams, King, Amy Williams, Allyssa Smith, Lauran Mulé.
---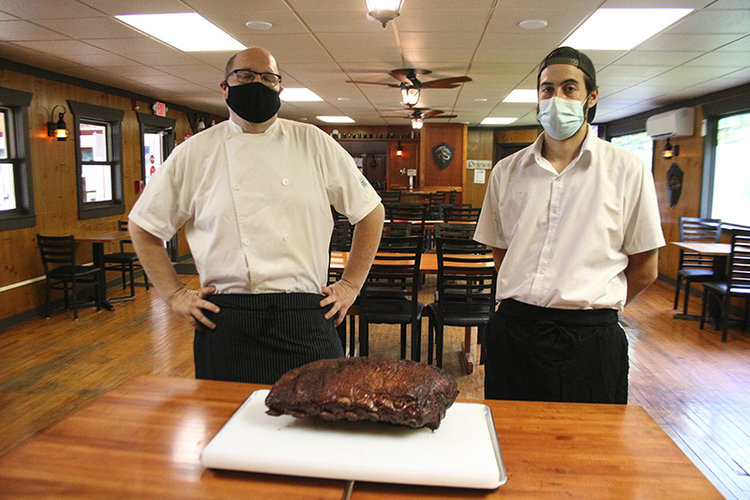 The Enterprise — Michael Koff
Executive chef Andrew Hurd, left, and cook Tim Orth "lord" over a piece of meat inside the Foxenkill Experience — a Renaissance-themed steak-and-seafood restaurant.
---
About to begin its third week of service, King said that the restaurant is "thriving every day." 
King noted that much of her staff, a crew of 12, was hired before the pandemic delayed the restaurant's operation indefinitely, but each remained available so that they could hit the ground running when the restaurant finally opened.
"They saw Joe and mine's vision and they stuck it out," King said.
Beyond its stubborn genesis, the Foxenkill Experience is noteworthy for a couple of reasons. The first being that it's one of precious few restaurants in a community that is constantly seeking ways to encourage local business and cultural development (and the only of those restaurants that doesn't serve pizza and/or hamburgers, King pointed out). 
The second is the depth of the restaurant's Renaissance theme, which doesn't stop at suits of armor in the dining room, but permeates the restaurant's menu and verbiage. 
For instance, guests are accommodated by wait staff called "wenches" dressed up in era-appropriate garb designed by a Renaissance-oriented dressmaker. And these "wenches" will refer to their guests as "my lord" and "my lady," or "my prince/princess" in the case of children. King, who greets patrons at the door, introduces herself as "the lady of the inn."  
"[Joe and I] really like the Renaissance period because it can be a lot of fun," King said. "You can almost recreate yourself into anything of that period. It's not just bar wenches, it's Gypsies, it's pirates, it's English Tudors and French court."
King acknowledged that, as a steak-and-seafood restaurant, there's some deviation from the theme, but that many of the first menu items were inspired by her and Plouffe's own experience at Renaissance fairs, where smoked and rotisserie meats are plentiful. 
The menu — which includes the fairgoer-famous turkey leg, but incorporates Americana classics like pulled pork, in addition to steak and seafood options — is designed by Andrew Hurd, "an incredible chef of 30-some years," King said. Hurd was referred to the couple by a client of Plouffe's other full-time business, Cornerstone Heating and Cooling.
When able, the restaurant sources its produce locally, with King acknowledging donations from a community garden in Guilderland and a casual consumer relationship with Barber's Farm, of Middleburgh. Baked goods are ordered wholesale until King can set up an in-house operation, she said. 
What may also be notable about the restaurant is its decision to not include a full bar, despite taking over a tavern property.
"It's a restaurant, not a bar," King said. "We keep saying that over and over because we want people to understand that … We feel that we have enough bars in this area. If someone comes in and says they're here for a quick drink, I'll refer them to the Maple [on the Lake], or down into Schoharie, because I know they'll serve anything and everything those people want. But we wanted to start a family restaurant, and that's what we did."
Because of government regulations around the pandemic, the restaurant currently seats 45 people indoors, with more seating on the restaurant's front patio and out in the back lot where guests can settle beside the lazy babble of the Fox Creek, in which King encourages guests to take a dip, should they so desire. 
"When we first purchased the property," King said, "[the back lot] was pretty much covered in weeds … We had an excavator come in and he pretty much leveled it out for us the first year." 
In addition to outdoor seating — which proved extremely valuable for a restaurant attempting to secure its footing while indoor space poses a threat to some would-be patrons — the renovated lot will provide room for outdoor activities like ax-throwing and archery when regulations around gathering loosen up, King said, hoping to establish something before winter. 
"It's very serene," King said. "It's quite the unique setting we've got going on."