Peaceful, homegrown Black Lives Matter rally draws 140 to Berne
Monday, August 10, 2020 - 14:34
The Enterprise — Melissa Hale-Spencer
Lee Thomas inspired the Black Lives Matter rally, hosted by their grandmother, artist Laurie Searl. Here, Thomas staffs a table offering hand sanitizer and masks as well as buttons designed by Thomas and Sadie Plant, also 14 and a Berne-Knox-Westerlo student like Thomas.
BERNE — The pavilion at the Berne town park was pin-drop quiet as more than 110 people listened on Sunday afternoon to CiCi Ferrara describe with excruciating honesty what it was like to be the only African-American student in her class at rural Berne-Knox-Westerlo.
"I knew others saw my brown skin and thought I did not belong," she said.
She described a grade-school scene in the cafeteria where a schoolmate said, "Oh, look, you're made of chocolate." Ferrara went on, "He then tried to bite me."
She ran away as her classmates laughed.
In middle school, she remembered being told "You sound white" or "You're the whitest Black person I know" — comments she internalized despite her parents' having her read books about Harriet Tubman, Martin Luther King Jr., Rosa Parks, and Frederick Douglass.
One day on the school bus, as kids in the back were acting unruly, a girl stepped into the aisle next to Ferrara and said, "You guys need to stop it … You're acting like a bunch of N-word."  The girl's eyes met Ferrara's.
"I did not say anything," Ferrara reported.
She dried her hair with a flat iron and practiced diction. Instead of growing, she said "I was stunting myself."
"Black lives matter — that is the truth," said Ferrara. To get to "all lives matter," she said, we need to see that black lives matter.
Laughing at a boy trying to take a bite of her brown flesh, said Ferrara, only leads to escalating incidents.
"And I know we can do better," Ferrara said to loud applause.
Sunday's Black Lives Matter rally was organized by Laurie Searl, who was inspired by her 14-year-old grandchild, Lee Thomas.
"I'm amazed," Searl told The Enterprise of the turnout. "It's so nice to see all these people. I don't know 90 percent of them."
Lee had persuaded Searl to go to a Black Lives Matter march in Rensselaerville and afterwards said, "Let's go to another." Searl told the crowd, with a touch of irony, that she'd thought it would be easier to have one in Berne.
"This is not an anti-police protest … The problem is racism," said Searl at the microphone. "Everything needs to reform … None of our institutions are perfect." Racism, she said, has been with our country since its founding. "It's time for it to end," said Searl.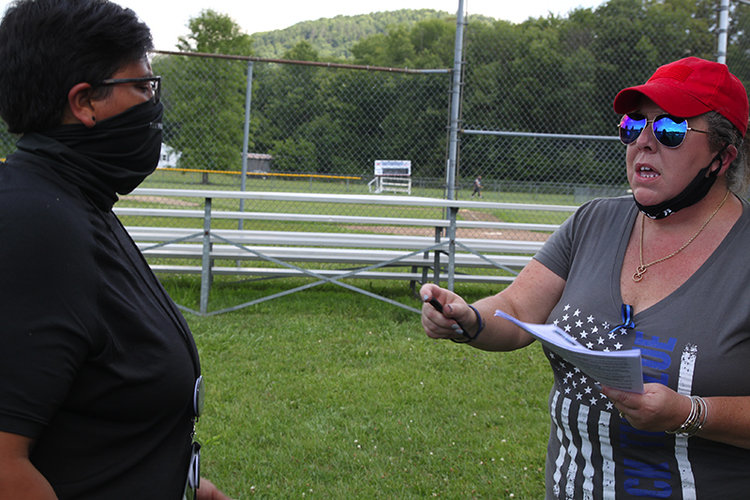 The Enterprise — Melissa Hale-Spencer
Lisa DeGroff, handing out flyers that claim Black Lives Matter is a terrorist group, has a heated conversation with Julia Hammond, a strong supporter of the BLM movement. DeGroff, at right, chairs Westerlo's Republican committee. Hammond is the niece of Knox's long-time Democratic supervisor, Michael Hammond.
---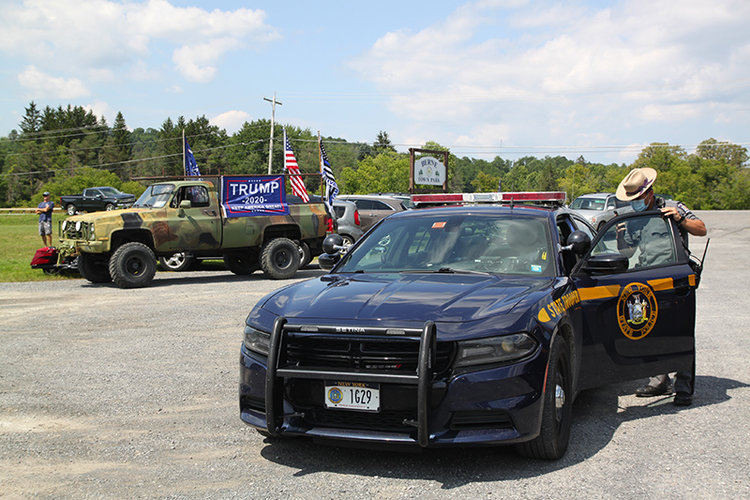 The Enterprise — Melissa Hale-Spencer
Two State Police patrol cars arrived soon after the start of Sunday's peaceful Black Lives Matter rally in the Berne Town Park. Trooper R.E. Paluso told The Enterprise, "We're just trying to keep the peace."
---
"A biker family"
Outside the pavilion on the edge of the parking lot, two dozen counter-protesters stood near their 13 motorcycles and a pick-up truck, painted in camouflage and displaying three flags: a Trump 2020 banner, an American flag, and a blue-line flag honoring police.
"I'm here to make sure nothing gets desecrated in our town," said one of the counter-protesters who declined to give his name but said he lived in Rensselaerville.
Ken and Kelly Gonyea of Berne had ridden together on their motorcycle. "These organizations are burning down towns," said Mr. Gonyea, referencing BLM and Antifa. "I'm sure you've seen it on TV. They're people getting attention by creating a racial divide."
Mr. Gonyea said he owns properties in town but none of them have been damaged yet.
He said he was not racist. "I have seven black people that work for me … You say 'all lives matter' and suddenly, you're a racist."
Another one of the counter-protesters chimed in, "There's not a single person here that would say Black lives don't matter."
"You're an American; you're not Black or white," Mr. Gonyea went on.
The Gonyeas were at a recent BLM march in Greenville after which Greene County Sheriff Peter Kusminskya told The Enterprise "a motorcycle came into contact with one of the protestors in a parking lot … There were no injuries or damage and the investigation is closed."
"When we were in Greenville, they were threatening the vets," said Mr. Gonyea.
Mrs. Gonyea said the counter-protesters were described unfairly in the press and on social media.
"We're a biker family," she said. "We like riding bikes and being free."
Soon after the rally, the Facebook page "The Happenings in the town of Berne, NY" posted a picture of the counter-protesters and wrote, "There was a concern that the BLM-Antifa rally at the Berne Town Park might go loot the Veterans Memorial and more. A few residents checked in to make sure all was safe and sound."
The memorial, a reproduction of a World War II honor roll, built as an Eagle Scout project, has been in disrepair for years and there is currently a movement afoot to either restore it or create a new, more permanent memorial.
The audience in the park pavilion seemed largely unaware of the counter-protesters. There was one brief incident, in the midst of the first speech, with a flag-carrying counter-protester at a table, staffed largely by teenagers where rally-goers could sign in and pick out free buttons.
Two State Police patrol cars, stationed nearby, arrived on the scene instantly. Asked about his role, on arriving at the rally, Trooper R.E. Paluso told The Enterprise, "We're just trying to keep the peace."
"You guys stay here. You stay over there," Paluso said to a small cluster of rally-goers and counter-protesters not far from the sign-in table.
Paluso approached two women, Lisa DeGroff and Julia Hammond, embroiled in a heated conversation. They assured Paluso they were fine and having a civilized conversation.
DeGroff, who chairs Westerlo's GOP committee, was handing out flyers claiming that Susan Rosenberg, "a domestic terrorist," runs Black Lives Matter. The flyer included quotes from Rudy Giuliani claiming Black Lives Matter will be proven to be a terrorist organization and from Bernard Kerik, a retired commissioner of the New York Police Department, claiming funding for Black Lives Matter is run by a terrorist.
Julia Hammond, who grew up in Knox, the niece of the town's long-time Democratic supervisor, Michael Hammond, is a staunch supporter of Black Lives Matter.
Nearby, Fred Thumhart Jr., who would give his residence only as Albany County, held a large American flag. "I'm totally against prejudice," he said. "BLM is tearing the nation apart."
The movement began in 2013 with the hashtag #BlackLivesMatter on social media after George Zimmerman, a white man, was acquitted in the shooting death of a 17-year-old unarmed Black teenager, Trayvon Martin.
BLM is a decentralized, grassroots movement, with no formal hierarchy. Black civil rights activist DeRay McKesson has said the movement "encompasses all who publicly declare that Black lives matter and devote their time and energy accordingly."
Searl had told The Enterprise earlier, "I have not asked anyone from the official Black Lives Matter Movement to speak at our event because I was concerned that some people in town, some counter-protesters, would perceive that as 'outside agitators' and it would incite them to demonstrate against us … This is really meant to be a community event; we expect there will be other young people there, in addition to my grandchildren. So obviously we do not want to incur the wrath of the community."
Most of the counter-protesters made their exit, with a roar of engines, at about 3 p.m. in the midst of a speech by the president of the League of Women Voters of Albany County.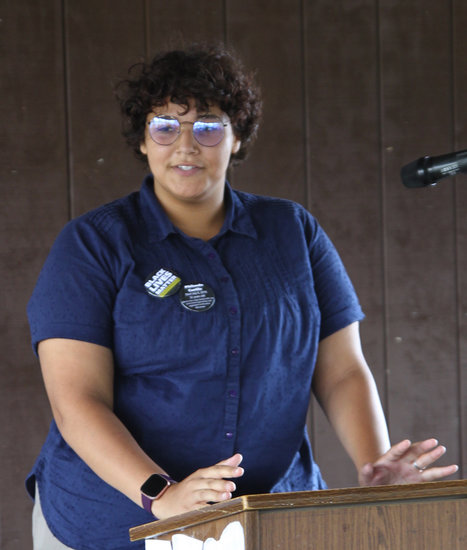 The Enterprise — Melissa Hale-Spencer
"Black lives matter — that is the truth," said CiCi Ferrara, speaking in Berne on Sunday.
---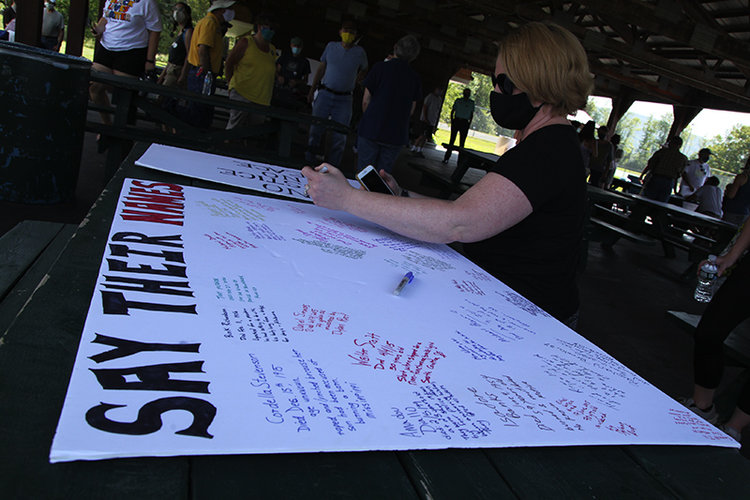 The Enterprise — Melissa Hale-Spencer
Say Their Names: Participants at Berne's Black Lives Matter rally wrote, on a giant board that will be displayed in town, the names and stories of Black lives lost.
---
Calls for justice
The crowd in the pavilion was varied and vibrant — overwhelmingly white but of different ages, many local but some from off the Hill.
Kenneth Zeoli, a 25-year-old white man from Troy, said he had been to multiple protests in the last 75 days with a goal to "end systemic racism." A tattoo on his arm said, "My Dark Passages," and he proudly explained, "I'm 11 months in recovery."
Grace Nichols, newly moved to Berne, said she had two multi-racial children, half Mexican and half Asian.
"It's very important we're one human family," she said, "but people of color have not been treated like equal members of our family."
Mary Alexander of Schenectady said she had met Cici Ferrara when they were both members of a re-enacting group of living history. "She's a very nice young lady," said Alexander, so when she saw, on Facebook, that Ferrara was speaking, she decided to come.
Jim Lemire, who chairs BKW's social studies department, was the opening speaker. He gave a heartfelt account of the ways, over his lifetime, he had learned about prejudice.
The seventh of eight kids, he had been born on a military base in Germany.  When he arrived in Latham for kindergarten, a classmate said, "Get out of here, you Kraut." The same kid next called him a Nazi.
"I'd been judged for something absolutely beyond my control," said Lemire, which made him aware of prejudice since age 5.
"As a ninth-grader, I finally found my voice," he said after a friend "grabbed a girl on her butt."
He continued as an "evolving person" when he became aware in college of homophobic predjudice.
Just a few years ago, Lemire said he was "tone deaf" when he said "all lives matter." He's come to realize, in a country where white lives have never not mattered, other lives besides your own matter.
Lemire ended, to warm applause, with a call for justice and equality.
The president of the League of Women voters of Albany County, Patricia Sibilia, urged residents to fill out census surveys. "The census rolls right into redistricting," she said, calling for "kitchen-table maps" so that people can participate.
She also said she had a rural upbringing with just one Black person and two Jews in her school.
"I knew nothing of institutional racism … My eyes started to open," she said, as a woman working on Wall Street who was paid less than her male counterparts. "I was angry," she said.
The final speaker was Bob Hoffman, pastor of the Reformed Church in Berne. He reflected "on a culture that is ours and we might not know it."
He recently worked with nine Boy Scouts on a citizenship project, and five of the nine Scouts chose to focus on George Floyd's death. "None had a grasp on what that meant for them," said Hoffman, their attitude being, "We don't have that problem here."
Responding to Lemire's question of where to go from here, Hoffman suggested going backward in order to move forward in correcting injustices.
He said that, 175 years ago, during the Anti-Rent Wars, the community worked together to correct an injustice.
"What happens in a distant place does affect us," said Hoffman.
The pastor quoted the Old Testament prophet Micah: "People, do justice; love kindness …." He also advised, "Walk in humility."
Hoffman, speaking without notes, quoted, too, the preamble of the United States Constitution: "We, the people of the United States, in order to form a more perfect union, establish justice, insure domestic tranquility, provide for the common defence, promote the general welfare, and secure the blessings of liberty to ourselves and our posterity, do ordain and establish this Constitution for the United States of America."
Hoffman concluded, "We have to do something or we end up having nothing … Do justice to all … Walk humbly with one another and everyone."