The 2018 Altamont Fair: Monster trucks and ax-throwing women
Thursday, August 9, 2018 - 13:13
ALTAMONT – If you're not under 36 inches tall, you may want to buy your tickets to the Altamont Fair before Friday, Aug. 10 because the price goes up the next day.
Admission fees — which cover parking as well as midway rides and games, seven museums, and a wide variety of exhibits — are up from last year because of state and federal forces, according to Altamont Fair Manager Amy Anderson.
New York State's minimum wage for the area is $11.10 per hour; last year, it was $10.40; and in 2016, it was $9.70 per hour. Each year, according to Anderson, the fair employs between 200 and 300 people.
Some fairs in the area are increasing ticket prices incrementally for the next few years, Anderson said, "We decided to do one hit; rip the Band-Aid off." She added that last year, although other local fairs had raised their prices, The Altamont Fair didn't increase ticket prices and it hurt.
The steel tariffs imposed by President Donald Trump have also increased costs, Anderson said, because the fair is covering some of its older buildings in metal to preserve and protect them.
Tickets may be purchased online or at the fairground for $15 until Friday, Aug. 10. On Saturday, Aug. 11, prices increase. Admission on Tuesday, Aug. 14, and Wednesday, Aug. 15, will be $17; for the rest of the week, tickets will cost $19.
New attractions
The fair, which runs this year from Tuesday, Aug. 14, to Sunday, Aug. 19, is celebrating its 125th anniversary and also has some new attractions.
New this year, and for one night only, Tuesday, Aug. 14, will be a monster-truck event. (See related story.)
"People, for years and years," Anderson said, "have been asking for more motorsports."
The fair used to have big motorsport events, but a fight broke out during the demolition derby and with only one security person at the event, "it did not go well," Anderson said. "It's been a long time since the fair has hosted something like that, but there have been dirtbikes and other motorsports — but nothing major."
The monster trucks — one truck, "Overkill Evolution," and one school bus, "Higher Education" — do jumps and drive over cars, crushing them in the process.
There was talk, Anderson said, about whether there is enough space for a big motorsport event anymore because the grandstand was moved to expand the midway, but a company came to the fairgrounds and said there was enough room for monster trucks. "So, we'll try it out this year and see how it goes," she said.
While Anderson didn't know if monster trucks had increased attendance at other fairs, she said that demolition derbies do. In Cobleskill, at the Schoharie County Sunshine Fair, she said, a demolition derby increased attendance on the grandstand but nowhere else on the fairgrounds. "The people came for the derby and then left," she said. Demolition derbys are a draw, Anderson said, but she wants people to come and spend the day at the fair.
After the monster trucks are finished on Tuesday night, the area is cleared so that on Wednesday morning the Axe Women of Maine can set up their giant pool. (See related story.)
The Axe Women are female lumberjacks who will compete in a series of timbersports, Anderson said, like logrolling and ax-throwing. They will be performing two or three times a day until the fair closes on Sunday.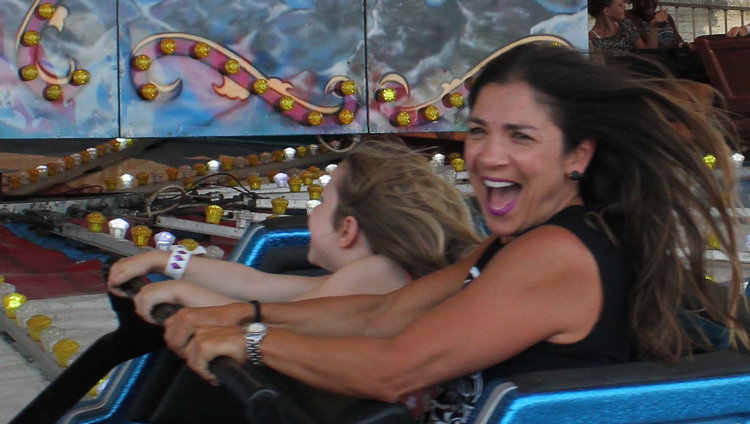 Enterprise file photo — H. Rose Schneider
A ride on the wild side: Dreamland Amusements will provide rides and games on the Altamont Fair's midway again this August.
---
Rain or shine
Anderson estimated that between 75,000 and 90,000 people attended the fair last year. Friday had been rained out, she said, but Wednesday and Thursday set attendance records.
If the weather is bad, Anderson said, "Don't not come; we've got all the museums, and we've put a scavenger hunt throughout the fairgrounds." Attendees can go from building to building and be inside, she said, and still have activities to do with their kids.
"I've been to Disney on rainy days, and I prefer it because it keeps the crowd down," she said. "I think, people don't think in those terms. All they think is, 'Oh my gosh, we are going to get soaking wet' — not if you prepare."
There is so much to do outside of the midway, Anderson said, but added that some rides do remain open in the rain, if it's safe to do so.
Visiting the fair's museums is a great rainy-day activity, she said.
Some of the museums have been the same since Anderson was a child, she said. "They were developed in the '70s, and never changed."
Anderson and her team have been working on that.
One goal she had was to make the museums more kid-friendly and interactive — while still teaching.
On a recent school field trip to the fairgrounds, Anderson said, "The kids were engaged and receptive to the knowledge." Highlighting an interaction with an old-fashioned typewriter, Anderson said, the students were in disbelief when they were told that it was the precursor to the computer.
Anderson said that Cindy Pollard has been spending countless hours going through her "personal stash of treasures" to help make the new military museum "spectacular." Part of the exhibit will focus on the homefront, and what families were doing during the war.
"Armed Services Day is huge," Anderson said. This year, the hours of admission have been extended. On Wednesday, Aug. 15, until 6 p.m., all active military personnel and veterans get into the fair for free, "and that includes wristbands so they can go on the Ferris wheel and merry-go-round."
Jim Gardner, publisher emeritus of The Altamont Enterprise who owns and runs Enterprise Printing and Photo with his wife and son, will be operating a printing press, Anderson said. Last year, she said, he and his son, Jimmy Gardner, printed cards that read, "Altamont Fair."
This year, Tuesday through Friday, the Altamont Postal Service will operate out of the fairgrounds antique post office, she said; kids will be able to send postcards to their grandparents from there.