Class of 2020: Courage and caring in the midst of a pandemic
Thursday, July 2, 2020 - 16:40
ALBANY COUNTY — Senior proms. High-school musicals. Spring sports. These are just a few of the things that the Class of 2020 missed out on in the last few months, since school shut down in mid-March and then moved to virtual learning in response to the novel coronavirus.
The Enterprise spoke recently with three seniors, one from each high school in our area — Berne-Knox-Westerlo, Guilderland, and Voorheesville. Each of them looked back at what had changed as a result of the pandemic, and spoke about their plans, tentative of course, for the fall.
Erin Young
Clayton A. Bouton High School
Erin Young of Voorheesville loves writing and is finishing the third book in a trilogy.
Her favorite genre is young-adult fantasy, and the series of books she is writing features a group of 12 people chosen by the gods to protect the kingdom from dark creatures called The Void.
When Erin reads, she likes physical books, she said, that she can buy and keep. "I'm a very emotional person," she explained, "so I get really excited, really sad, especially while reading, so I dog-ear pages that make me feel strong emotion, and then go through them at the end, like a best-moments reel.'"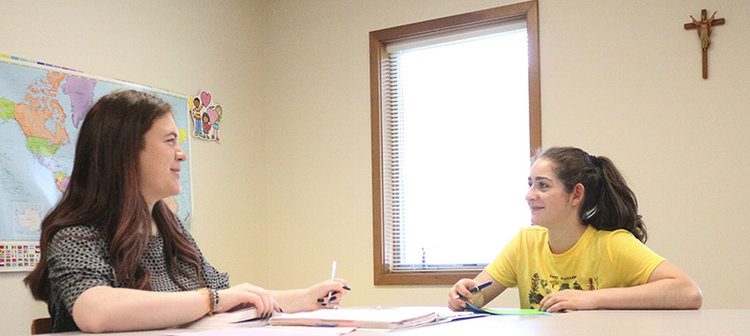 The Enterprise — Michael Koff
Erin Young, a new graduate of Clayton A. Bouton High School in Voorheesville, misses being able to volunteer at her church, St. Matthew's. The pandemic has stopped her from acting as a peer mentor to younger kids, like Maeve Owens, at right, who are studying for their confirmation.
---
The pace of her writing has been slowed down during the pandemic because, in April, she got a job she had applied for two months earlier, at The Atria in Guilderland. She doesn't work directly with patients, but is a member of the wait staff.
She travels the hallways with a meal cart or drink cart and with a wellness nurse. The nurse is the only one allowed to enter the rooms.
She is tested for the novel coronavirus every six days. Despite the frequent testing, she doesn't go anywhere else in the community, just in case. "I know that there is the possibility that even though I tested negative, I might not have symptoms, and I don't want to risk anyone else."
She worked at least 20 hours a week initially, during her training, although that is now down to 12. It was hard on her schoolwork and on her. "I started to fall back on my assignments, and turn things in late," she said. "I let my teachers know what was going on."
Her passion for reading and writing also decreased a bit over the last few months, she said. "I don't feel like I can relax." The last book in her trilogy is on hold for now, but she did write, in an independent English class, a "spinoff novella from the series."
She misses the volunteer work she did prior to the pandemic, at St. Matthew's Church in Voorheesville. Her family is Catholic, and has attended St. Matthew's all of her life. Her mother works part-time at the church, coordinating the confirmation program, and Erin works as a peer mentor for young people going studying for their confirmation.
Christopher DeGiovine, pastor at St. Matthew's, told The Enterprise that Erin won the church's Men's Association scholarship this year. "The scholarship is granted," he said, "to the student who has not only excelled academically in school but had also shared her or his talents by serving the wider community. Erin has always been one of these special people who sees what needs to be done and had the ability and the courage to do it."
Erin hopes for a career in law enforcement. She has her eye set on the Federal Bureau of Investigation.
She will start at LeMoyne College in Syracuse in the fall, for criminology. She will also be a member of the college's honors program.
If she can, she wants to also do a second major, or a minor, in either English or creative writing. She plans to write soon to a student who attends the college in criminology, who is also in the honors program, to inquire about the course load.
For her, there's a natural connection between crime and books. It was a series of young-adult novels that got her interested in law enforcement.
Reading "The Naturals," by Jennifer Lynn Barnes, she said, first "kickstarted my love for this, for trying to figure out people before they commit the crimes." Barnes's series focuses on a group of extraordinary teenagers recruited by the FBI to help solve cold cases.
She wants to do what "The Naturals" do.
Stopping killers or other criminals by getting inside their heads and figuring out what makes them tick would be, she said, "first of all, thrilling to me, and I would like to be a help in that sense."
Laila Jerome
Guilderland
The strangest thing for Laila Jerome these past few months has been having nothing to do each day except sleeping and homework.
She described the last few months as "kind of boring." Usually the end of senior year, she said, would be "packed with friends, sports, and school events."
Laila Jerome has run varsity track at Guilderland for five years, since she was in the eighth grade. But, like her other senior teammates, she missed out on her final outdoor track season.
"Athletes like Laila put so much time and effort into preparing for the season, and to have it taken away from them was heartbreaking," Coach Chris Scanlan said of the spring 2020 outdoor track season.
"It was definitely hard," Laila said, "because we had made so many plans for the outdoor season, from breaking the outdoor track school record, to going to nationals, and I was really sad at first."
Now that she has had time to process it, she said, she feels much better. "My indoor season wasn't perfect, but it was the funnest and best I've ever done," she reflected. In her last race, at the state meet, she set a personal record for her individual 400-meter time. "I mean, having my final meet be at the state meet, my first time ever going there, is an amazing way to end it. And I also got to end it with my favorite relay team."
In a short video posted to Twitter, honoring Jerome, Scanlan called Laila "one of the funniest athletes that I have ever coached." The coaches decided this year to post videos about their senior runners, since they wouldn't be able to honor them at the traditional spring track banquet.
Scanlan told The Enterprise about the first — and last — time she tried running the 400-meter hurdles. She hit a hurdle and fell hard to the ground, not once, but twice. At the end of the race, Scanlan and her teammates went over to ask if she was OK.
Laila, who was all scraped up, looked up with a smile and said, "Yeah, that was fun, I can't wait to try that again."
She was being sarcastic, the coach said, but her tone was "matter-of-fact, as if she had just run a smooth race with no complications." Everyone broke up laughing, he said; it was another example of Laila using humor to make a stressful situation light.
This spring, Scanlan said, he thought Laila, who had been running the fastest times of her high-school career in the 200-, 300-, and 400- meter races, might have made the state championships. He was sure, he said, she and her teammates would have broken the school record in the 4 x 400 that has stood for 22 years.
The team did break the indoor-track school records for both the 4 x 400-meter relay as well as the 4 x 200, Laila said. Of breaking the 4 x 400 she said, "It was such a team effort, and we were so happy when we did that."
Scanlan said that the team also went to the state meet this year and broke the school record there, running a time that put the team on the all-time list for Section 2.
It's not just sports, Laila said. Academics continued through COVID-19, but weren't as dynamic. "You miss being in the classroom. It's not the same, over some grainy video."
In Google video meetings, for instance, she explained, the microphones on students' computers will be muted while the teacher talks, to avoid echo and feedback. "So we'll be asking questions, and there's a delayed response." In-person class discussions also create a momentum, a spark, she said, partly because more than one person can talk excitedly at the same time; that just doesn't happen online.
Co-class adviser Brenna Autrey called Laila, who has been a co-class secretary throughout high school, a "quiet leader."
For Laila, college will be a time to learn more about what direction she might like her life to take.
She is hoping that the State University of New York at Buffalo, where she plans to study business administration in the fall, will be able to hold in-person classes.  
The college track team is not in her future. She wants to be sure to have enough time to devote to schoolwork.
But she will keep on running. "I'm actually going on a run later today with my friend," she said, "and I plan to stay active in college too."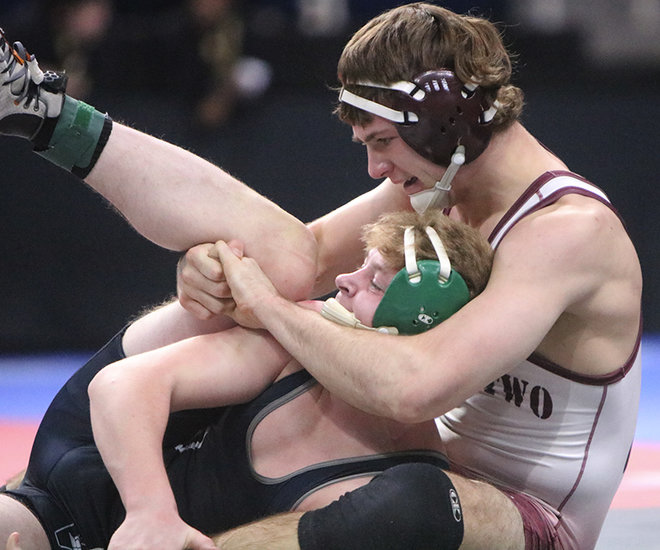 Enterprise file photo — Michael Koff
Tyler Goodemote of Berne-Knox-Westerlo, right, competed at this year's state championship as a wild card. Here he defeats Tyler Trombley from Northern Adirondack in the preliminary round.
---
Tyler Goodemote
BKW
Tyler Goodemote thought he had plenty of time to retake the Scholastic Aptitude Test, to raise his score. He needed a higher score, to be accepted to his first-choice school, the State University of New York College at Oneonta. It's one of the best schools in the country for early education teacher training, he said, and he hoped to join the wrestling team there.
Then the pandemic hit, and the SAT was no longer being offered.
Tyler, who graduated with a Regents diploma and with three college credits in English, has an Individualized Education Program. He took the SAT twice over the past year-and-a-half and scored too low to be accepted to Oneonta both times. He had been planning to start working with a tutor to prepare for a third try. He is not, he said, "very good at taking tests." He has accommodations that include taking the test in a separate room and being assigned someone to read the questions to him. He becomes overwhelmed by the test's significance to his future, he said.
Tyler wants to major in early childhood education, he says, because children gravitate toward him and feel comfortable around him. He also wants to become a wrestling coach, so he can pass on his own talents and experience.
It was hard the past few months, he said, being on social media and seeing all of his friends committed to various colleges, "and then here's me, not committed because of a test score."
Tyler describes himself as a "very caring, self-working student athlete, trying my best in all my academics and athletics, very committed to getting my grades up, keeping up with spirits, and spending off time with my friends and family."
He really liked school and earned a grade-point average of 85, he said, "even with being a three-sport athlete." 
Tyler's main sport is wrestling, and his accomplishments there are far too many to list. They include school record-holder for career wins at 125 and for career pins at 87, the Western Athletic Conference's Most Valuable Player in 2020, and WAC All-Star in 2017, 2018, 2019, and 2020.
He was the only athlete from BKW to wrestle in this year's state competition, when he was selected by the state as one of just two wild cards in his weight class. 
With wrestling, he said, he likes the importance of self-control in the sport, in terms of maintaining optimal body weight and condition. He also said he loves the sport for the sense of connection it gives him with other wrestlers. "Your teammates are your brothers and sisters," he said, noting that wrestling is also for girls.
This camaraderie extends also to competitors. "You have each other's back," he said, "with all the wrestlers around the Capital District."
His other two sports are soccer and baseball, where he also was a standout, including WAC Goalie of the Year two years in a row, in his junior and senior years. He noted that baseball is the first sport he ever played, in Little League, and called it "the one taken away from me by COVID," referring to the spring 2020 season.
The coronavirus has made this a lonely time, he said. "I miss everyone, all my friends. Pretty much everyone in my grade I miss, including my teachers. Pretty much all my teachers, I loved them, and they loved me back. Not really having an official goodbye, that really hurt me a lot," he said.
Principal Mark Pitterson told The Enterprise Tyler has a very strong work ethic. He said, "Once he knows what he has to do, he devotes himself entirely to the task." He added, "He usually gets very emotional if he falls short of his goal, but he quickly bounces back and sets his mind on what comes next."
As an example, Pitterson recalled a soccer game during the 2018-19 season. Tyler played goalie, as usual, and the team lost in overtime when Tyler conceded a goal. Tyler became visibly upset, the principal said.
Later that same evening, however, Pitterson saw Tyler in the stands at a varsity basketball game, cheering louder than anyone else. "It was great to see that he was able to not allow one adversity to define him or ruin his day," Pitterson said, adding that he admired Tyler even more as an athlete that day.
The principal called Tyler "perhaps one of the most loved students at BKW Secondary" and "a very funny guy who likes to make others laugh."
The district's superintendent, Timothy Mundell, told The Enterprise that Tyler has had poise in the face of adversity and demonstrates compassion for those around him.
Tyler told The Enterprise he didn't mind doing his classwork online the last few months. His teachers allowed more time to complete assignments than before the pandemic.
What he did miss, though, were the in-class discussions. "Like in class, a kid will ask a question, and then it intrigues me, and I'll want to know as well. You can't get that with online."
Tyler has adjusted his thinking about the future now to embrace his own Plan B, with hopes of still shifting back to his original plan. He will attend Hudson Valley Community College for a year, studying to be a dental assistant.
There are many dentists in his family, he said, and he likes the atmosphere of those offices and can imagine himself there, helping patients to feel more comfortable in their visits. He hopes to take general courses at HVCC that he can then transfer to Oneonta's education program in the fall of 2021.
He worries about the year off and whether he will be able to make Oneonta's wrestling team a year from now. He plans to try out for HVCC's soccer team, to keep fit, and will join a wrestling club in Troy, to try to maintain his skills over the next year.
His mother has told him all his life, Tyler said, to make every loss a learning opportunity, and he takes those words to heart.
The pandemic won't stop him from pursuing what he wants to be, Tyler said. "It will just drive me to be even better than before," he said.      
He takes a long view, for a young man.
"I want to have a great future, and have fun when I retire," he concluded. "And what I do every day is push myself to make sure I'm on the right track."