VCSD transportation super and clerk cross bridge together into retirement
Sunday, June 30, 2019 - 19:40
VOORHEESVILLE — Mike Goyer hadn't given much thought to retirement.
He had, he said, thought that he would work for at least a few more years as the director of facilities and transportation of the Voorheesville Central School District. But, it would appear, Priscilla Clarke, the district's transportation clerk, is a very persuasive woman.
"Priscilla asked me what my thoughts were for possible retirement," Goyer said. "Priscilla said to me, 'If you decide to go this year, I will stay with you.' And I was like, 'OK, we go together.' I didn't want to work with anybody else."
And so, after 23 years of working together, after 88 school-bus drivers had ushered thousands of students 7.5 million miles without a serious injury or accident, Goyer and Clarke decided, together, to retire. 
On the last day of classes, Wednesday, June 26, teachers, students, parents, administrators, bus drivers, friends, and family gathered at Voorheesville Elementary School to say goodbye and thank-you to the entire administrative staff of the district's transportation department. And one of the two bridges that spans the Vly Creek to connect the school parking lot to the bus garage and elementary school was christened Goyer's Bridge.
Goyer and Clarke have worked together since 1996 when he came to Voorheesville after 13 years in the Wynantskill School District; Clarke had worked in the district for two years prior to Goyer's arrival. 
"Great; the best," Clarke said of Goyer as a boss. 
"I'm only as good as she let me be," he said in turn. "She was everything to me in the office."
Goyer said that, for 23 years, there was only one job the transportation department had: "To be perfect … We've done that. We work with a bunch of caring, dedicated, safety-minded individuals, and I can't thank them enough,"
It was the staff, Goyer said, that was his favorite memory when asked about his time in Voorheesville. "We worked with so many great individuals — I can't say they weren't here for the money — but they were here because they cared," he said. 
But, Goyer said, that was also the most difficult part of the job: Finding bus drivers; it's been a nationwide problem. Voorheesville hasn't had a full roster of drivers since 2011, and, to make up for the shortfall, Goyer would hop behind the wheel. This school year, Clarke said, Goyer had his own permanent bus route.
The other difficult thing about his job, and one he'd been working on since he arrived in 1996, had been trying to get a new bus garage built. "Financing," Goyer responded when asked why a new garage hadn't been built; it would have meant placing an additional financial burden on the taxpayer. 
"To be honest, I hope someday they do [build a new bus garage]; I just hope it's not the Mike Goyer Memorial Garage," he quipped.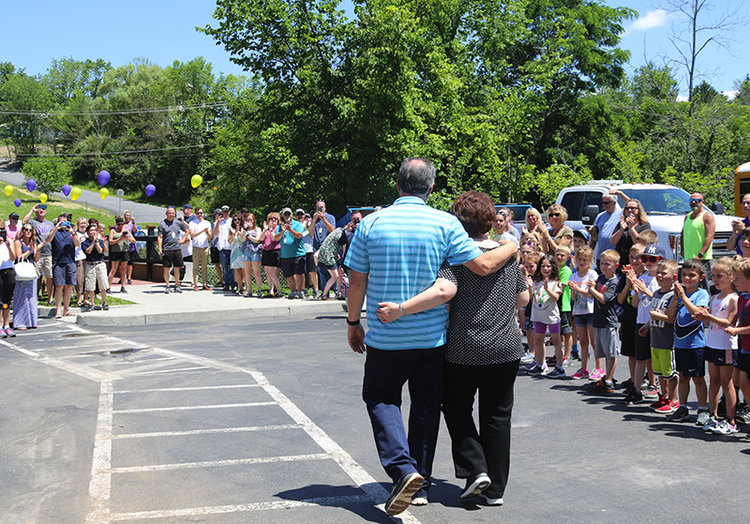 The Enterprise — Michael Koff
Arm in arm into the unknown: For over two decades, Mike Goyer and Priscilla Clarke worked together in the transportation department of the Voorheesville Central School District. They made the decision to retire together. On Wednesday, as they walked from their office for the last time, they headed for the bridge that now bears Goyer's name while staff and students cheered.
---