Staff is ready to lead young women in New Directions. Now it needs the young women.
Thursday, June 27, 2019 - 14:48
SCHENECTADY — The bedrooms are ready, but the area's family courts have not yet placed any young women in the Northern Rivers new intensive residential program. Created in response to Raise the Age legislation that went into effect in New York State last Oct. 1, the program, called New Directions, has the goal of giving young women the self-knowledge and skills to keep them from breaking the law again.
Formerly, New York was one of just two states that treated 16-year-olds as adults under the law. As of last October, most 16-year-olds — other than those charged with violent felonies involving a weapon or causing serious injury, or those involving sex crimes — were to have their charges heard in Family Court and not be sent to prison with adults; the law phases in 17-year-olds this October.
The staff of New Directions was recruited, hired, and trained together, and the program was ready as of Dec. 15, said William Gettman Jr. He is the executive director of Northern Rivers; as the parent organization to Northeast Parent & Child Society and Parsons Child & Family Center, Northern Rivers provides services to 16,000 children, adults, and families in 35 counties in upstate New York. 
New Directions received start-up money from the state, Gettman said, and then, on Dec. 15, 2018, began receiving $1,050 per day per bed, regardless of whether the bed was occupied, in an arrangement that will continue for the program's first three years, which Gettman called a "three-year safety net."  
Thirteen enhanced residential programs set up in response to Raise the Age across the state have a total of 171 beds, Gettman said, but, as of June 3, only 20 beds were occupied, by 13 young men and 7 young women. 
When the Office of Children and Family Services asked the 80 or so existing child-welfare facilities in the state to create these programs, only 13 volunteered, Gettman said. He added that Northern Rivers volunteered, but could not offer to set up an intensive program without some certainty that it would be funded. 
So, he said, the state agreed that, for the first three years, it would guarantee the program's revenue. 
"I think that was fair because it is new," Gettman explained. "There are mandated services, and if we didn't have the state investment, we could be months and months behind in filling those." 
During the six months since Dec. 15, then, the state would have paid out about $1.5 million to Northern Rivers for the program.
"The law is relatively new, less than a year, and many RTA cases haven't been adjudicated yet," wrote Lucian Chalfen, director of public information for the Unified Court System, in an email, answering an Enterprise question.
He continued, "While it is my understanding that relatively few young people are being detained in facilities, that was one of the goals of the law: To keep as many young people safely in their communities as possible and to keep communities safe with them not committing additional crimes while released — not to fill all available beds." 
While the staff waits for that first young woman to arrive, Gettman said, they are not just sitting around. They are working in the existing programs, getting hands-on experience, and they are out in the community, getting a sense of possible opportunities for residents. 
"But God save that first kid who comes in," Gettman quipped. "They're going to get so much mentoring and nurturing!" 
[Read the editorial "Northern Rivers New Directions — for now, an empty promise"]
The state expected to have 150 youths in beds, Gettman said. "They made predictions, but this was a sea change, in terms of kids not going to jail," he said. 
He isn't sure why the program is still waiting for its first resident. He expects that, when the second phase of Raise the Age, applying the law to 17-year-olds, kicks in on Oct. 1, there will be more young people placed in these facilities. 
The kinds of crimes that could put a youth in an enhanced residential program like New Directions include, Gettman said, violent incidents with another child; extensive property damage; self-injury; assault; and larceny or serious petty larceny. 
Under Raise the Age, violent crimes involving the use of weapons or resulting in serious physical injury would not be eligible for treatment, so youths in those situations would not be placed in New Directions. 
Gettman said he did know of a young person in another residential program under Raise the Age who was involved in a "situation" and then wound up assaulting a police officer. 
New Directions is located on part of the second floor of an existing 56,000-square-foot residential-treatment center for children in the foster-care system on a quiet side street in Schenectady's Woodlawn neighborhood, across from a line of tidy bungalows and ranch-style homes. The facility is licensed to care for 56 children aged 12 to 18. 
The state pays $300 to $500 a day per child in the same facility under traditional foster care, depending on the individual's educational and other needs, Gettman said. But the New Directions program is shorter and more intensive, needing to achieve results over a maximum of eight months' residence and then a four-month period of what Gettman termed "aggressive aftercare." 
"If we do this right, this will change the child-welfare system. It costs a little more," Gettman said, "but kids won't be cycling back." He said he believes the program will not have the high recidivism rates of 50, 60, or 70 percent seen now; young people's health outcomes will be better; and they will be stronger and more resilient.
The facility 
New Directions is the only program of its kind in the area, and would serve young women from Albany, Troy, Schenectady, Columbia, and Schoharie counties, as well as youth from other areas whose crimes are committed locally. There currently is no facility for males in the Capital District, Gettman said, so young men would be placed in an existing program further away, such as The House of the Good Shepherd in Utica, which can accept both young men and women. 
Common spaces in the facility, such as the activity room, cafeteria, gym, and outdoor swimming pool, and services such as the 24-hour-a-day nurses' station, are used by both the foster-care residential-treatment program and New Directions. 
The exits are not locked, but the young women who live there would also not be free to go at will. "We would try to prevent you physically from leaving," says William Gettman, demonstrating stepping forward and reaching his arms out to the sides like a basketball player on defense.
Staff would focus on positive redirections that would be meaningful for the individual youth, he said. "But we are not allowed to physically stop you. If you did leave, we would jump in the van and follow you and try to convince you to get in." 
A crucial element in the program's success will be the bonding that takes place between youth and staff, Gettman said. "It's not about the building; it's not about the regulations. Ninety percent is about the relationships," he said. 
Eugene White, marketing and public relations manager for Northern Rivers, observed, "It's a lot more effective to create an environment youth don't want to bolt from."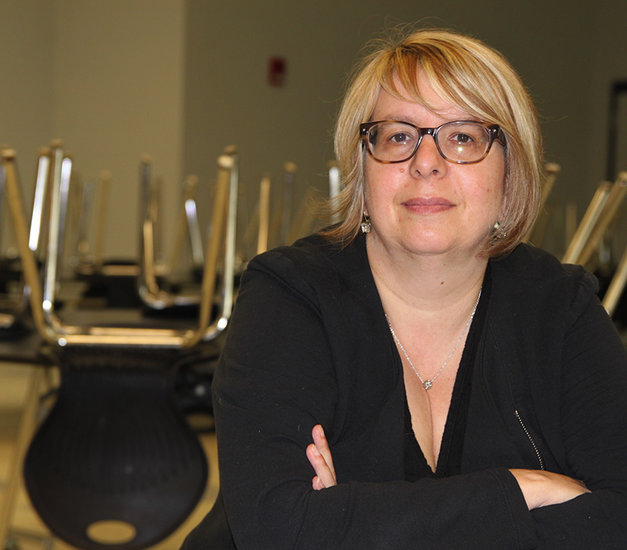 The Enterprise — Elizabeth Floyd Mair 
Kimberly L. Cummins, a social worker who oversees several of Northern Rivers residential programs, including New Directions, said that volunteering in the community helps young people feel good about themselves. 
---
"The whole family is in care" 
From the day of placement, staff will work with the young woman and her family to create an individualized treatment plan focused on permanency, to help her achieve positive outcomes during her eight months of residency and four months of aftercare, said Kimberly L. Cummins, a social worker who oversees several of Northern Rivers' residential programs, including New Directions.
"We ask what are the positive relationships they can build so they have a positive environment when they leave," she explained. 
"Eight months is not a long time," said Gettman. "We can't wait until the seventh month to begin planning." 
This planning, led by a case manager, is dual-pronged, focusing on helping the young woman develop various kinds of skills to avoid crime, and working with her family and its ties to the community to create permanent supports. Progress toward the goals is evaluated every three months.
"Raise the Age was predicated on bad outcomes of 60, 70 percent recidivism," Gettman said. "We want to change that." He described the goal of New Directions as "no recidivism, or low recidivism." 
Parents' input at the start is important, said Gettman. Parents can tell the staff about specific things that act as stress points for the youth: they may say she should not be around a particular sibling, or that she resents a parent's new partner.
The case manager and other staff members can then begin addressing that situation, which could involve, for instance, family counseling and finding services for a family member who is struggling with addiction. 
Parents may need help navigating social services, such as food stamps, Medicaid, or income-based housing. The youth themselves may need help applying for a Social Security card or driver's license.  
Many youth who come to the Northern Rivers facility have experienced trauma, as have their families, said Mitchell, the case manager. "Trauma does a lot to the brain," she continued. "Mom may not know how to do any of this. She may not know how to get out of her own way." 
They even have a special scholarship, Mitchell said, to help families purchase things for the home.
"Sometimes the biggest barrier to getting a kid home is they don't have a bed," Gettman said. 
"While a youth is in this building," White concluded, "the whole family is in care." 
Upon her release, a plan is set up with the courts for four months of intensive aftercare by New Directions, in which she returns to the community but must observe rules and curfews set by the program and the court, and New Directions staff continues to work with and support her and her family.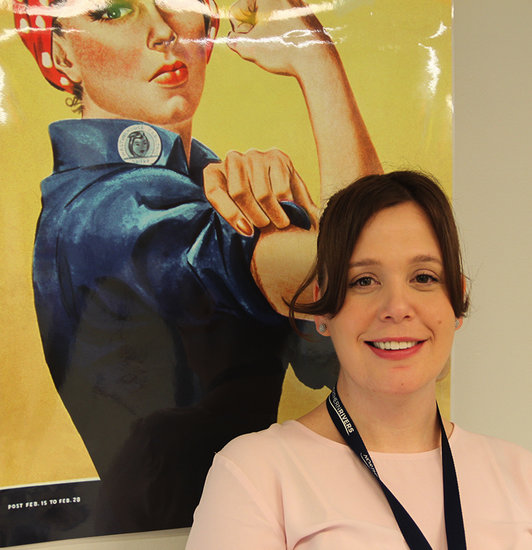 The Enterprise — Elizabeth Floyd Mair 
"We can do it": New Directions Case Manager Jessica Mitchell stands before a poster of Rosie the Riveter, an image from World War II reborn as an iconic symbol of equal rights. Mitchell would work with 16-year-olds placed in the New Directions program, run by Northern Rivers, in Schenectady.
---
The program
The day at Northern Rivers for young offenders will be structured. 
The young women have responsibilities. One of the first things they do, upon waking up, is clean their rooms and make their beds. They then get dressed for school, go down to breakfast, and have a "community meeting" with the other girls in the program and the staff. 
Staff demonstrated for a reporter what a community meeting is like. 
They stood in a circle, and Vernice Walker started, turning to Jessica Mitchell, and saying, "Good morning, Miss Jessica" (the staff wants the youth to call them "Miss" and "Mr." with their first names, so they practice that way, they said). "How are you feeling today," was the next question, to which Mitchell replied, "Inspired." Walker asked, "What is your energy level today?" and Mitchell replied, "Eight." 
Mitchell was asked what her goals for the day were, and answered, "To get all my paperwork done." The last question was, "Who can help you with that?" Mitchell answered, "I have to do it myself." Mitchell then asked the next person, and this continued till everyone had answered. 
Community meetings are also held after school on weekdays, and at the end of the evening's activities. 
Cummins said, when a youth's energy is low, the staff needs to watch. If a person reports not feeling good, Mitchell said, staff will report that to the workers on the next shift, "so they can give extra attention." 
Part of the individualized plan involves determining where the young person will go to school, including public school, vocational credits through the Board of Cooperative Educational Services, community-college credits, and attending Northern Rivers' own school. 
The youth are driven to school, and a staff member stays at school, particularly at the beginning, to support them in the school and be there in case there is need for redirection. 
In the evening, when the youth return to their rooms before bed, residents are asked to fill out diary cards about the day. 
Do the young people see all of this adult interest in their feelings as intrusive?  
White said, "In our society, unfortunately, there's a stigma about asking people how they feel, how their mental health is. I would imagine a lot of youth in our programs have spent a lot of time not being asked." 
Gettman added, "Or they didn't feel safe answering." 
Cummins said that, in her experience, young people like writing the diary cards because it gives them a way to express their feelings without saying them aloud. 
The young women have choices about how to spend some of their time, especially in the evening after dinner. They can take part in recreational activities in the gym, which can include playing basketball ("The kids love to play kids against staff," said Walker), kickboxing, or using the weight room; watching TV; playing board or video games; listening to music; reading; doing schoolwork; or spending time outside.
They are also asked to do chores. They are allowed to join others off the campus in outside recreational activities when the team decides they are ready; these include going shopping, visiting museums, going to baseball or football games, and visiting New York City or the Great Escape. 
"They saw the Jets play last year," Gettman said. "It's normal childhood activities. It may be once-in-a-lifetime." 
Different kinds of therapy are provided, depending on a young woman's needs. The team includes several clinicians; social workers; and a psychologist and psychiatrist who each come in one day a week. 
"Girls are emotional beings," said Mitchell, adding that many activities center on emotional regulation and learning to reframe negative thoughts. 
They also help young women practice mindfulness and learn how to be themselves and nurture themselves, she said. 
Cummins added, "Girls see themselves through relationships. Not only relationships between girls but with men." In fact, she said, they are often brought into the criminal-justice system through their relationships, so staff help young women think about how to have positive relationships, including with men. 
"A lot of these young ladies don't have mother figures. We're not their mothers, but they look to us as those mother figures," Mitchell said. 
"We are their family while they can't be in the community," said Cummins. 
"Just kids"  
Northern Rivers understands the importance of community, and regularly holds open houses — for instance around the holidays in December — and invites neighbors. 
The facility has a good relationship with the Woodlawn community, Mitchell said. 
The kids volunteer in the community, she said, with activities like cleaning up Woodlawn Park. Staff attend meetings of the Woodlawn Neighborhood Association.
"At the last meeting we went to," Mitchell said, "they wanted our youths to work in the park, the library." 
It's important for these kids, who have come to the facility because of criminal activity, Cummins said, to feel that they are now part of a community. "It's important for any kid," she said. 
"When they are told, 'You did a great job in the garden,' they carry that with them," Mitchell observed. 
"They might not say anything, but they carry it," Gettman added. 
A group of retirees from General Electric recently came to the facility and taught the kids to play cricket, Gettman said. 
What they said afterward was what visitors always say, he reported: "Wow. They're just kids." 
Editor's note: Elizabeth Floyd Mair worked on this story as part of a Raise the Age reporting fellowship from The Chronicle of Social Change, an online news publication; a version of this story is also published there.