Kenneth's Army keeps name for 8th annual motorcycle run to stem child abuse
Monday, June 6, 2022 - 18:57
BERNE — Dozens of motorcyclists swarmed the Berne Town Park on Saturday, June 4, to honor local 5-year-old domestic violence victim Kenneth White, and support children everywhere who suffer domestic abuse, before embarking on a roughly 100-mile ride around the area to raise awareness. 
The annual event is hosted by Kenneth's Army Champions for Children, a not-for-profit that was founded after Kenneth was killed in his Knox home in 2014 by his then-19-year-old cousin, Tiffany VanAlstyne, who was babysitting him at the time. 
Despite its support for Kenneth's memory, the group was recently asked by Kenneth's sisters, Christine, 11, and Cheyanne, 12, Kenneth's twin, as well as their adoptive mother, Linda Dunn, to stop using Kenneth's name due to the emotional harm it causes his sisters, as well as their belief that the name misleads supporters into thinking money they donate will be used to provide financial support for Christine and Cheyanne, who now live in Florida. 
The flier for this year's event read, "All proceeds benefit a scholarship offered to a Berne-Knox-Westerlo High School student who wishes to pursue a career in Social Service, adopting an underprivileged Berne-Knox-Westerlo student, and other charitable donations to ensure Kenneth's memory is kept alive."
Founding member Claire Ansbro-Ingalls, who, like the other founding members, did not have a relationship with Kenneth or his family before his death, told The Enterprise last week that she doesn't believe the Dunns have any right to make the group drop his name. 
"If it bothers the girls, according to Mrs. Dunn, then she does not have to go on the Kenneth's Army [social media] page," Ansbro-Ingalls had said. 
That revelation did nothing to dampen the spirits of the crowd on Saturday, which saw Kenenth's Army unveil a memorial park bench in Kenneth's memory donated by Helderberg Bluestone, and name the road leading into the Berne Town Park "Kenneth's Way."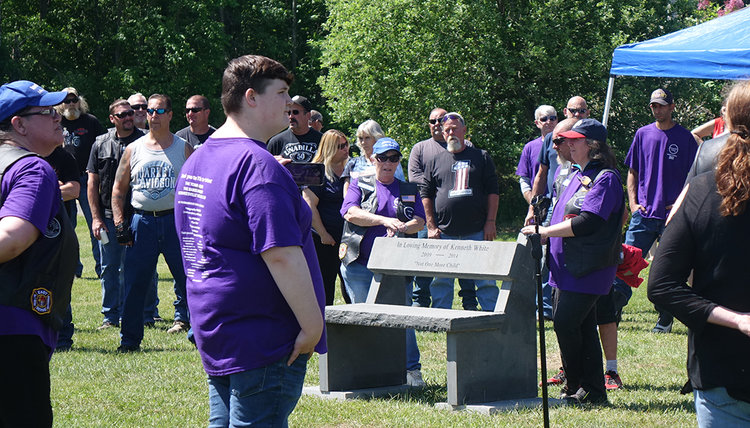 The Enterprise — Noah Zweifel
Members and supporters of Kenneth's Army gather around a bench dedicated to Kenneth White's memory at the Berne Town Park.
---

The group also announced it is making a donation to the school in Uvalde, Texas where 19 children and two teachers were killed in their classrooms by a gunman last month, but an amount was not specified.
The crowd then listened to various speakers, including Assemblyman Chris Tague, who represents the Hilltowns, Albany County Comptroller Susan Rizzo, and Berne Supervisor Dennis Palow.
Many of the speakers, in addition to condemning child abuse, praised Ansbro-Ingalls and Kenneth's Army for their efforts. 
"When they said before that Claire's a pain in the ass, that was an understatement, trust me," Tague said. "The first time I met her, she told me, 'You better be here.' I've been in Albany [since] 6 o'clock this morning and I kept looking at my watch and saying, 'Are we ever going to get done? Because if I don't show up in Berne, Claire's going to kill me … What great things you all do in the memory of one of God's children." 
Rizzo told the crowd that if, in light of the group's central message of "see something, say something," someone doesn't know who to call for help, they can "call me and I'll find the right organization. Albany County has so many resources and we have problems, and we have to help these children, and it breaks my heart … I think it's great that you're all here."
Councilwoman Anita Clayton, who is also Berne's deputy supervisor, has close ties with the group. She spoke after reading to the crowd a poem that Palow had supplied her, set to music.
"Children are our future, and a promise for a better world for all of us," she said. "And it is so hard to understand how a system can be so broken, where it has led to so many children enduring horrific lives that few of us can even imagine. It is our responsibility to protect our children and give them the best life we can … Just looking at Kenneth's pictures portrays a boy so hopeless, so don't be afraid to lose a friend or make someone angry. If you speak up you can save a child's life."
Although the event centered around a somber topic, there were moments of levity, particularly as Ansbro-Ingalls handed out awards and acknowledgements to different folks who were meaningful to the group in some way.
Toward the end of the event, Clayton was patched in as a full member of Kenneth's Army, being presented with a leather vest by Ansbro-Ingalls that had a large patch on the back, saying: "Kenneth's Army: Let's Roll!"
Palow, who attended virtually because he was in Germany, was one of the only speakers who referenced the Dunns' request, using part of his speech to attack The Enterprise for its role in publishing the family's letter along with a story about Kenneth's Army's response. 
"Thank you everyone for coming out to support this. I'll leave you with this," he said. "The Altamont Enterprise writes stories about things that happen in our town, but not the good things. Look around. Is The Altamont Enterprise there today? No, they're not there. They should be there taking pictures today and write the good story that the town of Berne is doing for our children."
The Enterprise Hilltown reporter was on hand to cover Saturday's event. The newspaper has followed the story since Kenneth's murder, covering vigils and motorcycle runs along with court hearings, interviews with Kenneth's biological parents, and the adoption procedure for his sisters.
News10 ABC meteorologist Tim Drawbridge, the emcee for Saturday's event, also seemed to reference the Dunns at one point during the event, saying of Kenneth's Army, "They've recently been accused — no form, no backing on statements that came forward. This is a great group … They do this each and every year."
Once the opening ceremony was finished, Steppenwolf's biker anthem "Born to Be Wild" blasted over the speakers while the riders ignited their bikes and began riding down the newly christened Kenneth's Way, out into the wider world.