Anxious mom tracks missing son to Thacher, where he's rescued after jump
Thursday, January 9, 2020 - 16:16
NEW SCOTLAND — While Zachary Barrantes spent three frigid nights in Thacher Park at the base of a cliff he'd jumped off of, his family was frantically searching for him.
His mother, Daniela Filmer, first called the Albany Police Department to report that her son was missing at 1:26 a.m., on Jan. 2 — about 12 hours before she called Bethlehem Police, the Albany County Sheriff, and park police to report that Zachary's last known location was John Boyd Thacher State Park — about an hour after she'd been made aware of his disappearance and well over 24 hours since he'd last been seen.
On Friday, Jan. 3, Zachary was pulled to safety after trying to kill himself on Tuesday, Dec. 31, by jumping from a cliff at John Boyd Thacher State Park.
Zachary, 25, broke no bones but dislocated both shoulders and suffered frostbite after spending three nights at the bottom of the escarpment. 
"I have too much Godly fear to not give credit where credit is due. believe in scripture, I believe as the scriptures say that the word of God is ALIVE," Filmer wrote to The Enterprise over Facebook Messenger. "And my son is living proof because that is the God I have been praying to for my son, for my family…" 
[Read more: "A young man's journey through clinics and courts, through crime and depression"]
Zachary lives at 320 New Scotland Ave., in Albany, an Equinox Recovery Residence, which serves men who have both a mental illness and an addiction.
According to Filmer, her son has schizophrenia.
He had been very depressed over his health — he suffered from chronic Lyme disease, starting at age 19 — and over his father's death when he was 16. These problems caused him to have to drop out of college, his mother said. In 2016, Zachary was prescribed medical marijuana to help with tremors in his hand.
"At first it also helped him establish a healthier sleep pattern, calmed his tremors in his hands, and seemed to help his mood," she reported. But then, his family "observed odd, bizarre behaviors and unprecedented agitation, in addition to Zach confiding in me that he didn't 'care about' his life any more," his mother related.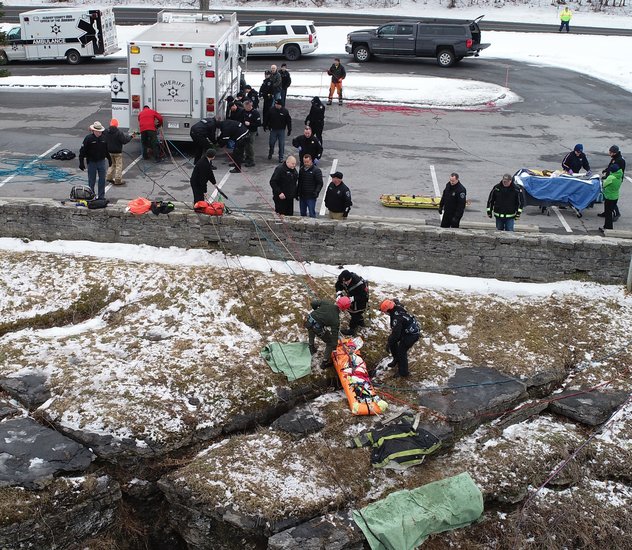 — Photo from the Albany County Sheriff's Office
---
Leaving Equinox
On New Year's Eve, Zachary had a pass to leave the Equinox residence from 5 p.m., on Dec. 31, until 9 p.m., on Jan. 1, according to Filmer; her son told people he was going to visit her and the rest of his family in Bethlehem.
But the Equinox home is supposed to call Filmer every time her son gets a pass to leave the residence. "They never called me that night," she wrote to The Enterprise. 
Filmer did receive a call from the Equinox Recovery Residence on Jan. 2, at 12:34 a.m. — about 24 hours after her son leapt off the cliff at Thacher Park — to ask her if Zachary was coming back to 320 New Scotland Ave.
"They called me at 12:30am!! To ask when is he coming home?!?" Filmer wrote. "I said, 'HE IS NOT WITH US — HE SAID HE WAS STAYING HOME WITH YOU GUYS.'"
Christina Rajotte, the director of development and community relations for Equinox, told The Enterprise she could not comment "due to New York State confidentiality laws and HIPAA, which we must abide by." She was referring to the Health Insurance Portability and Accountability Act of 1996, federal privacy laws. 
Filmer explained why the Equinox staff was supposed to call her to let her know whenever Zachary had requested and been granted a pass to go to her home: She had previously caught him in a lie and realized that, if Zachary were able to make a pass request without her knowledge, he would have an unsupervised window of opportunity.
According to Filmer, an Equinox staff member said she would call local hospitals to see if Zachary had been admitted, and then the staffer would file a missing person's report if Zachary was not in any of the hospitals.
When she logged into his T-Mobile account, Filmer said there were no unusual calls or texts and no data had been used since about 11:30 p.m. on New Year's Eve — over 24 hours prior to her learning that he'd been missing.
Filmer had also logged into her son's bank account and saw that there had been a $25 charge from Uber, she said.
Albany Police unresponsive
At 1:26 a.m., on Thursday, Jan. 2, Filmer called the city of Albany Police Department; she would call again at 2:41 a.m., and yet again at 3:11 a.m.
Filmer said that, during the first call, the officer took all her information, which included what she had just learned from her son's bank account and cell-phone records. And then she asked the officer if he could contact Uber to find out where the driver had dropped off her son, which the officer said he would do and would get back to her. 
Steven Smith, public information officer for the city of Albany Police Department, confirmed that an Albany police officer took the report at 1:40 a.m. on Jan. 2, but said it was never sent to other law-enforcement agencies because the department was waiting for additional information to put into the report.
Filmer continued her narrative: "But then I was talking to my husband and my husband said, 'He is a police officer; he should already know that he can get in touch with Uber.' And my husband gave me a link to the law enforcement portal for Uber in cases where there is concern over risk or safety with a driver or passenger," Filmer wrote, "so I called the office[r] back again and ask[ed] him if I could give him the URL to the law enforcement portal and he fumbled around a little bit on his keyboard and he said, 'Oh I found it … I will look into it and I will get back to you.' And then we hung up again."
Filmer said she had been unnerved by the call, by what she perceived as the officer's "somewhat seemingly lack of concern over the situation."
She still had to work that day, Jan. 2, Filmer said, and, when she got off of work at noon, her first call was to the Albany Police. Filmer said she explained who she was, what the situation had been, and wanted to know if the Albany Police had found the location where the Uber had dropped off her son. 
According to Filmer, the female officer who answered told her there was nothing she could do, and told Filmer that she had to wait until the officer with whom she had filed her original report was back on duty — in 12 hours, at midnight. 
"I was out of my mind at that point! I asked her are you kidding me? My kid is missing it's freezing outside, he's outside!" Filmer wrote "I then asked her who is your boss? Do you have a manager? I need to talk to somebody who can help me, somebody above you? She said, 'Our sergeant is out on a call right now but I'll give him your name and number and have him call you back.' And then we hung up and I left my job boiling!"
Asked if it was standard procedure for the department if someone who files a report with a city of Albany police officer also has to speak with the same officer with whom the report was filed, Smith, using an example, said, if a person were in an accident and called to add information to a report, it makes sense to speak with the officer who has the most knowledge of the incident. 
With regard to Filmer, he said, he couldn't speak to her specific claims; he didn't know the conversation that had taken place, adding, "We're looking into what she's claiming."
Clues from Uber
It was her daughter, according to Filmer, who said that, if they were able to get into Zachary's Gmail account, then they would be able to find out where the Uber driver had dropped off Zachary. The rideshare company will email the customer a receipt every time a trip is taken, and the receipt will say where the customer was picked up and dropped off — and at what times — and sometimes the license plate number and a picture of the driver is provided as well. 
On her family's third attempt, Filmer said, they were able to access the account and found the receipt, which showed that Zachary had been picked up at 326 New Scotland Ave. at 10:24 p.m., on New Year's Eve, and dropped off at Thacher Park at 10:56 p.m.
On her Facebook page Filmer addressed the Uber driver issue: "[Zachary] told me the Uber driver did ask him why he wanted to be dropped off at Thacher Park. My son told him that he was going to meet with some friends to watch fireworks at Thacher Park …
"My guess is the Uber driver did feel some type of way about dropping him off there, but thought my son's reasoning was plausible. Hoping next time he would pay attention to his gut feelings and err on the side of caution and just make a call to the authorities."
Calling more cops
By 2 p.m., on Jan. 2, according to Filmer, she began to call other law-enforcement agencies: The Bethlehem Police Department, the State Park Police at Thacher Park, and the Albany County Sheriff's Office. 
By about 3 p.m. on Jan. 2, a small search-and-rescue team was sent into the park to look for Zachary. The search resumed the next morning at 6 a.m., and by 1:30 p.m., Zachary was being airlifted to Albany Medical Center. 
He was sent to a speciality burn center in Syracuse for his frostbite. 
"The Sheriff and Park Police asked if we had filed a missing person's report and they were REALLY NOT COOL with the fact that they hadn't received the report and that precious time had been wasted," Filmer wrote to The Enterprise over Facebook Messenger. 
Filmer did say that an Albany Police detective showed up at Albany Medical Center and "apologized profusely over the way that was handled and the way I was treated on the phone."
The detective, according to Filmer, said the lack of response would be "addressed" with the officers involved.
Smith couldn't confirm if an Albany Police detective had been to Albany Medical Center to speak with the family. 
"I don't think it was any one thing that led to this," Filmer said. "I literally said earlier today it was a comedy of errors." No single person or institution is at fault for what happened, she said.