Town board fires three transfer-station workers, hires three new ones
Wednesday, January 9, 2019 - 12:55
KNOX — On New Year's Day, the Knox Town Board, in a split vote, fired three transfer-station workers, and hired three new ones.
Last night, the town hall was packed with many residents who objected to the firings.
On Jan. 1, Mark Young, Joseph Adriance, and Richard Dexter were not reappointed to their positions as part-time attendants.
Instead, Jeremy Springer, Lee Harnett, and Glenn Walsh were appointed to the positions, replacing all of the staff except for an alternate. Donald White kept his job as an alternate attendant, serving as a substitute when needed.
However, the decision not to reappoint two of the workers may be in violation of the New York State Civil Service Law since protections from being fired at-will include laborers with more than five years on the job. Both Adriance and Dexter have had their Knox transfer-station jobs for more than five years.
A resident in Wednesday's crowd said Walsh was the father-in-law of the town's attorney, Javid Afzali. Afzali confirmed this but said he had no part in the board's decision to fire the workers.
Also at Wednesday's town board meeting, resident Laura Murphy said Supervisor Vasilios Lefkaditis had told her that the three workers were fired because Highway Superintendent Gary Salisbury had said, if they didn't go, he would go.
Salisbury denied ever saying this.
Resident Amy Anderson asked if there had been conflicts or complaints involving the three fired workers. Lefkaditis responded that, yes, there had been one employee of concern.
"But you fired three," responded Anderson.
Several residents who had read the Enterprise story on the firings, posted on the newspaper's website before Wednesday's meeting, questioned the board's decision to violate Civil Service rules.
"That's up to a judge to adjudicate, not us," said Lefkaditis.
The New Year's Day vote to appoint the new attendants passed, 3 to 2 — councilmen Dennis Barber and Earl Barcomb, incumbent Democrats, voted against the measure; Lefkaditis and his two running mates on the GOP line in 2017, councilmen Karl Pritchard and Kenneth Saddlemire, voted in favor of it.
Toward the end of Wednesday's two-hour meeting, both Barber and Barcomb asked for a poll to see if the town board would consider rescinding its New Year's Day vote; the other board members did not respond. From the crowd, Donald Hempstead asked rhetorically if they would fire the new workers in this case.
After Barber left, the board, by a vote of 3 to 1, with Barcomb opposing, adjourned to executive session.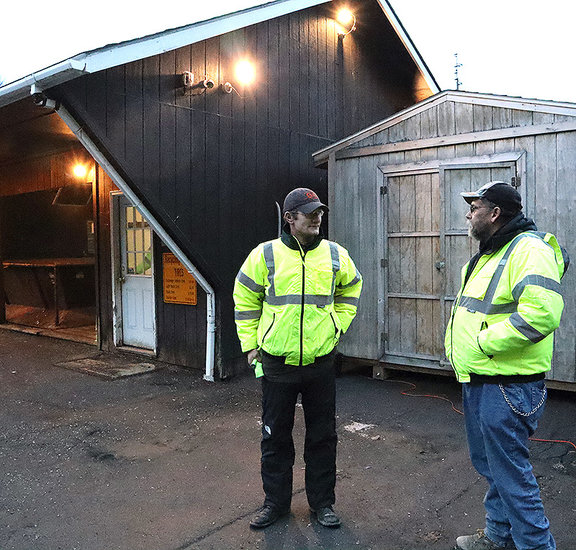 The Enterprise — H. Rose Schneider
Highway Superintendent Gary Salisbury, right, talks with new transfer-station worker Jeremy Springer outside the office at the Knox transfer station on Tuesday.
---
Civil Service
The workers' jobs are under the Albany County Civil Service system, said Mike Marr, a personnel technician at the county's Civil Service office, classified as "labor."
Section 75 of the New York State Civil Service Law states an employee "shall not be removed or otherwise subjected to any disciplinary penalty provided in this section except for incompetency or misconduct shown after a hearing upon stated charges pursuant to this section."
An amendment to the law, which went into effect on Sept. 7, 2018, now allows employees classified under labor who have worked for over five years at their jobs to be protected under Section 75.
Joe Adriance said he has worked for five-and-a-half years at the transfer station, and Dexter has worked there for 16 years; Young would still not be protected after only working for the town for three years.
Both Joan Adriance, who is married to Joseph Adriance, and Young decried the appointments as "personal and political," and not based on past performances.
In October, the board had voted unanimously to make Republican Gary Salisbury, who was also Lefkaditis's choice for deputy supervisor, in charge of the transfer-station workers.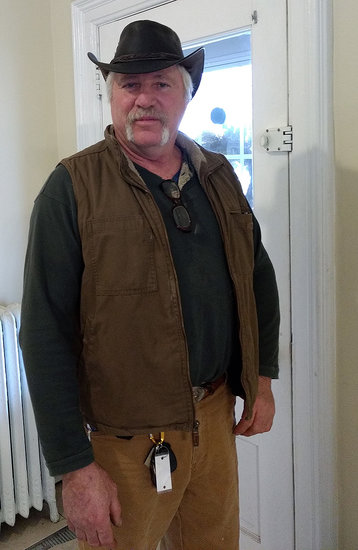 The Enterprise — H. Rose Schneider
Mark Young is one of three transfer-station workers fired on New Year's Day in Knox. The fired workers say they were given no notice and no reasons why.
---
Salisbury's view
At the October meeting, Salisbury voiced support for new procedures to keep transfer-station workers in check, such as installing a time-clock like the one in the highway garage to mark hours worked by employees.
Salisbury also pointed out that there was a grill in a shed on the transfer-station property and asked why this was needed for workers since they have four-hour shifts; he noted that his highway workers don't have a grill or cooking utensils despite working much longer hours.
Salisbury told The Enterprise on Tuesday that there has "absolutely" been a conflict between the highway and transfer-station workers, stating that the highway department does many of the repairs at the transfer station and other tasks.
Young responded through The Enterprise, "We did most of what we could" when it came to repairs at the transfer station, but said that the transfer-station workers did not have most of the tools needed for repairs.
Salisbury told The Enterprise on Tuesday that the standard operating procedures have been going "right now, real good." The new rules, he said, have finally allowed the town to "start cracking down" on illegal or improper dumping, something he said he doesn't fault the former workers for, saying that they were operating without supervision or clear rules.
In response to Barber and Barcomb's criticism of not waiting for the former workers to adjust to the new rules, Salisbury said he had discussed his decision with the councilmen and "they understood it very well."
Salisbury said that he has known the former workers his whole life, and said the new appointments were neither personal nor political, adding that he didn't even know what party they were registered in. In recent years, politics in Knox have not been guided by party lines. Lefkaditis, who is enrolled as a Democrat, ran twice on the Republican line.
Asked why he chose three new workers, Salisbury responded that he couldn't discuss "personnel matters" but he did say that one of the former workers had been disciplined.
He also said that the transfer-station workers do not have performance reviews or merit-based raises, similar to other town employees.
Salisbury said that the new workers are "more than qualified" and said there were "no red flags" on their applications. One of the new workers, Glenn Walsh, has done town-park maintenance for the last year or two, he said.
"I've worked with Glenn, and he's an excellent worker," Salisbury said.
The position requires a worker to be physically capable and to follow instructions, said Salisbury. He declined to say if the former workers met these requirements.
"I don't have anything bad to say about them," Salisbury said, later adding, "I like all of them; it's not a personal thing altogether."
"It's a job and this happens at a job … ," Salisbury said. "Quite honestly, I don't think this is a big surprise to a lot of people."
Board votes
Pritchard told The Enterprise on Friday that he voted in favor of the new appointments because Salisbury had said he was having problems with the transfer-station workers and wanted new people in the positions. Pritchard said he did not know the new employees but has known the former workers for years, but said he trusted Salisbury's judgement as the transfer-station supervisor.
Similarly, Saddlemire told The Enterprise on Wednesday night that he had voted in favor of the new appointments because it was Salisbury's recommendation.
Barcomb said his vote was not meant to be against the new workers. "I was voting to keep the existing workers," he said on Monday. Barcomb said that the three former workers all did a good job when he visited the transfer station.
"I think it was politically motivated," he said, of the new appointments, though he said he was not sure what the motivation was.
Barber said he objected to the appointments because the town generally only seeks to fill positions that are empty, he said.
Barber and Barcomb both expressed confusion at the fact that the workers were fired shortly after the standard operating procedures at the transfer station, seemingly without giving them a chance to adapt to these new rules.
"There was always grumblings from Gary [Salisbury] … ," said Barber, about the adoption of new procedures. "I just don't know why they were let go."
Barber said he had previously worked with Young at the state's Department of Transportation and has known Dexter most of his life. He said he has never known of a conflict involving the workers, though he said residents have gotten upset over being told not to dump illegally.
"It's a hard job up there," he said.
Barber said that Salisbury and Lefkaditis had "both discussed some issues" about the workers in executive session, but declined to clarify what. The state's Open Meetings Law requires an elected board to state the reason for a closed session.
Seven people applied for the transfer-station jobs and were interviewed by Salisbury, Barber said, including the three new workers and the three former ones. One of the former workers said this wasn't true; they were never interviewed. At Wednesday's meeting, Joan Adriance also said that her husband had not been interviewed by Salisbury.
Barber, who worked for the highway department for six years and oversaw the construction of the transfer station, said he wasn't sure if there was any animosity between the highway department and transfer station.
"You have some grumbling, but they never come out and say anything," he said, adding that there have been some disagreements over smaller items.
A worker's view
Young, 57, told The Enterprise that he had worked at the transfer station for the last three years — the entire time Lefkaditis has been in office. A lifelong resident of Knox, he said that he took the job because it was close to home. He currently works other jobs as well, and said that his job at the transfer station was not his primary income.
He said he was called by Lefkaditis on New Year's Day about two hours before the town board meeting at noon and informed that the supervisor would not be putting his name forward to be appointed. The job termination was effective immediately, he said.
Young also said only the three new appointees had been interviewed, and that he had not been informed that he was possibly going to be replaced. Young said he had never had a run-in or been disciplined for problems with his work. He said that he has not had any performance reviews.
Young said he never attended town board meetings up until the New Year's Day meeting, and has not been especially vocal when it comes to politics. But Young said that the decision not to rehire him is solely political. He has been registered as a Democrat his whole life and believes the new hires follow a pattern of town workers or committee members either not being reappointed or resigning during Lefkaditis's term as supervisor.
Lefkaditis, a Democrat who has twice run on the Republican ticket, was first elected in 2015 after ousting long-time supervisor, Democrat Michael Hammond. In 2017, Lefkaditis was unable to get many of his proposed appointments backed by the town board, several of whom had served under Hammond. In 2018, after the 2017 election brought in two new candidates who ran with the supervisor, half-a-dozen new appointments were made, including Salisbury as deputy supervisor, which the former board had voted against.
During the 2017 election, then-Councilwoman Amy Pokorny, a Democrat who challenged Lefkaditis for the supervisor's post, had recommended raises for the three transfer-station workers.
Young told The Enterprise that, during his time at the transfer station, the town has become more focused on administering the transfer-station rules, which he said can be frustrating, such as turning people away once the Dumpsters are full.
Lefkaditis did not respond to emailed questions or a phone call for comment. Joseph Adriance responded but declined to answer questions until a later time.
The Enterprise filed a Freedom of Information Law request, seeking any records evaluating the work of transfer-station employees. Town Clerk Traci Schanze, the FOIL officer, acknowledged receiving the request Saturday, but the request was not answered before press time.
New Year's Day
At the Jan. 1 meeting, Joan Adriance questioned the town board's hiring process, asking who had interviewed the then-current transfer station employees before making a decision. Salisbury said that he spoke to two of the workers.
"Joe said to me that you said, 'I need to interview you,' but it never happened," said Joan Adriance, referring to her husband.
"I talked to him Saturday," said Salisbury.
"Excuse me, myself? Did you interview me?" Mark Young asked rhetorically.
"As much as I did anybody, Mark," said Salisbury.
Joan Adriance also said that open positions had not all been posted online. At the December meeting, she questioned why the town had advertised for the three transfer-station positions online when they were already filled.
"It's shameful that you voted to replace them," said Joan Adriance at the Jan. 1 meeting.
Lefkaditis responded at the meeting that the town has "never ever advertised positions in its history" and had opened up local government by advertising now, but "we could certainly clean it up in the future."
Young said that Lefkaditis had called him that morning and declined to state why he was not being reappointed.
"It's not on our performance or our past capabilities at all," Young said at the meeting.
Young also said that the positions were the only ones posted since September, despite other positions being open on committees and in the town government. He asked that the board reconsider the appointments made.
On Jan. 1, Joan Adriance asked, as the meeting drew to a close, that the town thank the transfer-station workers.
"I was going to — and I did thank them on the phone today," said Lefkaditis.
"No, you didn't thank Joe," said Joan Adriance.
"I absolutely did, Joan, and you weren't on the call, and the politics at some point have to end … ," said the supervisor.