Martial arts schools growing in Guilderland 
Friday, December 13, 2019 - 16:27
GUILDERLAND — Are girls in suburban America now more interested in black belts than pink tutus?
Guilderland is part of a trend of teaching children martial arts not just for exercise but for learning self-discipline and respect. 
The Ballet Barn, empty for years since the closing of the Guilderland Ballet after its enrollment dwindled, is now home to karate lessons — mainly for adults — a couple of nights a week. 
Family doctor Jane DeRook ran the Guilderland Ballet out of the Ballet Barn for decades. The last class was held in 2013, DeRook told The Enterprise earlier, but membership had started dropping off about 10 years before that, as girls turned to soccer. 
Wolfgang Haas, a native of Germany who works for the New York State Department of Health, has been training in and teaching Shotokan karate for 30 years and recently began teaching two nights a week at the Ballet Barn at 5885 State Farm Road, which is accessed from Guilderland Atria.
Meanwhile, two taekwondo schools in Guilderland have expanded — each approximately doubling their space. 
"We can see [taekwondo] growing across the country, and internationally too," said Master Joe Hasan of Pil Sung Taekwondo, in Karner Plaza, who is now a vice president of the Amateur Athletic Union Taekwondo organization.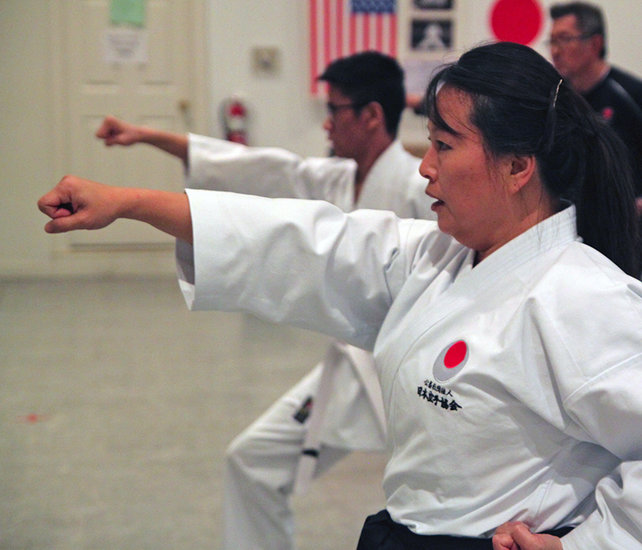 The Enterprise — Elizabeth Floyd Mair
Helen Ling, assistant teacher at Guilderland Karate, lunges forward to practice delivering a punch.​
---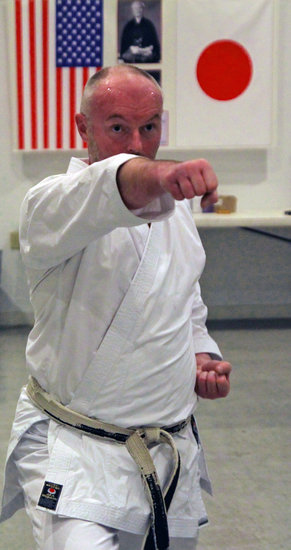 The Enterprise — Elizabeth Floyd Mair
Wolfgang Haas, who teaches karate at Guilderland's Ballet Barn at 5885 State Farm Road, says the Shotokan tradition involves movements that are "large." Practitioners cover a lot of distance, he explained, when stepping forward or backward, or evading someone.
---
Karate
Affiliated with the Japan Karate Association, Haas's Guilderland Karate offers training that is the same as a student of Shotokan would get in Tokyo or anywhere else in the world, he said. 
Karate, with its roots in Japan, will join the roster of Olympic sports next year at the Olympics in Tokyo, Japan. Taekwondo, from Korea, has been part of the Olympics since 2000.
Haas described Shotokan karate this way, "What I like about Shotokan is it's very simple, direct movements, and it works. It works in terms of self-defense." 
There are a few basic movements, he said, and they can apply to many different situations. 
The techniques he teaches, he said, are "large": practitioners cover a lot of distance when stepping forwards or backwards or evading someone. 
The techniques were honed over centuries in Japan, he said. 
Just as a samurai with swords would need a certain amount of space to be able to engage in self-defense, "Our style of karate was designed with that kind of space in mind," he said. 
He compared karate to a form of "moving Zen." Where traditional Zen meditation involves sitting still and trying to relax the mind, karate involves becoming very calm and focused while moving. 
"We're not here to beat each other up, but to develop ourselves," he said. 
Taekwondo
Master Joe Hasan of Pil Sung Taekwondo says that taekwondo is now viewed as equal to other sports activities. It used to be "a little bit obscure," he said, not as popular a pastime for school-age children as the traditional sports such as football or baseball. 
Today, Hasan said, parents are drawn to taekwondo as an option for their children, because kids get physical exercise while also working on the basic tenets of the martial art, which he said include "respect, courtesy, integrity, perseverance, self-control, and indomitable spirit." 
Pil Sung Taekwondo has a student body of about 300, Hasan said, with the majority being children. Seventy percent of his 300 students have not yet graduated from high school, he said. 
"The remaining 30 percent is a mix of college-age, parents, and grandparents," he said. 
About 10 percent of the student body participates competitively in tournaments, he said. 
Hasan first started teaching in Guilderland in the year 2000, with several classes per week at the Guilderland Y. His focus, at first, he said, was on competitive taekwondo and preparing students for tournaments. 
The numbers grew, and eventually, in 2014, he was able to rent about 3,000 square feet of space in Karner Plaza on Route 155. 
Earlier this year, he expanded for the second time, this time taking over 3,500 additional square feet of space that became available next door. 
He now has a staff of about 17 part-time instructors, he said. He works full-time in taekwondo but previously has worked as a business analyst, technical analyst, and product manager in the private software industry and in state government. 
Further west, Guilderland Martial Arts expanded this fall for the first time, taking over the space next to the dojo when it became available. This nearly doubled the school's size.
Master Robert Rice, a sixth-degree Kukkiwon black belt, owns and operates Guilderland Martial Arts at 2563 Western Ave. together with his wife, Zeynep Rice. A math teacher at Guilderland High School, Robert Rice said he thinks part of the appeal is the flexible class schedule. His school offers a variety of classes every day, and students can join in as many as they would like. They are expected to attend a certain number per week or month, but they do not need to commit to a particular day or time. 
"Our student body generally has been pretty consistent over the years," Rice said. He started the school in 2007. "We haven't really increased the student body, but we've increased the school around it," he said. 
The school has about 165 students, Rice said: 15 percent in its after-school child-care program for school-age children, 15 percent adults, and the rest between the ages of 4 and 18. 
During the coming year, Rice said, he hopes to grow the school-age child-care program and also accommodate other new students in the regular taekwondo program. 
Guilderland Martial Arts expanded this fall for the first time, taking over the space next to the dojo when it became available. This nearly doubled the school's size, Rice said. 
"We were able to increase the waiting area," he said. "We gained office space and just about doubled the size of the training space."