Hilltown farmers ask state for help to stop invasive plants
Thursday, December 6, 2018 - 20:35
BERNE — Two farmers, Kevin Crosier and Emily Vincent, are looking for a solution to a problem they describe as pervasive and widespread. They testified before the State Assembly's agriculture committee last Wednesday, asking that funds be set aside and further research be done on two invasive plants —  spotted knapweed and wild poisonous parsnip.
The knapweed and wild parsnip have encroached on their Berne farms over the last two years. Crosier said that it's not just their farms, but many in the Hilltowns.
Poisonous parsnip  is particularly harmful to human and livestock health because of its chemical burns, Antonio DiTommaso, a researcher from Cornell University, told The Enterprise. The burns can be so intense that for some they can't expose the affected area to sunlight for years, he said.
DiTomasso said he has worked with the state's Department of Transportation because highway workers may come into contact with the plant and have to manage its spread.
"The need for research is something I'm really pushing for," he said. DiTomasso said he and others are still trying to find out why the plant has spread so much and so rapidly. He hopes that further research can determine how to control the spread of the poisonous parsnip.
"We really need to understand this plant a lot more, especially here in New York," he said.
Crosier harvests hay at Sugar Mountain Farm and says spotted knapweed has devastated hay fields, including his own. Vincent raises sheep at Two Rock Ranch. Her sheep have gotten sick and burned their mouths, from wild poisonous parsnip, which leaves chemical burns on skin that is activated in sunlight. This and knapweed have also left the hay she used to feed her sheep useless.
Both Crosier and Vincent have been involved in local politics before they made their way to the legislature last week. Crosier had been a four-term supervisor of the town of Berne until he lost his re-election bid last year, and Vincent is a member of Berne's planning board. One of the agriculture committee members, Assemblyman Angelo Santabarbara, said he has known Crosier for years and visited both his and Vincent's farms before asking them to speak at the hearing on Wednesday.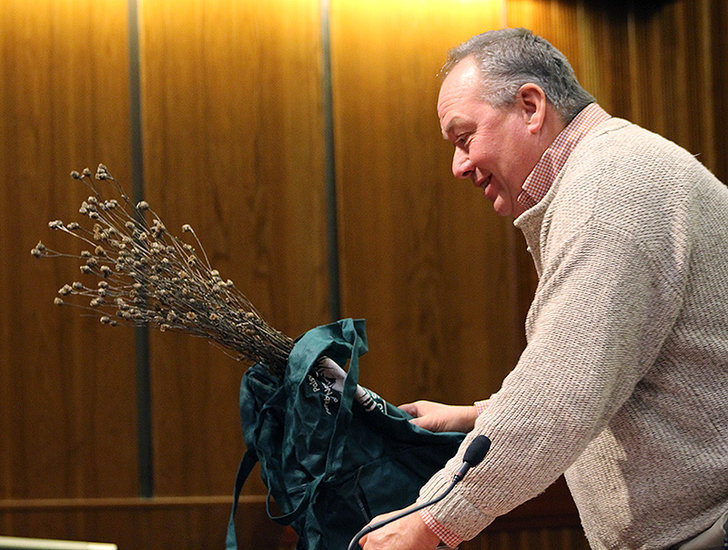 The Enterprise — Michael Koff
Kevin Crosier presents a stalk of dried spotted knapweed. He says the invasive plant has overtaken acres of agricultural land in the Hilltowns.
---
Spotted knapweed
Spotted knapweed originated in central Europe, but can now be found in all of the United States except for Texas, Oklahoma, Mississippi, Georgia, and Alaska. It flowers from from June to October, and a single plant can produce over 1,000 seeds, helping it to spread quickly. These seeds can lay dormant for up to five years before sprouting, and the plants are able to grow in a variety of soils. Few animals will eat the plants. Its leaves and roots produce the toxin cnicin to stop the growth of surrounding plants, allowing knapweed to dominate large swaths of land.
"You can just see fields and fields that've been abandoned," Crosier told The Enterprise, describing areas where knapweed has taken over in the Hilltowns, particularly hayfields in an area where he says hay is a primary crop.
Crosier said that the equine industry is the second largest agribusiness in the state, and that quality hay is critical to raising horses. The introduction of knapweed to the area is a threat, he said, not only because it can take over a field but also because it can contaminate baled hay shipped to horse farms, including out-of-state farms. Crosier, a retired Albany firefighter, also warned that the dried stalks can be a fire hazard.
After presenting a sample of knapweed to committee members, who awkwardly passed it around at the dais, Crosier asserted the best option for controlling knapweed is a broadleaf herbicide known as 2,4-Dichlorophenoxyacetic acid, or 2,4-D. This chemical does not kill hay or grasses, he said, but it is not allowed in New York and so local farmers have been illegally obtaining it from out of state.
Crosier and Vincent don't agree on everything. While Crosier is firm on his assertion that the broadleaf herbicide Milestone is what farmers need, Vincent is reluctant to use it since she describes herself as an all-natural farmer. She is also concerned about what effect the chemical could have on the soil.
The active ingredient in Milestone is aminopyralid. Dow Chemical, which manufactures Milestone, withdrew its application to sell the herbicide in New York State after the state determined,"The Department of Environmental Conservation could not ensure that the labeled use of aminopyralid would not negatively impact groundwater resources in sensitive areas of New York State."
The Material Safety Data Sheet, which is required by the federal government, for Milestone says users should prevent Milestone "from entering into soil, ditches, sewers, waterways and/or groundwater."  The MSDS also says that Milestone "is not readily biodegradable."
During the hearing, Santabarbara asked about Vincent's struggle as an organic farmer. Vincent said she had followed the recommendation of the Cornell Cooperative Extension to overseed her fields and mow them but it had been fruitless.
Enterprise file photo — Melissa Hale-Spencer
With golden blooms, wild poisonous parsnip grows along the road under the Helderberg escarpment. Two farmers from Berne say it has wreaked havoc on agriculture.
---
Wild poisonous parsnip
Vincent traveled with her sheep from California to New York, and also works as an intensive-care nurse at Cornell's hospital in New York City. She used her nurse's training while working on her farm, she said, when her husband got chemical burns on his arms from poisonous parsnip.
The plant's sap is activated in sunlight and leaves devastating burns on the affected area. Vincent said she has since formulated a regimen for the burns: pour rubbing alcohol on the burn immediately and wash with soap and water to remove as much of the sap as possible, and then apply a burn cream.
The wild poisonous parsnip, which the Wisconsin Natural Resources Department calls the "hobo brother" of the safer parsnip cultivated for eating, has spread across Vincent's property for the last two years, she said. Tracking the spread of the plant, she believes its spread correlates with the declines in her sheep's fertility and health.
Vincent described how the plant can cause serious burns, temporary or permanent blindness, and hallucinations. She consulted with a veterinarian when her sheep had burns on their mouths and had lost weight; the veterinarian surmised they had been pastured in a field infested with wild poisonous parsnip.
"Upon her advice I moved them out of the area and the sores went away," Vincent testified. "However, the sheep that had been affected lost weight and had to be put in the sheep hospital in our barn for a week ... As sheep move through the pasture grazing, they break the hollow stalks of the parsnip releasing the toxic sap. As they graze low to the ground, their noses come into contact with the sap causing chemical burns on their faces."
The veterinarian whom Vincent had consulted, Amy Willsey, told The Enterprise that the best explanation for the blisters found on the sheep's mouths had to be poisonous parsnip, though it is rare for livestock to eat it. She said she doesn't get many cases of livestock being harmed by the plant, but is familiar with people being harmed by the burning chemicals it produces.
Willsey does not deal with knapweed as it does not offer much of a threat to livestock, but said she does see large swaths of it taking over hayfields near her East Berne home.
Vincent also showed charts to the committee, tracking her livestock over four years. In the two years her pastures have been infested with poisonous parsnip, her sheep have lost weight and reproduction has been reduced. The number of twins born at Two Rock Ranch plummeted from a high of nearly 60 in 2016 to fewer than 10 in 2018.
According to a Cornell University report by Kristine M. Averill and Antonio DiTommaso, a chemical called furanocoumarins in the wild parsnip's sap causes red skin and blisters when exposed to sunlight, which is known as phytophotodermatitis. The chemical deters herbivores from eating the wild parsnip's foliage, although its roots are edible.
Described as a competitive weed, parsnip has become a major problem particularly where farmland has been abandoned, the report says. In New York, the report says, beekeepers have also been affected because the parsnip can displace plants usually visited by bees, and honeybees will not pollinate parsnips.
The plant, according to the report, is originally found in Asia and Europe but has since spread to all of the states but Alabama, Florida, Georgia, Hawaii, and Mississippi in the United States. It is considered a noxious weed in Ohio and invasive in Kentucky, Nebraska, Tennessee, and Wisconsin.
The report suggests that mowing, under the right timing, can work, but a poorly-timed mow can actually increase its spread. Vincent said she had to brush hog her fields but that the plants kept returning. In the meantime, she had to supplement the hay she grew for her sheep with feed she bought elsewhere. She said she had to use 50-percent less of her fields, and so her feed costs went up while her production declined.
DiTomasso told The Enterprise that, in the last 10 to 15 years, the wild poisonous parsnip "just exploded all over," across the entirety of New York State. He said it is commonly found in undisturbed soils like on roadsides, fields, the edges of forests, and pastures. He often sees it in the summer as he drives along roads in central New York.
"It's way more abundant and widespread," explained DiTomasso, of the poisonous parsnip. It has spread not just in rural areas, but also in cities and suburban areas too, he said.
"It can compete with crops … particularly in orchards and vineyards," he said. He said the plant can be competitive with crops and take their nutrients, but is more likely to be found in places like orchards, vineyards, and hayfields where the soil won't be disturbed.
DiTomasso said he would like to research how the plant would fare in hotter environments with more carbon dioxide as climate change takes further effect.
The plant has a two-year life cycle, sprouting leaves the first year and blossoming with yellow flowers the second year, he said. The most effective control is "anything we can do to not let the plant spread seeds," he said. This can include carefully chopping the plant or applying herbicides. Further research into how long the seeds survive can help in this process, he said.
No obvious solutions
Before Crosier and Vincent spoke at the hearing, Santabarbara asked the state agricultural commissioner, Richard Ball, what should or could be done to stop the invasive plants.
"Invasive species is a growing concern, sadly," said Ball, noting the more well-known invasives in New York State like zebra mussels, woolly adelgid, and the spotted lanternfly.
After visiting Crosier's and Vincent's farms this summer, Santabarbara spoke with a group of farmers at Two Rock Ranch about their concerns with the invasive plants, the assemblyman said. Santabarbara said he wanted to address the issue with Ball because he surmises that it is affecting farms outside of his own district, which includes the towns of Berne and Knox in Albany County, part of Schenectady County, and all of Montgomery County.
When asked about it by the assemblyman, Ball said that, regarding wild parsnip and knapweed, climate change is not the reason. He said that more global trade and more awareness about the environment may be factors in why invasive species are a more pressing issue now.
The assemblyman also asked about the prospect of chemical control of the plants. Ball said all options should be looked at, and chemicals shouldn't be chosen as "a knee-jerk reaction."
Santabarbara said that Ball told him he would research what the best possible solution is to stop the invasive plants. But the assemblyman was adverse to using chemicals.
"That's never a good option," he said, saying that it affects the soil and kills other plants.
As part of her testimony, Vincent went over several methods of preventing the establishment and spread of poisonous parsnip, along with mentioning drawbacks.
"Glyphosate is effective at controlling wild parsnip; however, glyphosate also destroys all the vegetation sprayed, which results in exposure of bare ground. This will usually lead to the establishment of new weeds, soil erosion and ditch bank destabilization," Vincent said, quoting from Herbicide Evaluation for Wild Parsnip Control.
She said controlled burning may kill emerging plants but does not kill established plants. Hand-pulling and root destruction, she said, is "effective if you have the time and don't have two full-time jobs!"
Finally, quoting from the Michigan Department of Natural Resources, Vincent said that increasing native seeding of ditches and roadways would increased competition of desirable plants with poison parsnip.
Santabarbara stated that he hopes funding for combatting the invasive plants will be prioritized. Vincent and Crosier also both hope that funding can be set aside for a "noxious weed grant" to help farmers purchase items to stop the spread of the plant. Vincent also asked that the state consider regulating the commercial growth of wild poisonous parsnips, as other states have done.
Vincent said that the plants need to be categorized as a controlled plant, and that highway departments need to be educated and held accountable for eradicating the invasive plants where they grow along the sides of roads or in ditches. She also said that the effectiveness of replacing the plants with other species to crowd them out is being studied overseas.
At the hearing, Assemblywoman Carrie Woerner asked if Vincent had inquired with the Department of Environmental Conservation about funding or assistance through the department's invasive species program. Vincent said she wasn't aware of this.
The DEC classifies spotted knapweed as a state-prohibited invasive species. Wild parsnip is not considered prohibited under state law but is considered an invasive species. According to the DEC, both are fairly widespread in New York.
The DEC provides information online about invasive species as well as a website where residents can report infestations. Currently, there are no programs that provide control services for wild parsnip in New York State, but the DEC recommends mowing, plowing, spraying herbicides containing glyphosate or triclopyr, root-cutting, seed-head removal, and monitoring for new re-infestations.
The state designated $13.3 million from the Environmental Protection Fund for invasive species control in 2018, according to Kirstan Conley, a Department of Agriculture and Markets spokeswoman. The department has also updated its noxious weed seed list with further species, and helps with surveillance and sampling commercial seeds, according to Conley.
"We recommend that farmers seeking to control the weeds clean machinery, sanitize equipment and mow their fields before the weeds go to seed," Conley said in a statement, responding to Enterprise questions.
Assemblyman Ken Blankenbush, who represents District 117 — made up of Lewis County and parts of St. Lawrence, Jefferson, and Oneida counties — and Assemblyman Billy Jones, who represents District 115 — made up of Clinton and Franklin counties and parts of St. Lawrence County — said they had not observed wild parsnip or spotted knapweed in their districts. "You can't go anywhere without seeing farmers," said Blankenbush.
Jennifer Dean, and Invasive Species Biologist for the New York Natural Heritage Program, said that both spotted knapweed and poisonous parsnip have been reported from almost every county in the state; even in counties where they have not been reported it is likely they are there, she said.
Vincent responded to the assemblymen that, in Canada, studies have been conducted for years on the spread of the wild poisonous parsnip.
"Maybe they're just doing a good job of keeping away from you … Where I am, you can just drive and see fields of yellow flowers," she said.