Remembering a kindergartner killed by her mother 
Thursday, December 5, 2019 - 10:55
Altamont Enterprise file photo — Elizabeth Floyd Mair
A memorial in honor of two young boys who were murdered in 2014 is part of the playground landscape at Guilderland Elementary School. Said Clifford Nooney, the district's facilities director, "We don't need to take care of it. Kids bounce off of it; they play."
GUILDERLAND — After considering memorials that included a fairy garden, the Guilderland school district has decided to honor kindergartner Sasha Melville with books in her school's library. In May, Sasha was shot and killed by her depressed mother, who then shot herself.
The district most closely followed the lead of the classroom teacher who knew Sasha best, said Westmere Elementary Principal Beth Bini. 
A garden, Bini said, could fade and weather over time. Also, she said, "We wanted to be careful, because for people who knew her really well to have to see that every day could evoke feelings unexpectedly."
Superintendent Marie Wiles told The Enterprise that the district, in past years, has found memorials overgrown and forgotten in various places around Guilderland's seven schools and that it wants to avoid that happening in the future. 
At Westmere Elementary, which Sasha attended, the building cabinet, the parent-teacher association, and administrators and teachers decided to place three books that help children deal with death and grieving into the school's library, each with a nameplate stating that the books have been donated in Sasha's honor. 
Sasha's aunt, Michelle Melville — sister of Sasha's mother, Caitlin Melville — says she believes that the book donation will honor Sasha and also help other children in the future. 
Melville added that she only found out about the book donation through a Facebook post by the family of Sasha's biological father, and she wishes the district had informed her.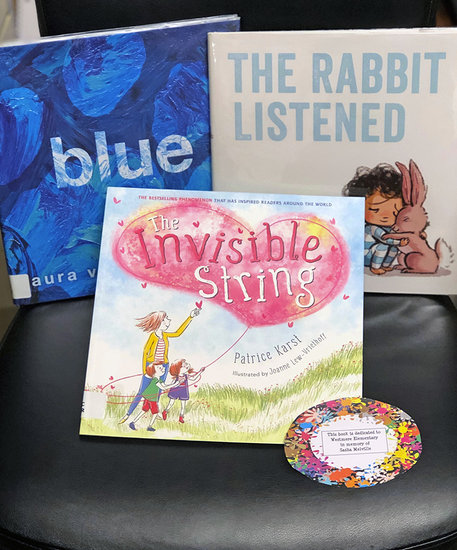 — Photo by Westmere Elementary School librarian Deane Johnson
Three picture books that show children being comforted through loss are being added to the Westmere Elementary School library in the name of Sasha Melville, a kindergartner at the school who was killed by her mother in May. Sasha loved painting, said Westmere Principal Beth Bini, and art teacher Rae Schaurer designed the nameplate to reflect that with a border of colorful paint splatter.​
---
Westmere honors Sasha  
The three books added to the elementary school's library are "The Invisible String," by Patrice Karst, illustrated by Joanne Lew-Vriethoff; "Blue," by Laura Vaccaro Seeger; and "The Rabbit Listened," by Cori Doerrfeld. They are gentle picture books that show children being comforted after someone has died. 
Sasha loved painting, said Bini, and art teacher Rae Schaurer designed the nameplate to reflect that with a border of colorful paint splatter. 
The school hopes to add to the collection over time, Bini said.
The school board approved the decision about the books in October. 
"Our goal with Sasha's memorial was to take something really tragic and help students for years to come," Bini said. 
"It's not that we don't want to remember Sasha, but we don't want to remember the sadness of the event," Bini continued. 
The Westmere Elementary Parent-Teacher Association is also considering an additional tribute, of forming a team to participate, in the little girl's name, in a walk or run for mental-health or suicide-prevention awareness, such as the Out of the Darkness Capital Region Walk for R.I.T.A., said Kim Phelan, co-president of Westmere's PTA. 
R.I.T.A. stands for Remembrance, Intervention, Together we can bring Awareness, and also honors Rita Leighton, an anesthesiologist at Glens Falls Hospital who suffered from mental illness and took her own life in 2004.
"As much as we can't change history, we do want to be there as a community to support whatever efforts are out there," Phelan said. 
She added that the PTA is also talking about trying to form some kind of parent support group for Westmere parents. 
"There's such a stigma with mental health," she said. "I think we're getting better at that, but we still have a long way to go." The school community includes parents in the mental health field, Phelan said, and maybe they could connect people to services. 
Sustainable memorials  
School policy says, in part, "Memorials on school property shall be limited to awards, scholarships, inanimate objects, plaques, collections of books or other items of historical or educational significance." 
The policy also states that any memorial needs to be approved in advance by the superintendent and board of education. 
The policy doesn't prohibit a physical memorial, Superintendent Wiles explained. But, she said, the district used to find "plaques and stones and various memorials stuck all over the place, some from years and years and years ago, that had been forgotten and fallen into disrepair." 
Wiles continued, "The whole purpose of the memorial policy was to encourage that memorials are well thought-out so they can be sustained when the current group of people who are here now long gone." 
"I don't know if a master list was ever created," said Clifford Nooney of memorials at the Guilderland's schools. Nooney is the district's director of facilities..
When all of the students, teachers, and officials who went to the trouble of marking a particular individual's life and death have left the school, a memorial can sometimes be forgotten, Nooney said. Memorials are made for a purpose, he said, and, if forgotten or are not properly cared for, they can "almost become disrespectful." 
He has found several like that at the district's schools over the years. 
One was a boulder at Farnsworth Middle School inscribed to teacher Robert Anderson in 1997, near a pond that science classes visit for field work. The area around it had become overgrown; Nooney used a skid steer to move the boulder to a place where it could be seen, and cleaned it up.
He also found two plaques dedicated to staff members becoming overgrown in the butterfly courtyard at Farnsworth Middle School. He had new plaques made, and re-installed them. 
Nooney moved a memorial sandbox — honoring Caitlin Coleman in 1997 — at Pine Bush Elementary School to a better location, near the playground equipment, and had a new plaque made and installed.
"We make them stainless steel," he said of the way plaques are made now. "We laser etch the letters on it in black; it doesn't fade and is not affected by weather. It will last long after my time," Nooney said.  
A memorial stone from 1975 for athlete Ronald J. Debenedetti at the high school, near the concession stand, had become so overgrown at one point that someone wrote a letter to the editor of a newspaper, bringing it to the district's attention, Nooney said. It was cleaned up, and the grounds crew now go out once or twice a year to weed in between the pavers all around the stone. 
A memorial area just to the left of the entrance to the high school has at least 18 memorials of different kinds. That area was established, designed by students, after earlier memorials has been disturbed during capital improvements.
The area has trees dedicated to students or teachers, and a bench in the shape of a butterfly for student Alyssa Gelfand, who died in 2017. A four-sided block of granite contains a number of memorial plaques and has room for more. 
Nooney said an example of a memorial that will last is the one on the Guilderland Elementary School playground for Anthony and Eddy Chen, who were murdered along with their parents in 2014 in a still-unsolved quadruple homicide. It's made of two boulders set into a bench shape with a plaque inscribed with the two boys' names. "We don't need to take care of it. Kids bounce off of it; they play," Nooney said. 
Participatory 
Melissa Allen Heath, a professor in the school psychology program at Brigham Young University in Utah, has co-authored several papers on the role memorials play in the grieving process. Memorials that provide children with a way to express their feelings nonverbally can be very helpful, she told The Enterprise.
 For instance, at the Hiroshima Peace Park in Japan, visitors can leave chains of folded paper cranes representing hopes for peace, as they can at the Peace Park in Seattle. 
At the Vietnam Veterans Memorial in Washington, D.C., Heath said, people take comfort from the ritual of locating a loved one's name and making a pencil rubbing of the name. 
Even a simple act, like ringing a bell, can be healing, Heath said. 
A family's way of remembering 
Both sides of Sasha's biological family are working — one inspired by the other — to help other children in her honor. 
Sasha's paternal grandmother, Cathy Rogers, started an initiative in the Binghamton area, where she lives, called Back Packs for Sasha. It aims, according to its Facebook page, to help other students thrive in school, as Sasha did. Rogers is the mother of Sasha's biological father. 
Rogers said that she and her husband started the backpack program this summer as part of their grieving process, wanting to do something so that Sasha would be remembered, something that would help other kids. 
They collected 77 backpacks equipped with school supplies, donating some to Westmere Elementary and some to Johnson City Elementary School; others were packed as overnight bags for children heading into foster care. 
Rogers hopes to make it an annual drive.
Michelle Melville, who lives in the western part of the state, then followed that website's lead and started the same initiative, with Back Packs for Sasha - Buffalo.
In August, Backpacks For Sasha - Buffalo teamed with two local churches and was able to give out 30 to 40 backpacks, as well as many needed school supplies, to two elementary schools. 
Melville is also working to crochet scarves for the project. 
Sasha's grandmother, Rogers, stressed the need for greater mental-health awareness. 
It's our desire," she said, to see an awareness of mental health be brought to light, and it's OK to let someone know if you're not OK."