Rau raises timbers to keep history current
Saturday, November 16, 2019 - 01:27
ALBANY COUNTY — A decade ago, when Timothy Rau was 25, his grandfather asked him to help make a timber frame for a sign he had been given as a gift.
The sign said "Pleasant View Farm," the place on Lainhart Road in Guilderland where the Rau family has lived for two centuries.
"Those were the first four mortiss-and-tenon joints I ever made," said Rau.
"That just grabbed me," he said. "It hadn't occurred to me before that we don't have to use nails to hold things together. I was fascinated by mechanical joinery and wood."
Rau and his family — his wife with a child "on the way" and their 13-month-old daughter — live now in that same farmhouse where his grandfather, Everett Rau, was born and died.
Timothy Rau has followed his interest in building the old way to a career in restoration, reaching a pinnacle next month when he will be presented with a 2019 New York State Historic Preservation Award.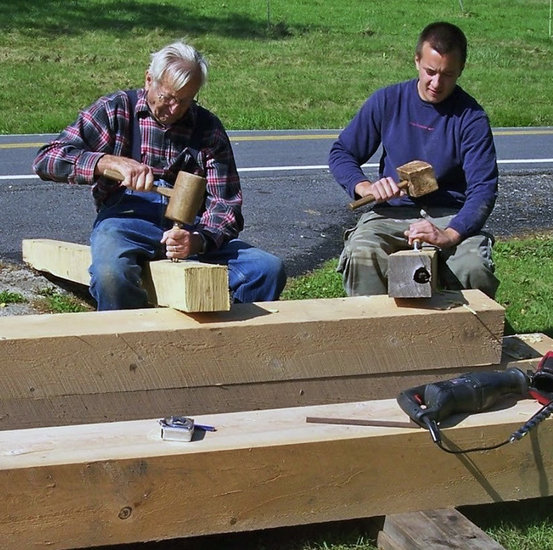 — Photo from Timothy Rau
"Me and Gramps": Tim Rau's fascination with joinery began when, 10 years ago, he helped his grandfather, Everett Rau, build a timber frame for a sign for their farm. Tim Rau now owns and runs the New World Barn Company.
---
"It all goes back to the barn my grandfather and I built in 2006-07," Rau told The Enterprise this week. The architect on that post-and-beam project, Keith Cramer, did technical work for Paul Lawler who, in 2009, asked Rau to build a barn on his Coeymans property from an antique frame.
The historic Dutch barn arrived in pieces from downstate. Lawler had wanted it on his property because it would have originally had its own Dutch barn.
That property belonged to the family for which Coeymans is named. Long before the Pilgrims and Puritans settled in New England, the Dutch, settling land claimed by Henry Hudson, had set up colonies in New Netherlands.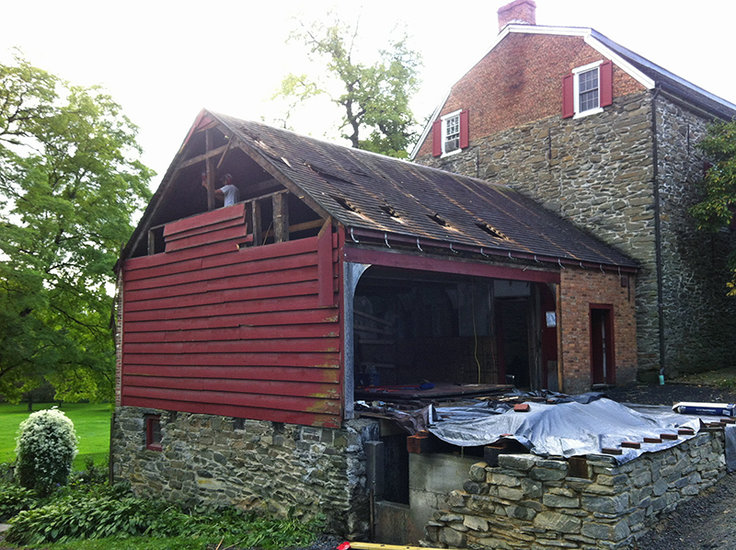 — Photo from Timothy Rau
Before: The original wing had been cut in half and made into a garage.
---
Ariaanje Coeymans House
Barent Pieteres Koijemans (Americanized to Coeymans) had arrived in the New World in 1639 from the Netherlands. He became an apprentice at a mill owned by the Van Rensselaers, purchasing the land and obtaining a patent in 1673.
After he died, Barent's daughter, Ariaanje, inherited the property, which included a stone and brick house now called the Ariaanje Coeymans House, built in the late 17th Century.
The main house has a wing — really like a second house built in 1720 or 1730, Rau said — that he worked to restore.
This is the oldest building Rau has worked on and he termed it "fantastic."  
He had started doing restoration of Altamont carriage houses, which led to heavier timber projects, building his knowledge and skills along the way.
"I've always had a reverence for the old," he said, likening his work to a "rebirth" for historic buildings — "putting it back the way it had been."
Rau had his work cut out for him with the Ariaanje Coeymans House project. The wing that he worked on had, over the years, been cut about in half and turned into a two-car garage.
"They turned the roof pitch 90 degrees and cut the post tops off," he said. But, Rau went on, with optimism in his voice, "There were enough of the original bones to replicate what had been there with accuracy."
He built the frame, as the original had been built, of 9-by14-inch lumber. "White pines are still growing long and straight in a lot of the forests of the Adirondacks," he said.
The raw logs were delivered to a mill and cut to specifications for size — a little larger than needed — and then hand-planed, as the originals would have been.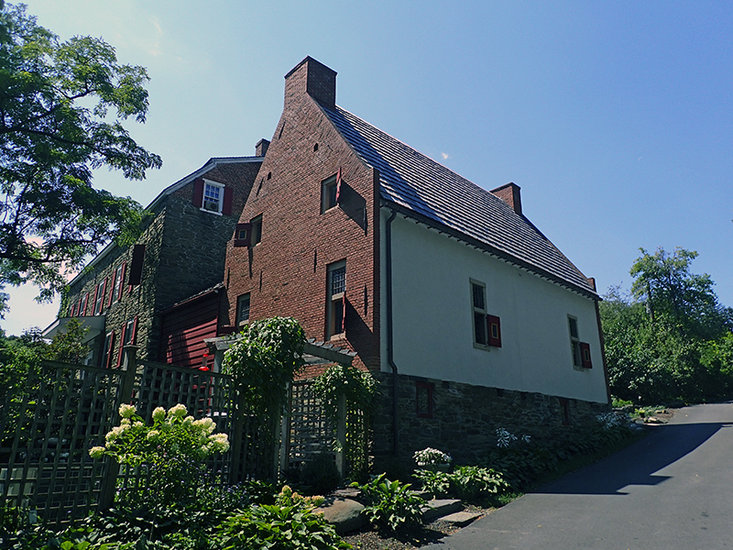 — Photo from Timothy Rau
After: The finished wing has been restored to its former glory.​
---
"Any time you match new work to old work, you have challenges," said Rau. "That's what I get the most joy from, thinking on my feet, solving problems."
He went on, "You want to leave as much of the original in place as you can." For example, if half of an original timber is rotted, he said, "You keep the good half and splice it to the new. You have to get a nice, tight fit, a structural fit."
The finished wing looks like it belongs back in time.
"When you go into it now, you feel like you're going back 300 years. He's kept it basically pure," said Rau of Lawler. The wing has electricity and a propane heater — concessions to modernity — but it also has a jambless fireplace, just like the original.
A jambless fireplace is not indented into the wall as modern fireplaces are. "There's a brick hearth on the floor in the middle of your living room," Rau explained. "Somehow the smoke makes it out the chimney because the hood is five feet off the floor, and the draft goes up the chimney."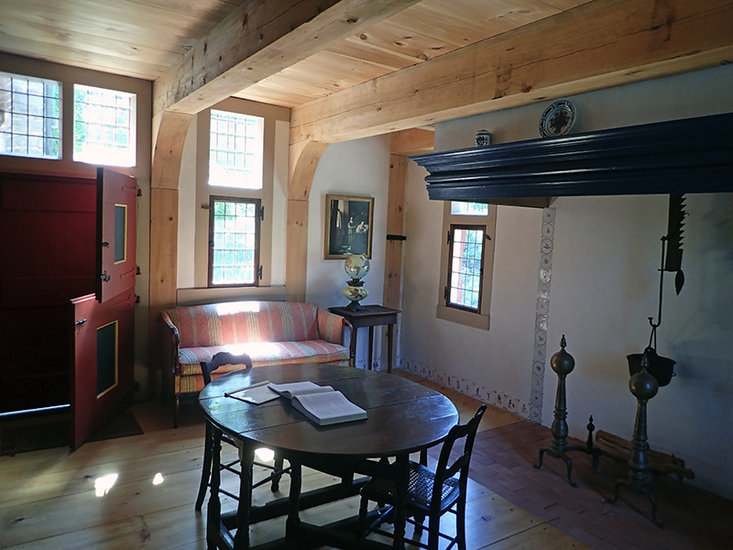 — Photo from Timothy Rau
Stepping back in time: Tim Rau's joinery dominates the finished wing. A jambless fireplace replicates the original.
---
"Monuments to the past"
Asked about his future, Rau said he has a few restoration projects lined up for next year, like a barn in Feura Bush.
"I also have a passion for creating timber frames that are new," he said, adding that he uses what he learned in the practice of historic restoration. "I'm attempting a Renaissance," he said, by designing and building new frames with influence from old practices, forms, and aesthetics.
In these new structures, Rau said, "The way you live depends on how pure you want to be." He emphasized that antique and historic buildings are easily adapted to modern use, with the charm and warmth of their interiors remaining much the same.
Historic homes, Rau noted, did not have centralized heat. Rather, a wood stove provided a concentrated heat source. "Not every room was at 70 degrees. It was far more green," he said, noting that's a word of today.
Rau went on about timber-framed structures, "The form is adaptable … The forms of old have been lost and forgotten, but you can reapply them." 
Rau hopes to pass on his knowledge, learned through building, perhaps someday to his children.
Getting the award, which will be presented on Dec. 4 at the New York State Museum in Albany, is "something special," said Rau.
The letter announcing the award from Erik Kulleseid, commissioner of the state's Office of Parks, Recreation and Historic Preservation,  commended Rau "for the incorporation of traditional trades into the restoration of the Coeymans Stone House … including full timber framing, door and window construction on site … [which] helped to bring the once threatened property back to its former glory."
"It wasn't intentional," said Rau of aiming for the award. "If you do the best you can, good work does get noticed … It keeps projects rolling in."
He also said, "Standing by what you do and working to your full potential … it's the discipline of the craft."
Rau said of Lawler, "Paul's project is a perfect example of what we can do if we dedicate ourselves to maintaining, at a minimum, or restoring old buildings. They continue to be a point of perspective on how people lived."
Rau concluded, "My grandfather would have said, 'They are monuments to the past.'"