Guilderland's green initiatives 
Thursday, November 7, 2019 - 12:58
GUILDERLAND — Guilderland is implementing or looking into energy-saving green initiatives, including a town-owned solar farm at the landfill and a dual charging station at the town hall that residents can use for free to recharge their electric cars. 
The town is a "Clean Energy Community," Supervisor Peter Barber told The Enterprise, referring to a New York State Energy Research and Development Authority designation. The town used a NYSERDA grant to convert Town Hall and parking-lot lighting to light-emitting diodes.
In addition, Barber said, the state's Department of Environmental Conservation recognized Guilderland as a "Climate Smart Community" based on its pledge to address the effects of climate change by enacting climate-smart land-use principles and by setting goals for climate action, decreasing energy use, and shifting to renewable energy, the supervisor said. 
The town is planning to add to its website a page devoted to its response to climate change, and for now has posted answers to a list of questions often asked by residents in person and on the phone.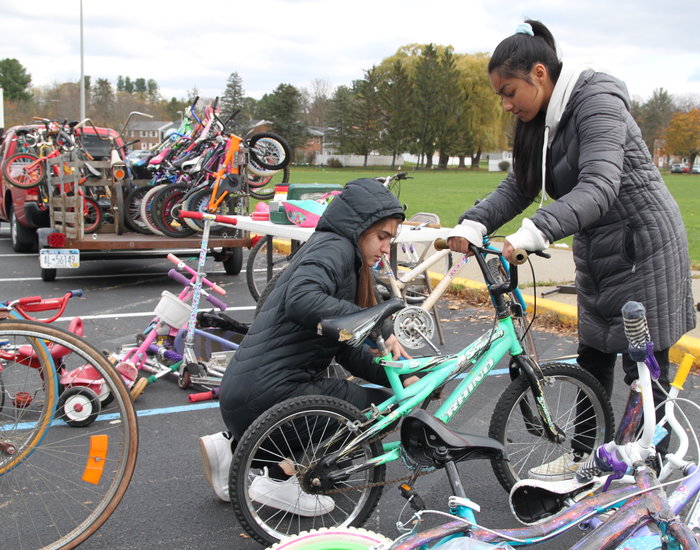 The Enterprise — Elizabeth Floyd Mair
Bikes: As Rashmina Sayeeda steadies the handlebars, Taylor Thompson removes the pedals from a donated bike that will go to Troy Bike Rescue, which repairs and refurbishes old bikes and gives them to economically disadvantaged children. Sayeeda and Thompson are both seniors at Guilderland High School. The organization also accepts adult bicycles, which it sells, with profits funding the group's work. Bicycles were just one type of direct recycling that went on at Farnsworth Middle School's Recycling Extravaganza on Oct. 26. Other items included used medical items such as walkers; items made of metal; and old electronics. Students who volunteered at the Recycling Extravaganza received community-service hours, which Sayeeda and Thompson said they needed for National Honor Society.
---
Solar farm 
Guilderland has approved GE Solar to set up a solar facility at the town's landfill at 6363 Frenchs Mill Rd. This project will have a community-solar aspect, Barber said.
In agreements like this, the solar company typically sells energy to residential or commercial customers at a guaranteed 5- to 20-percent discount to the National Grid price, according to a report prepared for the town by Solomon Energy. 
Solomon Energy is the town's consultant on solar energy projects.
Guilderland already has a solar facility in Amsterdam, Barber said. Guilderland partnered with a company in California to develop that facility, and it came online in June. The town is producing solar energy and receives credits to its energy bill, he explained. 
Distributed Solar Development (a GE Renewable Energy venture) proposed to the town a 5.699,000 wDC (5.69 MWDC) system that would produce an estimated 6.986,974 kWh per year, according to the Solomon Energy report. 
Construction would start in August 2020, the report says, and the lease would be for 25 years. 
Solomon reviewed offers by three solar companies for the town — including Standard Solar and BQ Energy — and recommended DSD. 
CCA 
The town has proposed becoming involved in the Community Choice Aggregation program, in which it would join with other municipalities to purchase electric power at favorable rates, from sources other than National Grid. 
This program allows local governments to procure power on behalf of residents, using the residents' collective buying power to drive down costs while allowing the municipalities to choose the source of the electricity generation. 
But municipalities need to supply enough customers — 40,000 — to make it worthwhile to the energy suppliers, which means collaborating. 
Recently, Guilderland, New Scotland, Voorheesville, and Knox have all chosen to enter into separate, non-binding agreements with the not-for-profit organization Municipal Electric and Gas Alliance to begin exploring a Community Choice Aggregation program for their residents. 
An educational seminar about the CCA will be on the agenda for the town board's Nov. 19 meeting, said Barber. 
Open space preservation  
Guilderland owns over 700 acres of open space, Barber said, more than 200 acres of which it acquired during the past three years. 
There is far more than 700 acres of open space in the town, Barber said, noting that that figure does not include a large portion of the Pine Bush, wetlands that are owned by the Department of Conservation, or land designated as open space that is owned by private organizations, homeowners' associations, and private people. 
He said that, based upon GIS (Geographic Information System) mapping, he believes that the town-owned open space accounts for more than 2 percent of Guilderland's total land, with the total amount of open space exceeds 5 percent of the town's land. 
The town's open space will allow, Barber said, the creation of a "green infrastructure" of multi-use trails connecting neighborhoods, schools, and businesses, and protecting stream corridors. 
Barber said the best informational source on the town's expanding hiking trails is in a page, Hike Guilderland!, on the town's website. 
This page includes interactive maps of hiking trails at Tawasentha Park and Vosburgh open space near the Twenty West subdivision, as well as hiking trails in the Town that are managed by the Albany Pine Bush Commission, the DEC, and the Mohawk Hudson Land Conservancy. 
As Guilderland acquires more undeveloped land, Barber said, additional trails are planned, with the goal of a "green infrastructure" connecting neighborhoods to destinations through a multi-use trail system.
Other initiatives  
The town recently installed a dual charging station, Barber said, at the town hall, which is available for residents' use free of charge and which works for any make of electric car. 
Guilderland uses software supplied by the New York State Energy Research and Development Authority, he said, that allows the town to monitor how much energy it is using, "particularly at the water-filtration plant," Barber said. 
A new water interconnect with Rotterdam, Barber said, will reduce the need to use the filtration plant, since Rotterdam's water is already treated, so it needs only chlorine treatment and will not need to go through the filtration plant, he said. 
The town is going to be acquiring 600 street lamps from National Grid, Barber said, and will then change them over to light-emitting diodes, or LEDs. The town is working with New Scotland, Altamont, and Voorheesville on acquiring National Grid's lights and converting them to LED.
Guilderland also is partnering with neighboring municipalities as part of a combined effort to maintain the LED lights, since sharing that responsibility would cost less, he said. He expects to have a contract to purchase the lights ready for town board adoption in early 2020, he said. 
The town also sets aside two days a year for for disposal of residential household hazardous waste at the highway department; the most recent was Sept. 7. 
While not hosted by the town, an annual Recycling Extravaganza at the Farnsworth Middle School is part of the pervasive effort in Guilderland to re-use and recycle. At this event, people drop off items that can be directly recycled, including bicycles, books, medical items like walkers, and items made of metal. 
Meanwhile, at the town's transfer station, goods like cardboard and paper continue to be recycled. Since China has stopped taking the world's refuse, markets for some recyclables have dried up or cost money to dispose of. Hence, on Jan. 1, Guilderland will start charging residents for recyclables.
David Corey, the foreman at the transfer station, said that the town will begin charging residents for bringing in recyclables. 
This year, he said, the town had absorbed many unexpected charges as the market for these items dropped out, after China stopped accepting it. 
"We used to get a check for maybe $100 a month. Now we're paying $600 or $700 a month to get rid of it." The bill for last month, he said, was $588. 
Those fees are money that was not budgeted and that must be passed on to residents, he said, adding, "It's something we don't want to do; it's just that we have to." 
The town will charge residents younger than sixty $7 per trip, and those 60 and older $6. The town could always do away with this fee later, he said, if the market for these items returns. 
Corey said these materials — such as tin, glass, plastic — are in fact still being recycled. 
"It's now forcing companies in the U.S. to create a market," he said, but there is a lag of perhaps a decade as those companies get started.