Promenade fights DOH order to stop admitting new residents
Thursday, October 31, 2019 - 16:15
GUILDERLAND — Promenade, an assisted-living facility that opened in Guilderland last December, is challenging a state health department order forbidding new residents.
In September, a resident fell ill with Legionnaires' disease in the second outbreak this year.
To admit new residents, Promenade must have three consecutive months of tests of unfiltered water, showing the facility to be free of Legionella bacteria in at least 70 percent of the samples.
The facility was built as a Best Western Hotel, which had a history of Legionnaires' and was linked to a number of cases of the disease in 2012. 
Meanwhile, in an unrelated matter, LeChase Construction is suing Promenade for more than half-a-million dollars that it says in court documents are owed to the firm for work on the facility's renovation and construction. According to court documents, $584,000 of a contracted total of $11 million for work done between November 2017 and June 2019 remains unpaid.
Leanne Ricchiuti of Overit, a public relations company representing Promenade, told The Enterprise, "Unfortunately we can't comment on ongoing litigation." 
Promenade made its case about the order to stop admitting new residents in a hearing at the state health department's board of adjudication in Menands on Oct. 28. The Department of Health will have its turn on Nov. 15.
Promenade's chief operating officer, Paul Belitsis, told administrative law judge Sean O'Brien that the facility currently has about 15 people who had completed the admission process including a physical exam. They were in need of a place to live and had been ready to move in, but were now forced to look into other options. 
"We have about seven families that call us daily to ask when their loved ones can move in," Belitsis said.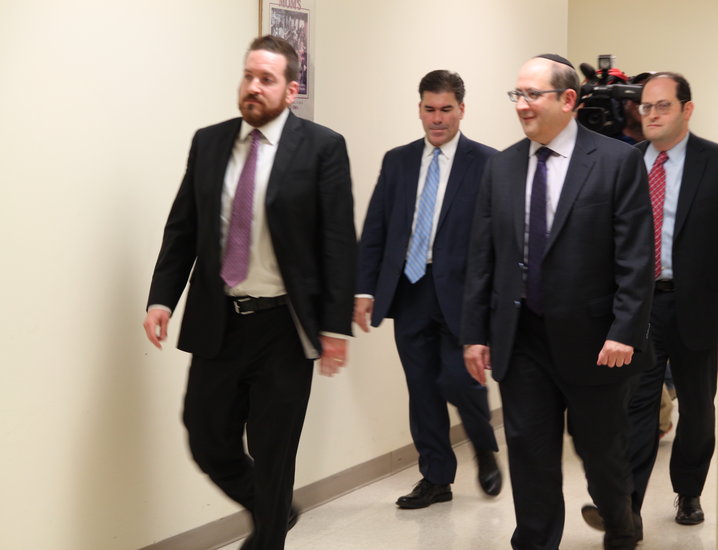 The Enterprise — Elizabeth Floyd Mair
Promenade representatives walk toward the courtroom in the Adjudication Bureau of the Department of Health in Menands. They are, from left, David Morgan of Hinman Straub of Albany, who represented the company at the hearing; Promenade Senior Living's chief operating officer, Paul Belitsis; and the company's operators, Steven Laufer and Ben Laufer.
---
Although it was not mentioned at Monday's hearing, Promenade on Wednesday, Oct. 30, sent a letter to residents and their families, saying that, after a resident fell ill in September, the state's department of health did testing "to see if that resident showed a presence of the same legionella bacterial strain that has been found in our building. According to the information provided to us by the Department of Health, that bacterial strain was not detected."
The county spokeswoman, contacted late Wednesday night when The Enterprise received this information, deferred comments to the state health department, which couldn't be reached before press time.
Promenade is the only assisted-living facility in Albany County that accepts Medicaid, Belitsis told O'Brien. It is the only place in the county, he said, where low-income residents can live and receive the services Promenade provides, including social programs, three meals a day, and around-the-clock assistance with the needs of daily living. He emphasized that residents who are covered by Medicaid receive the same services as anyone else. 
Two years ago, Guilderland's Industrial Development Agency approved a payment in lieu of taxes, or PILOT, agreement to help Promenade Senior Living finance the cost of converting the hotel. The agency approved a tax exemption of $32 million in bonds that would be exempt from income tax when sold. One factor in the agency's decision was that the facility would have at least 40 percent of its beds reserved for low-income seniors, the IDA's chief executive officer, Donald Csaposs, told The Enterprise at the time. Promenade's IDA application called this a "much-needed service." 
The facility has 40 residents today, Belitsis said, and a capacity of 200. All residents currently living there need assistance with daily living, but the facility has not hired additional staff or increased hours, for the most part, as a result of the increased work related to mitigation for Legionnaires'. There have been some additional hours when employees have needed to come in on a weekend to observe these protocols, for instance, to change a filter, Belitsis said. 
David Morgan of Hinman Straub of Albany, representing Promenade, said in his opening statement that Promenade has a plan in place to protect residents from Legionella bacteria, and has since March of this year. The plan involves, he said, using point-of-use filters on all showers and faucets in occupied resident rooms, and on all outlets in common areas that are accessible to residents. This serves, he said, as "a barrier that prevents bacteria from crossing over," while Promenade works to try to lower the amount of Legionella bacteria in the water.  
Attorney Mark Fleischer, for the department of health, while questioning Belitsis, confirmed that the facility's owners do not know the source of the bacteria and were surprised when the system they initially installed to reduce the amount of bacteria in the water did not work. The owners did install a recirculation system and new hot-water heaters but have declined yet to try a number of other possible measures recommended, including: changing the inlet coming into the facility; removing one dead-leg; changing a mixing valve; and installing a point-of-entry filter where the municipal water enters the facility. A point-of-entry filter would need to be large enough to work on the large, five-story building, but would also need not to create a disruption, Belitsis said. 
Morgan emphasized that the department of health had never ordered Promenade to do any of those steps. 
Belitsis said that, if the current system for lowering bacteria level does not work, the facility will try an alternative. He offered two possibilities: relying only on filters and the other point-of-use protections such as bottled water, or continuing the filters and also changing to a chlorine system to try to lower the amount of legionella.
Relying long-term on the filters could cost the company more than $30,000 a year, he said. 
Up to now 
The outbreak of Legionnaires' disease in 2012 was the first associated with the site. The state health department had identified a cluster of six people across New York diagnosed with the disease, and found that the only connection among them was a stay at the Best Western in Guilderland.  
Legionnaires' disease is a severe form of pneumonia, or inflammation of the lungs. Untreated, it can be fatal. 
It can be transmitted in any of three ways, David Pierre of Special Pathogens Laboratory in Pittsburgh, Pennsylvania, which advised Promenade on mitigation measures, told O'Brien: 
— Aerosolization, or the conversion of water into vapor, as in the mist in a shower, that is then inhaled; 
— Aspiration; getting drinking water down "the wrong tube," so that it enters the lungs; and 
— Directly, when, for instance, gastric tubes are rinsed out not with sterile water but with water from a tap. 
Promenade Senior Living currently owns and operates a total of five assisted-living facilities throughout the state. 
This February, after Promenade Senior Living had bought the hotel and converted it to an assisted-living facility, the county health department announced that two Promenade residents had fallen ill with Legionnaires' disease and that one of them had died. 
In March, the state and county health departments announced that the strain of bacteria in the 2012 outbreak and the February 2019 outbreak were the same. 
The facility began accepting new residents again in April of this year and admitted about 20 people between the first and second outbreaks, Belitsis testified. 
Current efforts to remediate 
Promenade's Belitsis told the judge that what the facility has done is put in "all new plumbing, or mostly new," before opening, and then put in place a remediation plan since March.
The plan has two aspects, one that functions to keep any Legionella bacteria away from residents, and the other that tries to lower the amount of Legionella in the water. 
To keep residents from being exposed:
— Residents and their families are being told about the outbreaks and about all of the mitigation measures as well as about the symptoms of Legionnaires' disease. They are being urged to tell staff about any symptoms of illness;
— Filters are in place on the two sinks and the one shower in every occupied resident's room, and at every outlet in common areas that residents are allowed to access; 
— Signs reading "Do not drink the water" are posted at each sink; and
— As much bottled water as desired is given to residents for drinking and for other needs like tooth-brushing. Staff are trained to ask residents if they want more, and residents are encouraged to ask for it whenever they want it. 
Caregivers check to make sure signs are in place and filters are on; they sign off every day on having checked this. If any filters are missing or are clogged — which would reduce water flow, but not cause any greater risk of exposure, Belitsis said — that filter is immediately replaced. 
Maintenance staff keep a list of all the filters by serial number, including where they are installed and the date when they need to be replaced. The maintenance director, together with the facility's executive director, is responsible for changing the filters on time. 
Over time, the facility has gotten the cost of one filter down to about $80, Belitsis said. 
He said the facility gets a good deal on bottled water from its vendor and is paying $750 to $1,000 a month for it. 
There are no filters on unoccupied rooms, because of cost and because, if no residents go into the rooms, there is no risk, Belitsis said; unoccupied rooms are kept locked. 
Pierre of Special Pathogens Laboratory said that different kinds of samples were tested: water directly from the faucets or showers, and water coming through the point-of-use filters. He told Judge O'Brien that none of the samples of water taken with the filters on had any detectable Legionella bacteria. 
Belitsis also described an incident in which a family member of one resident removed a filter in the resident's room. He said representatives of the facility had spoken with the family and discussed with them the importance of using the filters. He also said that the facility's operators had never learned why the family removed the filter.
Another resident ripped down a sign from the mirror, he said, and staff spoke with the resident and posted the sign again, this time alongside the mirror.
Promenade's original plan calls for opening a section of memory-care units, but this has not yet been done, Belitsis said. He was not asked how residents in a memory-care unit would be prevented from removing filters or drinking water from the faucets. 
Efforts to reduce the amount of Legionella bacteria in the facility's water were also described. 
In March, the facility installed a copper-silver ionization system, but switched at the end of August to a monochloramine system after finding that the copper-silver ionization system did not work as well as expected.
The turning point, Belitsis said, was a "brown water event" in which he said brown water, full of particles, entered the facility's water supply from the municipal water. The copper-silver ionization system in place was not able to handle the event, Belitsis said, acknowledging that he had been surprised by the high level of Legionella in the water after this event. 
Testing in August and September both showed Legionella bacteria present in more than 30 percent of samples tested, Belitsis said; August's result was a "high positive." 
Pierre testified that a third party collects the samples, and sends them to Special Pathogens Laboratory for testing. 
In September, a resident, and that person's shower, tested positive, Belitsis said. 
Fleischer had said that testing done monthly, from April through September, was positive for Legionella bacteria, although it was unclear whether he meant that it was found in more than 30 percent of the samples taken during April through July. An Enterprise question about this to a health-department spokeswoman was not answered by press time. 
Belitsis said that he had been told that, because plumbing environments vary in different facilities, a new system could take up to about three months to work properly. 
The monochloramine system requires: 
— Flushing twice a week for every faucet or showerhead in the facility, including unoccupied rooms. This is done by the maintenance director, often aided by a maintenance worker or caregiver. The cold water is run for 30 seconds, and the hot water for 60 seconds, to allow for residual disinfectant to come into the outlet. The employee does a number of rooms at a time, rather than waiting for the time to pass in each one, Belitsis said. The flushing is documented, and the facility's executive director reviews the paperwork, with additional monitoring by the department of health. The facility had a new executive director as of the day of the hearing, Belistsi said; 
— Amounts of monochloramine need to be measured every other day, Monday through Wednesday, as does water temperature, Belitsis said, noting that too-high temperatures can degrade the filters and negatively affect the level of residual disinfection. Water temperature must be adjusted as needed; and 
— The manufacturers monitor the system remotely, and also visit the facility regularly, to bring more solution.