Houck and Paris each named Firefighter of the Year
Monday, September 21, 2020 - 19:44
ALBANY COUNTY — Jacob "Jake" Houck, with the Onesquethaw Volunteer Fire Company, and Gerald E. Paris Jr., Albany County's fire coordinator, were each recently honored as Firefighter of the Year by the Albany County Volunteer Firefighters' Association.
"We feel that Jake truly is a hero," wrote Michael C. Salisbury, chief of the Onesquethaw company, in nominating Houck.
Houck joined the company in 2001, and "comes from a very long line of family service and chief officers," Salisbury wrote. "He has held the positions of EMS Captain, Station No.1 Captain, and Battalion Chief. He is a big man with a bigger heart and is in this profession for all the right reasons."
Salisbury went on to describe an event that illustrates Houck's heroism. On July 7, 2020, while working as an emergency medical technician for the Albany County Sheriff's Office, Houck drove through the town of New Scotland and noticed a large fire in the back of a house.
"He notified dispatch and, as he came back around to the front of the structure, a mother met him at the front door with her two daughters and their dog. Jake assisted them in coming down the front steps," Salisbury wrote. "He then got them away from the structure and put them all in his ambulance."
Salisbury reported Houck's words at the time: "I am not a hero. I think anyone else would have done the same thing I did."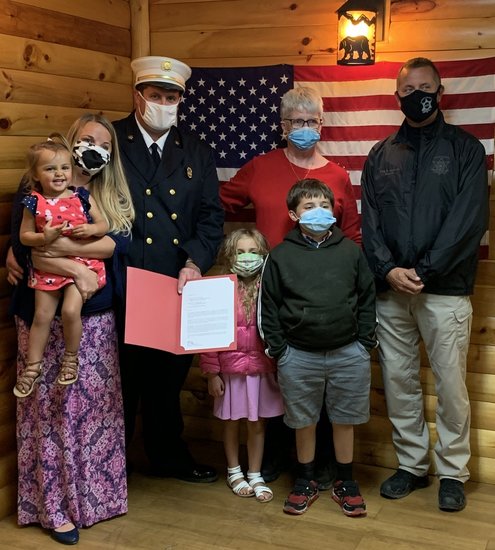 — Photo from Mike Salisbury
Jacob "Jake" Houck, surrounded by his family, and Sheriff Craig Apple, at right, displays his award.
---
In nominating Paris for the award, Walter W. Eck Jr., chairman of the Albany County Volunteer Firefighters' Association, wrote, "He embodies everything that the firefighting community stands for, unwavering determination, the ability to overcome even the largest of obstacles, and commitment to service."
Eck highlighted Paris's "years of contributions and service to the career and volunteer fire departments and emergency services of Albany County, the Shaker Road-Loudonville Fire Department [which he joined in 1981], the Town of Colonie Emergency Services, the Albany County Sheriff's Office, his community, and the responders and residents of Albany County at large."
Paris had previously received this award in 2006 for his actions at a working structure fire where he pulled two firefighters to safety.
Paris was appointed as the county's fire coordinator in 2016. Eck highlighted the training and supplies Paris has procured in the last four years.
"Chief Paris has obtained funding and made numerous improvements to the Town of Colonie, Town of Guilderland, and Hilltown fire training centers," Eck wrote. "In many instances he performs this work on his own personal time … There have been numerous events held throughout the county and many equipment donations made throughout the county under his watch and in many cases he has covered the cost out of his own pocket."
Finally, Eck wrote, "Throughout the COVID-19 pandemic ,Chief Paris has ensured that Albany County fire and emergency services have had proper PPE [personal protective equipment] and information to deal with response to the pandemic."
 The awards were presented on Sept. 16 at the Albany County Volunteer Firefighters' annual meeting, held at the Voorheesville Rod and Gun Club. Houck was escorted to receive his award by Chief Salisbury of the Onesquethaw Volunteer Fire Company and Paris was escorted by Albany County Sheriff Craig Apple.