Community gardens nourish body and soul
Thursday, September 12, 2019 - 19:17
GUILDERLAND — It's harvest time at the Guilderland Community Gardens. 
As Tim Schramm snaps a plump, glowing zucchini from its stem, he tells a joke he heard from his parents in Florida: "Never leave your car door unlocked in zucchini season; you'll find the seats filled with them."
Tim and his wife, Jane, have a bounty crop of the green summer squash. They bake bread and brownies with it. Jane also makes ratatouille as well as a dish of zucchini, tomato, and onion.
On the plot next to theirs, Matthew Mead the day before had rented a rototiller to turn over the earth in one of his 20-by-30-foot plots — like the Schramms, he has two plots, side by side. 
"I tilled and raked it and planted a cover crop," Mead says. "They call it green manure."
He explained that the rye grass and mustard he planted will suppress weeds, aerate the soil, and then, come spring, he'll turn the crop into the soil where it will provide nutrients.
One of the most unusual harvests this year was of sunflowers and zinnias for Eve Gannon's wedding to  Kent Kaltenbacher. "We grew our own flowers for the wedding," she said.
The nuptials took place on Saturday, Aug. 31, at Thacher Park. The bright flowers were arranged in antique glass canning jars.
"It was a perfect day," said Gannon.
This past Saturday, the newlyweds were tending to their garden — a mass of riotous color.
"She's the compost queen," said another community gardener, Fan Pen Chen. The rich soil has spawned dahlias as tall as Gannon.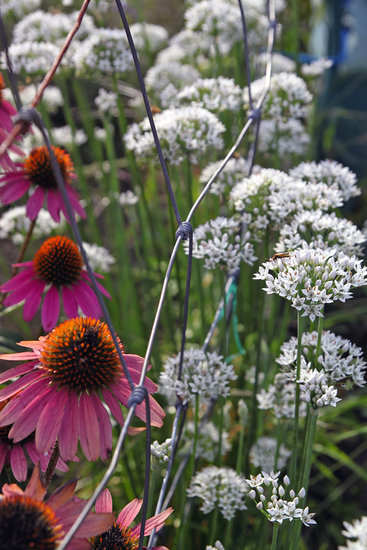 The Enterprise — Melissa Hale-Spencer
Wild onions, at right, which grow naturally at the Guilderland Community Gardens, weave through a fence next to echinacea.
---
The couple met in Alaska where Kaltenbacher was born. He was directing a group home for boys in Anchorage when Gannon came to work there. The gardening season is much shorter there, they said, but the days in the gardening season are far longer than here so it evens out.
"He's become a great gardner," said Gannon, gazing fondly at her husband.
Chen pointed out a peace pole near the path leading to the garden gate. "May peace prevail on Earth," it says in English, the letters carved into the wooden post. 
The same message is repeated in different languages — reflecting the diverse origins of many of the gardeners.
Chen herself started gardening, under her father's tutelage, as a child in Taiwan. She later gardened in Libya and Canada. When she moved, in 2003, to an apartment in Guilderland — she teaches nearby at the University at Albany — she discovered the Guilderland Community Gardens and has been gardening there since.
When Chen is gardening, she doesn't think about teaching or about her translation of Chinese texts or operas into English or her research into ancient female warriors or shadow plays. Rather, she clears her mind.
"I just do a little bit and nature gives so much back to me," she said. "Whatever happens, whatever nature wants to give me, I'm fine. I'm a Daoist gardener; I go with the flow."
Chen enjoyed eating the corn raised by African gardeners with a plot near hers, she said, and grew a peach tree from a cutting shared by another gardener. (You can watch a video about Chen's garden and also listen to a podcast about her at www.AltamontEnterprise.com/podcasts.)
Guilderland established its community gardens in 1989, according to the gardens' coordinator since 1995, Jerry Houser. "We've grown through the years," he said. "Today, we have about 120 garden lots."
The gardens are located on the other side of Route 146 from Guilderland's Tawasentha Park. Anyone who lives in Guilderland can apply for a plot through the town's website; currently, there is no waiting list, Houser said.
Houser estimated that about half of the gardeners live in apartments without yards and the other half have their own homes but have wooded lots or sandy soil not suitable for growing vegetables. The suburban town has a population of about 36,000.
The annual fee is $25. "All gardeners have access to town public water," said Houser. "This cost is paid with membership fees. Labor costs for repair of fences and repair of water lines are also charged to our budget. There are no costs charged to the general town budget. The gardens support themselves, in other words."
Although the garden has about doubled in size since its inception 30 years ago, Houser said, "We've probably met our need for the time being." He added, "Twenty-by-30 feet is a lot for some people. To get more lots, I've subdivided some into smaller lots."
Houser himself keeps a plot in which he is currently growing "the usual vegetables — a lot of tomatoes." He goes on, "Through the years, you grow everything because you experiment."
Houser himself, for example, has grown both okra and asparagus in years' past. "Asparagus will last 30 years," he said. "Some community gardens allow just annuals. But here, people are entitled to return to the same plot so they can grow plants like raspberries that take time to establish."
"Play in the dirt"
Matthew Mead is in his fourth year of gardening with a plot behind the barn that faces Route 146. He lives in Lone Pine Village off of Carman Road and discovered the gardens "just by driving by."
His backyard is treed. "My wife won't let me plant a garden in the front yard," said Mead. She grows flowers there. An excellent cook, she also grows some herbs, he said.
This year, in his double plot, Mead grew peas, tomatoes, peppers — and for the first time, popcorn.
"When I mentioned I might grow sweet corn this year, all of the color drained out of my wife's face," said Mead, explaining, "If I bring stuff home, she feels she has to use it."
He plucks an ear from one of the stalks, and peels back the green husk to behold an ear of popcorn for the first time. The kernels are knobby, and less aligned in neat rows than on a regular ear of corn.
"I come from a family of farmers," said Mead, who was raised outside of Syracuse. "My grandfather and uncle were dairy and vegetable farmers. I worked on the farm from the age of 12 or 13."
Mead, who is 59, works as a lawyer now, on workers' compensation cases. "I really like being out in the dirt," he said.
He got on a waiting list in August four years ago. His first plot, next to the one he just tilled, had a spring in the corner and was very wet. He now has the plot of an original community-gardens member, Bob. "I know everyone here by their first name," said Mead.
Houser surmised that the Bob in question was Bob Bernardi of Altamont. "He does his gardening at home now, on Lark Street," said Houser.
Mead said a couple from Germany garden near his plot, and an Asian woman, also nearby, grows vegetables she can't get here. 
"The gardeners here are very generous," said Mead. "She gave me something that looks almost like a shallot. I sautéed them with lemon and butter as she told me. They were delicious."
Mead went on, "This morning, Peter gave me a pear tomato. If they're as good as he says — he just raves about it — I may plant some."
Mead likes to try new things. This year he started six varieties of tomatoes from seed, under grow lights in his cellar; five survived: Pilgrim, Mountain Fresh, Celebrity, Super Beefsteak, and Sanibel.
"Some of the best-tasting tomatoes are the ugly ones," he said. His favorite is Pilgrim. He notes, "The tomatoes in the grocery store are bred for shipping and shelf life — a practical necessity."
Mead also said, "If you grow things from seed, you go from the start to the finish… that just appeals to me. It's certainly easier to go buy plants at a garden center with everybody else on Memorial Day weekend. Simpler doesn't make the difference for me. It's a little like a science experiment," he said of growing plants from seed.
Mead has constructed sturdy trellises of PVC pipe for peas to grow on. And he has a composting bin where he puts the weeds he pulls from his garden beds.
"Once it breaks down, you turn it back into the soil," he said of compost. "It makes really beautiful stuff. Some gardeners call it black gold."
He pointed with a neighbor's pride to a nearby plot with riotously colored zinnias. "My neighbor Joe and his wife, Laura, grow pumpkins and colorful flowers," Mead said.
He went on to describe a humorous scene that stuck in his memory: "Laura is on her hands and knees, digging in the dirt and Joe is talking to someone. She says, 'Joe stresses the community part of community gardens.'"
Mead likes the community part, too. "I've met a lot of people I wouldn't have met," he said.
"My neighbor here, Jane, I'm really a little jealous of Jane," he says with a smile, eyeing her abundant crop of beans.
Mead goes on, "We all have the opportunity to put our faces in our phones and on our computer screens. Looking in other faces seems a little quaint these days. The people here are wonderful."
He concludes, "I sit behind a desk all week. This is an opportunity for me to get away from my email, get away from my phone — to recharge. I get down on my hands and knees and play in the dirt."
"This is my Zen"
The Schramms speak about gardening with a missionary's zeal. They say gardening is good for their physical and mental health, both because of their labors and the fresh foods they eat.
Tending to their garden on a recent rainy morning, they pointed out the swiss chard and lettuce they would harvest through Thanksgiving.
They had a neatly stacked pile of beans they had picked, green and yellow. And there were purple beans — yes, purple: Jane says they turn green when cooked — still hanging from vines climbing on a rustic trellis they'd fashioned.
When Jane and Tim Schramm lived next door to his parents in McKownville they gardened together — two generations — for 18 years. But then Tim and Jane moved to Ridge Hill Road to a home with a shady yard. "Terrible for gardening," said Jane.
So, five years ago, they got a plot at the community gardens and have since expanded to two.
They predominantly grow vegetables: peas, lettuce, spinach, rhubarb, kale, and asparagus in the spring, followed by onions potatoes, zucchinis, pumpkins, carrots, beets, and beans.
This year, they also added flowers: marigolds and gladiolas. "We thought it would be nice to take a breath when weeding," said Tim.
Jane, who administers an adult home, The Heritage Home for Women in Schenectady, will often garden after work.
"My friends tease me. I say, 'This is my Zen.' I come here if I need a mental break. You hear the animals around you. And we've met wonderful folks from all over the world."
She went on, "We've met people from different cultures and learned about their food … A gentlemen when we first came here, Bob from Altamont, he was the Zen master; he knew about every vegetable."
"People trade seeds back and forth," said Tim.
"We have periodic gatherings," said Jane, and the gardens attract people with interests besides gardening. "There's a dedicated group trying to keep the bat population alive and flying," said Jane, citing an example. "They count the bats at twilight; they've been doing it for years."
The Schramms have named a garden near theirs "the Monet garden," after the French impressionist painter Claude Monet. "Her flowers are a plethora of beauty; there is something different every week," said Jane. (Houser surmised the Monet gardener is Margaret Rausch.)
"There's something always blooming," agreed Tim.
The Schramms — Jane is 58 and Tim is 57 — say that gardening keeps them in good physical as well as mental shape.
"Both Jane and myself, after several hours of weeding or tilling in the spring, we definitely feel that the next day," said Tim.
"It's a good tiredness," added Jane. "You feel like you've done something positive."
"Jane goes almost every day after work to weed," said Tim, who works as a database administrator for the Albany City School District.
"I turn over the soil with a rototiller; we put in horse or cow manure … Jerry has fostered relationships with farmers who provide the manure," he said of Houser.
"From May to October, we don't buy vegetables. We're happy as clams," said Jane.
"I've been gardening my whole life," she said. "I grew up in Wisconsin … My grandparents loved to garden. My mother didn't go for it. She let me have at it. She loved the flowers."
The Schramms have put in raised beds which, they explain, help with soil drainage. "They dry out quicker," said Tim.
They also make it easier to weed. "You focus on a centered area," said Tim.
"And the vegetables are not as accessible to little critters," said Jane.
Tim displayed a beet that was half eaten, he surmised by a vole. "They're sweet," he said of beets.
Voles, rabbits, and other creatures consumed far more before the Schramms put a fence around their plot, they said. The deer are kept at bay by a larger fence on the perimeter of all of the plots. Members access the mowed grassy paths between the plots through centrally located gates.
The sounds that Jane enjoys hearing, from crickets to peepers, vary with the time of day, she said. There is one creature she does not enjoy
"I hate snakes," said Jane. Still, she concedes, "They serve a purpose; it's part of the circle of life."
Gardening has been a family affair for the Schramms. They have two daughters: Natalie, 19, and Amelia, 22.
Natalie, a college student, has been working this summer at Gade Farm. "She loves it and comes home with new plants all the time … She helps us plant and harvest," said Jane.
The Schramms can or make sauces of their summer bounty to carry them through the winter. "We froze 50 pounds of beans," said Jane.
"Our kids' friends just love it … We grow herbs and everything. It's neat to share that with young adults," said Jane.