Community is key in BKW graduation
Monday, July 1, 2019 - 17:39
BERNE — Secondary School Principal Mark Pitterson began Berne-Knox-Westerlo's graduation ceremony on Saturday by asking all parents and guardians of the graduates to stand. 
"The public recognition that you received is not nearly enough … ," said Pitterson to the parents. "You will never be thanked enough for all that you do, but I will do my small part in thanking you."
Pitterson was recognizing nearly everyone in the auditorium at The Egg in Albany, echoing a philosophy of communal support attributed to cultures of southern Africa and repeated by other speakers. Pitterson thanked the school board, superintendent, director of pupil personnel services, and family and friends.
Board President Matthew Tedeschi advised the students to make the most of each day, and told them that they hold the power to change their lives.
"So go out there and make your choice," Tedeschi said. "And don't forget, your friends, family, and the BKW community is behind you."
Ubuntu
Superintendent Timothy Mundell began by explaining the district's new mantra, "They are because we are," which had been adopted from the Ubuntu philosophy "I am because you are," used last year vy Marcy Forti in her valedictory.
"Indeed, it takes a village to take a group of young adults from Pre-K to 12th grade," he said.
The "we" in "they are because we are" refers to teachers and staff at BKW, but also to parents, and community leaders like coaches and scoutmasters.
Mundell recounted the numerous good works and amazing feats performed by students in the graduating class, such as enrolling in Advanced Placement courses to go farther in college or taking career and technical education courses that could lead to quickly starting a job.
"But education is more than the metrics, the tests, the results," he said. "Education is about relationships."
He said that students have been leaders in their class, being part of new programs like the football team or Future Farmers of America. He noted that numerous students have done community service, including one who asked for no recognition for his deeds.
"He made a tremendous sacrifice … ," said Mundell. "In his mind, community service is not a public thing."
After the ceremony, Mundell said, the graduates will be there for those who come after them, just as their community has helped them.
"When you throw up your diploma and your cap, you have commenced to 'we,'" Mundell said.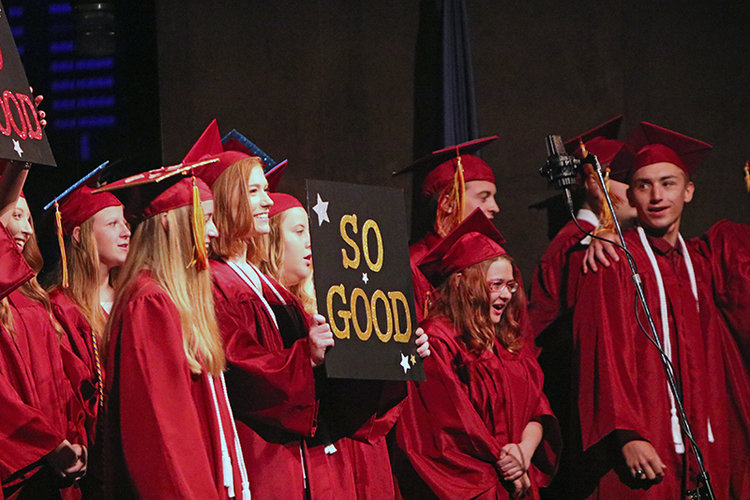 The Enterprise — Michael Koff
Berne-Knox-Westerlo graduates hold up signs for the lyrics to their rendition of "Sweet Caroline" by Neil Diamond.
---
Top scholars
In their speeches, both the Class of 2019 valedictorian and salutatorian touched on their community and those who have helped them get to where they are now.
"I had to convey a strong message that I truly believed in," said Adrianna Fahd, the salutatorian.
She encouraged the students to remember their roots in their community. She also advised them to not be afraid of failure, as it is a means of growth.
"Everyone has a story," she said. "Make it something your children and grandchildren will remember."
Valedictorian Nicole Carr thanked her teachers, family, and friends in the graduating class.  She also addressed her classmates and the close ties they had made.
"Thirteen years have passed since our journey started … ," she said. "Thirteen years have passed and I've heard it only gets faster."
With the knowledge and values they've been given and the desire to pursue their individual goals, Carr said to "remember all actions have an effect."
The ceremony had its light-hearted moments as well. The choir sang "Sweet Caroline" and encouraged the audience to sing along. When class president Jake Valachovic presented the Teacher of the Year award to Gary Morin, he said they had been worried Morin wouldn't be at the ceremony because he planned to disappear into the woods to fish for the summer.
"I did fish this morning. I'm happy I changed," said Morin as he left the stage after thanking his students.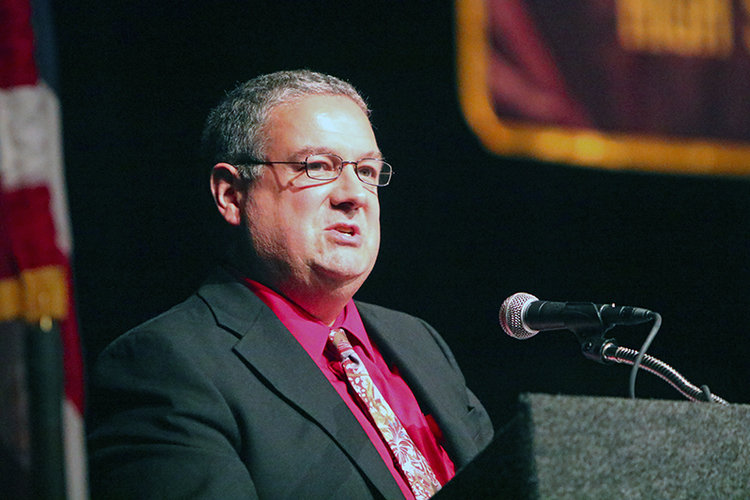 The Enterprise — Michael Koff
James Lemire, speaking at Saturday's graduation, wanted to convey life as a journey.
---
"Don't stop believing"
As commencement speaker, teacher James Lemire gave a couple of anecdotes about some of the graduates, asking one if he remembered when he tattled on a friend who had skipped class to go to Tractor Supply with his grandfather.
"I didn't go to Tractor Supply … ," Lemire recounted the student saying the next day. "I went to Home Depot."
But Lemire also spoke warmly of the community service the graduating class has given, asking any student who had completed community service or was in a volunteer organization such as the fire department or Boy Scouts to stand up and be recognized.
"Serving others is its own reward," he said.
He also congratulated the four students who would be joining the military after graduation, saying his father had been a United States Army "lifer," and a huge influence on him.
But Lemire said the message he wanted to convey was that life is a journey. He noted that he went to college with the intent of being a statistician, but painfully realized that wasn't for him.
He ended up discovering fields like psychology and social studies. Now, teaching at BKW, he has a job he loves.
He ended his speech with songs lyrics from "Don't Stop Believin'," a 1980s hit from the band Journey.
"Don't stop believing, Class of 2019," he said.