BKW students pat pigs, groom horses, ride tractors at farm fair
Saturday, June 8, 2019 - 20:43
BERNE — Berne-Knox-Westerlo Elementary students learned about things that hop, peck, mow, and moo from their older classmates at the school's second annual Agriculture Fair, on Friday.
The tradition last year began when students at the State University of New York College of Agriculture and Technology at Cobleskill asked to host a fair at the school, according to Michaela Kehrer, the secondary school agricultural science teacher and advisor to the BKW chapter of the Future Farmers of America.
This year's fair was organized and hosted mainly by agricultural science students and FFA members.
Students from pre-kindergarten through sixth grade rotated throughout the day to see the different animals and exhibits; secondary students stopped by as well, said Sarah McArdle, an elementary school teacher and advisor for the Junior FFA program at BKW's elementary school.
"It's really for everyone," she said.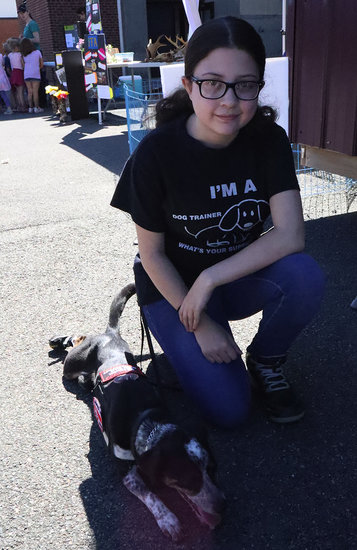 The Enterprise — H. Rose Schneider
Good dog! Madison Love is training her dog Raindrop to be her service animal and assist with her disabilities. A junior at Berne-Knox-Westerlo, she spoke to students on Friday about service animals at the Agriculture Fair at BKW Elementary School.
---
Students brought in their own animals for the event. FFA member Vanessa Rodrigue brought her chickens and ducks; her rooster, Bob; and her Vietnamese potbelly pigs.
Teagan Townsend, recently elected the Junior FFA president — for students in grades 7 and 8 — brought her rabbit, Dobbey, whom she has raised since he was eight weeks old, including through some mood swings. She says he will sometimes throw his toys around, but he is very calm now. Her classmate commented that Dobbey even attends Teagan's softball games.
"We take him to Tractor Supply and stuff," said Teagan. "He's pretty chill."
Liz Lendrum, the FFA vice president, let students have a seat in her John Deere tractor. She and River Townsend, Teagan's brother and the current treasurer for the Junior FFA, spoke to the students about farm equipment.
Madison Love, a junior at BKW, was there to take pictures and to talk to students about service dogs. She wore a T-shirt proclaiming she is a dog trainer. Madison, who is studying the Americans with Disabilities Act and types of service dogs, has disabilities herself and is training her dog, Raindrop, to be her service dog.
Becky Burroughs, and her mother, Stephanie Burroughs, brought a horse from their Forget-Me-Not Farm in Knox. Becky is a sophomore at BKW and a member of the FFA and the local 4-H chapter.
BKW senior and FFA member Kayleigh Reynolds-Flynn also brought horses from her farm, a dusky gray Percheron named Molly and her three-week-old coal-black foal, Mae. Kayleigh helped deliver the foal, something that is not new to her. She helps her family raise horses that are either sold or rented to use at parties or to draw carriages, such as the one used at Stuyvesant Plaza in Guilderland to take patrons on Christmastime rides around the parking lot.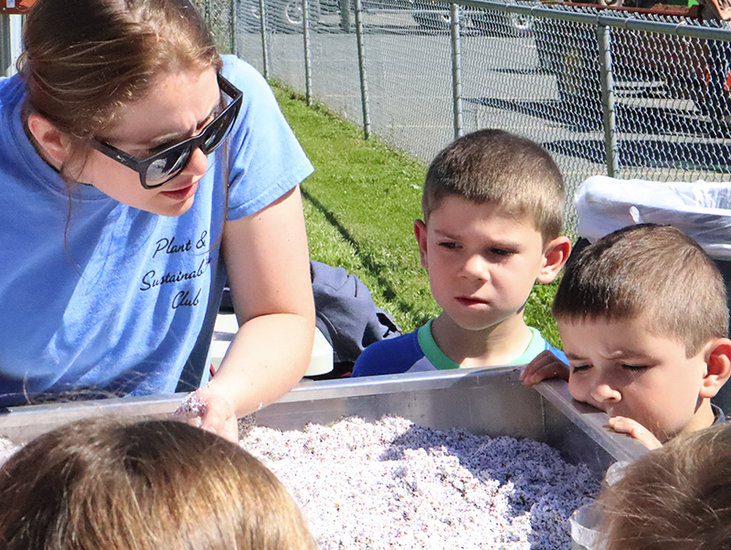 The Enterprise — H. Rose Schneider
"That poor house is done for, isn't it?" Students at Berne-Knox-Westerlo Elementary School watch a demonstration on erosion using water and sand. Ashley Young, of the Albany County Soil and Water Conservation District, speaks to students as they watch tiny houses get washed away.
---
The fair also drew people from beyond BKW. Kelley Doolin, a recent graduate of SUNY Cobleskill, had attended last year's Agriculture Fair, and returned with two of her goats, Peach, a Nubian, and Tulip, a LaMancha.
Tim Norray, of Norray's Honey in Knox, provided samples of honey and seeds to grow flowers for pollinators like bees.
Ashley Young and Susan Lewis of the Albany County Soil and Water Conservation District taught students about erosion by having them move sand and water around in a large tray to see how it might affect the tiny houses sitting in the sand.
Alana Sheldon arrived with a calf named Magnolia from her farm, Sheldon's Dairy, in Nassau, in Rensselaer County. A former Westerlo resident, Sheldon said Kehrer was her teacher and FFA advisor when Kehrer taught at Greenville, and she came when Kehrer told her she needed a cow to teach about dairy farming.
Sheldon's friend, Christina Lucanie, a veterinarian, spoke to students about how a cow can drink 45 gallons of water a day, the equivalent to a bathtub of water.
Lauren Griggs, who teaches third grade at the BKW elementary school, brought her class out into Friday's bright sunshine to see the animals. As her students took turns brushing the mane of the Burroughs' horse, she remarked that — while some students at BKW may have horses at home — others are seeing a horse for the first time. She said her students really love to see animals.
"I feel like they feel connected to the animal," she said.
Griggs said that FFA members will come into the classroom throughout the year to teach her students about farming and agriculture, which highlights science lessons on animals.
"It's nice to have that real-life connection with what they are learning about," she said.