Sullivan, an Albany activist, finds final rest in the Hilltowns
Thursday, May 30, 2019 - 10:23
BERNE — Joseph Sullivan was a political activist who called Albany his home, but found sanctuary in the Helderberg Hilltowns, where he was laid to rest on Saturday.
A full-dress military service was held for Sullivan at the Thompson's Lake Cemetery in Berne on Saturday, May 25. He died in January at the age of 81.
Those attending his service included multiple generations of family, local politicians and activists, and neighbors from West Albany. One of those neighbors, Tim Looker, said that he enjoyed visiting Sullivan on his porch and talking politics with him.
Cynthia Pooler knew Sullivan over the last 30 years, starting when they worked together on Californian Jerry Brown's campaign for the Democratic presidential nomination. She described Sullivan as a great thinker and disrupter of Albany politics.
Sullivan was known as a perennial candidate. While living in his home on New Scotland Avenue in Albany, he ran unsuccessfully for political office many times, including for Congress, the state legislature, Albany mayor and common council, and the county legislature. He last ran to represent the 109th District in the State Assembly as a Conservative against a Democratic and Republican candidate to "give people a choice."
Sullivan's son Joseph said his drive to keep running stemmed from his belief in democracy and the necessity of contested elections. His campaigns were usually self-funded and never "flashy," said his son, and he usually would get 4 or 5 percent of the vote.
"If every vote counts, those were people that were voting for him for a reason," his son remarked.
None of these runs were successful, but Deborah Busch, the former minority whip in the Albany County legislature, said she felt his influence in the Hilltowns, where he would attend and speak at meetings.
Busch, a Republican, was elected to represent the 39th District in the Albany County Legislature in 2011, where she served for one term. During her time in office, Busch said, the state passed the Secure Ammunition and Firearms Enforcement (SAFE) Act, and so she joined a movement to campaign against it.
"I traveled all across New York campaigning," she said. "And Joe was a part of that."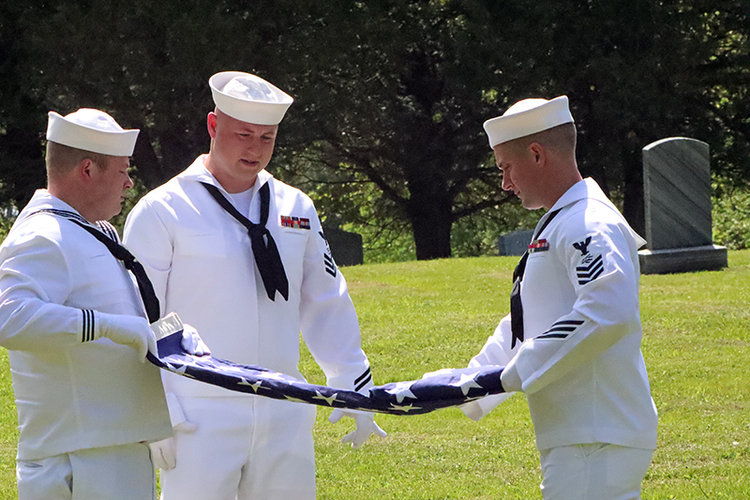 The Enterprise — H. Rose Schneider
Sailors from the United States Navy prepare the flag to be used in a military honors ceremony for Joseph Sullivan, a political activist who had served in the Navy.
---
It was in the Hilltowns that Sullivan found a refuge, visiting John Boyd Thacher State Park — not too far from where he was buried — with his two dogs, said Busch.
Sullivan joined the United States Navy at 17. His time in the military was apparent at the funeral, with his "crying towel" on display and three sailors present to perform funeral honors. His own son Joseph later went into the military and served in Afghanistan and Iraq.
After his time in the Navy, Sullivan went on to receive a bachelor's degree in geography from the University of Wisconsin Madison and a master's degree in geography from the University of Minnesota. He came to New York State to work for the Farmlands Preservation Program.
Sullivan's son said that their family originally lived on Long Island where his father was the Democratic chairman for their town. One of his main concerns was preserving wetlands there.
Sullivan's concern for the environment didn't end there though, said his son. In Albany, he helped ensure there were open spaces and had Buckingham Pond designated as a lake to protect it from development, his son said.
Initially a Democrat, Sullivan worked for both Governor Hugh Carey and State Senator Howard C. Nolan, both Democrats. He finished his time at the state working as an analyst for the Senate minority.
Joseph Sullivan said that his father had endorsed Carey back when the family was living on Long Island; the Sullivans moved to Albany so he could work on Carey's campaign. When Carey served as governor, Sullivan used to sneak in pints of Guinness to the governor's mansion for them to drink, said his son. At one point, Ted Kennedy's daughter Kara stayed in the Sullivans' house when Sullivan was working on Kennedy's campaign, said his son.
When he came to Albany, Sullivan met with Dan O'Connell, the chairman of the Democratic Party.
"My dad held him as a mentor in that regard," he said.
Sullivan eventually began advocating for people on a number of issues, said his son. He came to know his neighborhood, being able to determine how each person in a house would vote while campaigning before he ever opened the door, said Pooler.
"He was really politically savvy … ," Busch said. "He knew what doors to knock on and who you could sway and change."
Sullivan left the Democratic Party to become a Conservative after he lost a close ward election in 1993. His views, documented in a blog up until a year-and-a-half ago and in interviews, became very right-wing, though he also advocated for things like a healthy diet and exercise.
Sullivan, in his last election, described abortions as "infanticide," advocated for securing the border and repealing the SAFE Act, but was ambivalent on legalizing marijuana, saying it should be left to personal choice whether to use it.
"He valued life," said Busch, of the driving principle of his views. "He believed every human being had value."
Some of Sullivan's grandchildren read poems in his memory at the service. It was a funeral planned out by Sullivan, with instructions on the music to play. He had also, before dying, instructed that his grandchildren be given books; his granddaughter Erin Sullivan, a second-grade teacher, said she was given a book about police officers to read to her class, as her father is a police officer.
Erin Sullivan said that her love of teaching was something she had in common with her grandfather. That, and a love of Australian shepherds. Sullivan had two shepherds, and he loved taking them to Thacher Park; his granddaughter wants her own someday.
Sullivan often ran against Republicans in primaries or elections. But Republican Mark Grimm drafted a proclamation commemorating Sullivan for his community service such as founding the Buckingham Pond Association, where he lived, and serving as a member of the city's community gardens, as well as his support of farms in the Hilltowns.
The proclamation was read out loud at Saturday's service by Republican Frank Mauriello, the minority leader in the Albany County Legislature.
"His views helped those without a voice — animals, nature and the ones who did not believe their voice would matter — be heard," the proclamation concludes.