They paid the price. It's for us to keep the promise.
Wednesday, May 22, 2019 - 22:01
Joseph Conforti, a Marine who fought in Vietnam and during the Gulf War, was shopping at Costco a few years ago when he saw in the parking lot a license plate identifying an Iwo Jima survivor. He introduced himself to Sammy Bernstein to thank him for his service. "Sammy started crying," he told us.
As Conforti, a filmmaker, talked to Bernstein, he realized he had to tell his story. The result, shown recently at the Voorheesville Public Library, is "In the Shadow of Suribachi: Sammy's Story."
When Conforti screens the film at Jewish synagogues, he said, he hears, again and again, the Yiddish word "beshert," meaning "preordained," as if divine providence had caused that chance meeting in the parking lot.
He also, again and again, after screenings is approached by school teachers who want to have their students learn the history taught in the film. The backdrop is the five-week battle for the tiny Japanese-held Pacific Island — one of the bloodiest battles of World War II — as 700,000 American Marines, about 1,500 of them Jewish, fought to control the island.
But the story is all about Sammy Bernstein and the two battles he fought — against the Japanese, and against anti-Semitism. Interviews with Bernstein, who died as the film was being made, are interspersed with pictures from World War II as well as interviews from his wife, and buddies who fought alongside him, and poignant scenes from his funeral.
The youngest of the five Bernstein brothers who fought in the war, "He lasted all 36 days on the island," Bernstein's son, Howie, told us. In his later years, "He would sit and cry and say, 'You don't know what I did as a 19-year-old.'" His son made a special room for him in his house, in Stoughton, Massachusetts, filled with Bernstein's memorabilia from the war, treasures he now plans to pass on to his own grandchildren.
At the start of the film, Bernstein describes what he calls "My first encounter with anti-Semitism." He was told to choose between a "C" for Catholic or "P" for Protestant on his dog tag. "I said, 'I'm Jewish' … I refused to sign the paper." An "H" for Hebrew was put on his dog tag.
Later, as he was being trained at Parris Island — where everything he owned was in a seabag — the contents of the bag were thrown out and a note was put on his bunk: "Hitler missed you. I'll get you."
Two of his buddies stood up for him, one saying, "Anyone touches Bernstein, they have to go through me." Bernstein's company was lined up in front of the mess hall the next day and told such behavior would result in a court-martial. The culprit was found and discharged.
Bernstein recalled how he was still a kid and had a penchant for candy. His parents sent him Tootsie Rolls. "I took the bullets out of my belt and put Tootsie Rolls in there — same shape," he said. He wore his bullets across his chest. Bernstein thought a Pacific Island would have palm trees and dancing girls but was in for a rude awakening.
He looked forward to what was billed as a last meal before the invasion, envisioning steak, mashed potatoes, and ice cream. It was, instead, ham.
"I'm sure as hell not going to eat ham as a last meal," he said.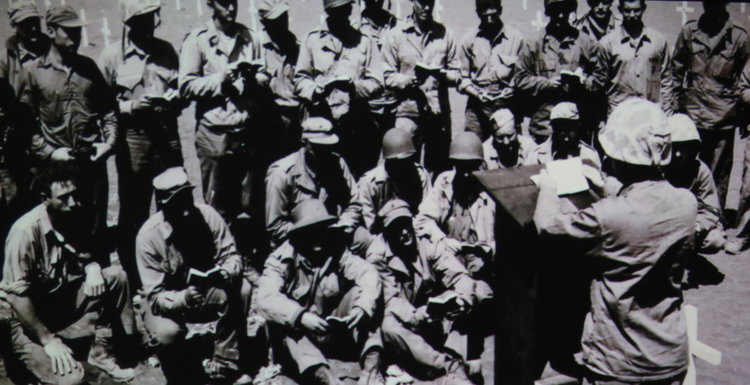 — From "In the Shadow of Suribachi: Sammy's Story"
Rabbi Roland Gittelsohn delivers his sermon, "The Purest Democracy," to about two dozen Jewish Marines and several Protestant chaplains, at the back of a cemetery for the Fifth Marine Division on Iwo Jima. The rabbi was supposed to address all of the Marines, but after some chaplains objected, the Marines were divided into groups of Jews, Catholics, and Protestants who heard separate sermons.
---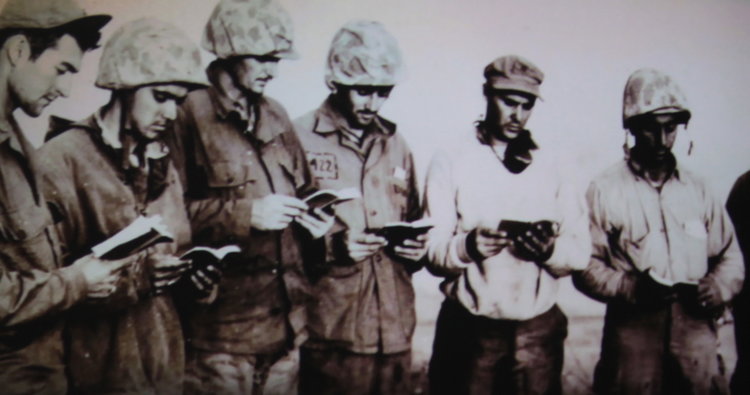 — From "In the Shadow of Suribachi: Sammy's Story"
After 36 days of punishing battle, Marines, including Sammy Bernstein, listen to the healing words of Rabbi Roland Gittelsohn.
---
On Feb. 19, 1945, Bernstein and his company landed at Iwo Jima. "As soon as that front vent went down, I became a man," he said of disembarking from a Higgins boat. "To dig a fox hole wasn't hard. It was impossible," he recalled, explaining how volcanic ash filled a hole as soon as it was dug.
He cried, recalling the scene on the beach, "Boys my age lay split open … I realized what Iwo Jima was: It was hell."
His wife, in current times, recalled how she always had to flash a lightswitch on and off when she entered a room. If she came up behind her husband without warning, she'd be hit. His son said the same thing. His trauma from war had lasted a lifetime.
When the fighting had finally ended, a cemetery for the Fifth Marine Division was to be dedicated. Rabbi Roland Gittelsohn, the first Jewish chaplain the Marine Corps appointed, assigned to the Fifth Marine Division, was asked by Warren Cuthriell, a Protestant minister and division chaplain, to give a memorial sermon at a combined religious service.
Other chaplains objected and finally separate dedications where held. Bernstein recalled he was told, "'Son, take the Jeep … find any Jewish boys you can.' Only 25 men heard the original speech," Bernstein said. But, he went on, "The speech was printed aboard ship and sent all over the world."
"This is perfect for today; it's about tribalism," filmmaker Conforti told us. He asked, "What if we went to war in Syria, and they chose a Muslim chaplain to give the benediction over graves?  Would we have learned anything? I postulate, as a Marine, you would still have a controversy."
So on this Memorial Day, here and now in the United States, when newcomers to our country are being targeted, when racism has been rekindled, and when there have been attacks on synagogues, in Pennsylvania and California, we need to hear Rabbi Gittelsohn's words — the sermon he called "The Purest Democracy." We need to take those words to heart and act upon them:
"Here lie men who loved America because their ancestors generations ago helped in her founding, and other men who loved her with equal passion because they themselves or their own fathers escaped from oppression to her blessed shores. Here lie officers and men, Negroes and whites, rich men and poor — together. Here are Protestants, Catholics, and Jews together.
"Here no man prefers another because of his faith or despises him because of his color. Here there are no quotas of how many from each group are admitted or allowed. Among these men, there is no discrimination. No prejudices. No hatred. Theirs is the highest and purest democracy.
"Whosoever of us lifts his hand in hate against a brother, or who thinks himself superior to those who happen to be in the minority, makes of this ceremony and the bloody sacrifice it commemorates, an empty, hollow mockery. To this, then, as our solemn duty, sacred duty do we the living now dedicate ourselves: to the right of Protestants, Catholics, and Jews, of white men and Negroes alike, to enjoy the democracy for which all of them have here paid the price.
"We here solemnly swear that this shall not be in vain. Out of this and from the suffering and sorrow of those who mourn this will come, we promise, the birth of a new freedom for the sons of men everywhere."