Suit claims clear-cutting for Costco violates state and federal laws
Monday, April 27, 2020 - 18:37
GUILDERLAND — Pyramid's clear-cutting of trees last month to make way for Costco has led to a lawsuit, seeking a new lead agency for environmental review.
Four Westmere residents and the owner of a Guilderland gas station filed suit in federal court on Saturday against the town of Guilderland and its zoning and planning boards and also against Pyramid Management Group and two of its subsidiaries.
On March 26, Pyramid clear-cut an 8-acre woods as well as trees in a ghost neighborhood where it plans to build a Costco. Protesters from Save the Pine Bush and the Guilderland Coalition for Responsible Growth were unable to stop the cutting; the town issued a cease-and-desist order late that day, after the trees were cut.
A hearing, originally scheduled for March 25, on an environmental impact statement submitted by Pyramid was canceled because of the coronavirus pandemic. The town is currently accepting responses on Pyramid's draft environmental impact statement, and has extended the date for public comment to May 26. The public hearing will be held on May 13 at 6 p.m.
The suit, filed in the Northern District of New York, says the clear-cutting violates the federal Clean Water and Endangered Species acts as well as the state's Environmental Quality Review Act and further violates the plaintiffs' due process rights and privileges guaranteed by the 14th Amendment of the United States Constitution.
The suit alleges that the town and Pyramid's actions evince Guilderland's "unalterably closed mind pre-determining the outcome of the project's land use permitting process."
It seeks to stop further construction activities until there has been proper environmental review and also seeks to replace the Guilderland Planning Board as lead agency in the state's environmental review process "to restore a fair and impartial examination."
The suit was filed by James Bacon, a lawyer based in New Paltz who has been involved in State Environmental Quality Review Act proceedings for over 30 years. "I've never seen a lead agency allow clear-cutting before SEQR review," he told The Enterprise.
He also said there are federal wetlands on the cleared site. "If it's more than an acre, you have to get a permit to do that under the Clean Water Act."
Asked which agency might best be the lead agency for the environmental review, Bacon said, "Not the town. The town's actions have disqualified them … Theoretically the DEC," said Bacon, referencing the state's Department of Environmental Conservation, adding perhaps Albany County or the neighboring city of Albany.
"The lead agency," said Bacon, "is to look at alternatives … then act to choose among alternatives that minimize environmental harm."
Guilderland Supervisor Peter Barber said on Tuesday he was confident that the town's planner and zoning inspector had "followed the right procedures."
Responding to the suit's allegation that the town has an "unalterably closed mind," Barber said, "People are misunderstanding. This process started with a neighborhood study, which recommended a Transit-Oriented District … It's the result of a public process with multiple public hearings."
Residents, he said, had wanted higher-density development, apartments and shops, closer to existing retail, which would keep traffic off of Western Avenue.
"That was the goal," Barber said. This aligns with Smart Growth principles, he said. Barber gave the example of someone who would park her car at Macy's and then "walk across the street" to shop at Costco.
Asked if it is the intention of the plaintiffs to stop the Pyramid expansion, Bacon said, "From a legal standpoint, the concern is the processing and adhering to procedural requirements. Whether the town wants this should be in its zoning. The residents believe the TOD [Transit-Oriented District] zone is not meant for this type of development."
Bacon concluded, "We're looking for a level playing field." He said he does a lot of work on behalf of citizens. "They found me," Bacon said of the plaintiffs. "They want their town to obey the law. That's the bottom line. Westmere residents have a lot to lose here …
"People who lived there before Crossgates Mall was built" have had their lives changed," said Bacon. "They want to keep what they have right now." While the Lawton woods were not Central Park, he said, the Lawton woods were "a nice refuge for wildlife, a nice buffer … to have it leveled is shocking."
Crossgates Mall opened in 1983 with about 875,000 square feet. In 1994, it added 650,000 square feet, and, in 1997, an 18-screen cinema opened, increasing the number of screens to 30.
In 1998, when Pyramid had plans to build an eight-story hotel and a recreation facility at Crossgates, more than doubling the mall to about 3.6 million square feet, it bought up the residential properties in a nearby neighborhood at twice or even three times their assessed values. Massive citizen protests of the expansion project led the town not to approve the required zoning changes.
In late 2013, Pyramid proposed an expansion of two stories and 20,000 square feet, on the southern side of the mall. In the fifth amendment to the mall's special-use permit since 1984, the "bump out" provided space for two restaurants and two entertainment venues.
In 2017, Pyramid partners said they were looking to diversify as shopping trends changed from in-store to online. Pyramid opened a five-story, 192-room hotel in front of the mall, on Western Avenue, in 2019.
Pyramid Management Partner Michael Shanley said on Monday that he has been "housebound in Florida" for the past month and wasn't even aware of the lawsuit. He suggested contacting the general manager of Crossgates Mall, Michael Gately, who did not return calls.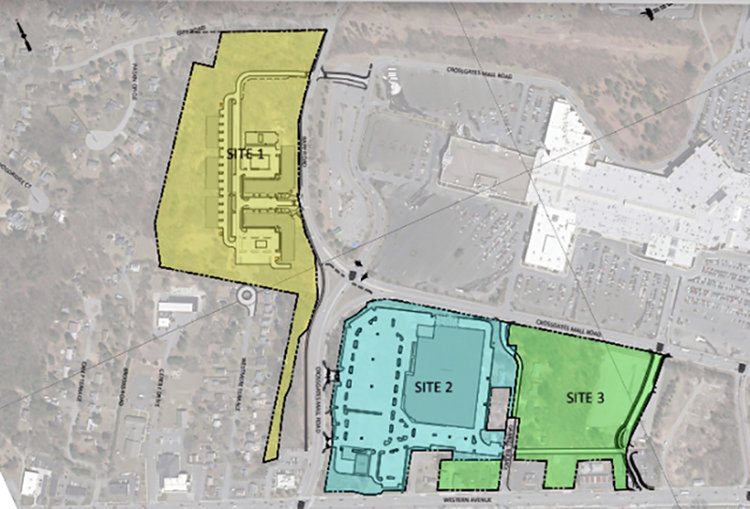 — From the draft EIS on file with the town of Guilderland
Pyramid plans: This drawing, part of Pyramid's draft environmental impact statement, shows the three sites that are being considered. Site 1 is a proposed complex of 222 apartments at Rapp and Gipp roads. Site 1 may also house an additional 90 apartments. Site 2 is a proposed Costco with fueling stations; this site extends from Rapp Road east to Gabriel Terrace and would involve the demolition of a "ghost neighborhood" of former homes on four streets. Site 3, located between Site 2 and Pyramid's hotel, would include a mix of retail space, office space, and 48 apartments.
---
The plaintiffs
Four Westmere Terrace residents are among the plaintiffs: Lisa and Thomas Hart, and Kevin and Sarah McDonald. Kevin McDonald says in court papers that he chose his home because the "quality of life and security this neighborhood provides was ideal with less traffic and peaceful surroundings."
A year ago, 30 residents of Westmere Terrace had signed a petition, given to Guilderland officials and the Albany County Planning board, asking that residents' concerns be taken into account when considering Pyramid's proposal for a complex with 222 apartments and townhouses on Rapp Road.
At that time, Lisa Hart told The Enterprise that many neighbors moved to Westmere Terrace because it was a small, friendly cul-de-sac where they could safely walk with children in the road. Children on the autism spectrum live in several houses on the street, she said. "I love this street because it's so quiet," Hart said.
"Westmere residents routinely walk or bring their children to the Lawton neighborhood for recreational activities, such as bicycling," the suit says.
The suit includes a report from Erik Kiviat, Ph.D., a wetlands scientist, who studied the Lawton woodlands and found a variety of trees, some more than three feet in diameter as well as a number of animals like deer and birds like the pileated woodpecker and red-tailed hawk.
Kiviat wrote that the woodlands were "part of an extensive network of preserved and non-preserved greenspaces" and "have great importance for biodiversity, water resources, carbon storage, microclimate, and amenity."
The other two plaintiffs are listed as 1667 Western Avenue, LLC — the address of a Mobil station bordered on three sides by Pyramid property — and Red-Kap Sales Inc, a gasoline distributor that operates the Mobile station, which is owned by Jonathan Kaplan.
Costco centers typically feature pumps selling gasoline often below local pump prices. Pyramid's plan for Guilderland calls for six fuel islands.
The suit cites James Calvin, chief executive officer of the New York Association of Convenience Stores, "a private, not-for-profit trade organization representing thousands of neighborhood convenience stores and mini-marts statewide," saying he "expressed concerns as to the project's conformance with the Town's zoning code and impacts on neighboring gasoline retailers."
TOD
A Transit-Oriented District was established in Guilderland 2018 that was meant to concentrate development around the Crossgates Mall ring road, as a way of bypassing Western Avenue and creating an area that encourages walking or public transport.
The suit states "Pyramid publicly stated it would use the TOD to create a mixed-use community. "However," the suit goes on, "privately, Pyramid was purchasing land to consolidate tax parcels and build large-scale single use development … Pyramid would purchase properties surrounding the mall through subsidiaries and require non-disclosure agreements to limit public knowledge and scrutiny of its development plans."
For decades, The Enterprise covered the purchase of homes on Lawton Terrace, Rielton Court, and Tiernan Court, which became a ghost neighborhood, where Pyramid is now planning to build a Costco big-box warehouse club with six fuel islands.
The suit cites an Enterprise article where Shanley said that Pyramid had no plans to build a hotel.
The suit also notes, "On May 13, 2019, the Albany County Planning Board, issued a disapproval letter, primarily due to the project's large-scale single-use incompatibility with the TOD zone's mixed- use purposes."
Town's role
The suit says the town rezoned Pyramid's property to allow the hotel, granted subdivision and site-plan approval and abandoned a town road, Lehner Road, to convey to Pyramid.
"Similarly," the suit says, "while Pyramid publicly promised development consistent with the TOD's mixed uses, it had already completed detailed plans to consolidate multiple tax parcels for single large scale residential and commercial projects."
The town required Pyramid to submit an environmental impact statement, intended to outline the scope of all, or nearly all, potential future development in the area around Crossgates Mall. The draft, submitted to the Guilderland Planning Board on Feb. 12, looks at three sites within the Transit-Oriented Development zone: Site 1 for a proposed apartment complex, Site 2 for Costco, and Site 3 where commercial and residential buildings are anticipated.
The suit alleges "the scoping document did not disclose the proposed alienation of all or part of Lawton Terrace, Tiernan Court or Gabriel Terrace nor did it identify that the development of Sites 2 and 3 was contingent upon the Town board adopting a resolution to convey this property to Pyramid."
The suit alleges further that the town's planner did not identify that a Costco was proposed for Site 2 and that the concept plan did not name the four town roads to be transferred to Pyramid.
"Together, these Town roads and rights of way comprise 13.75 percent, (2.27 acres), of the 16.5 acres for Pyramid's Site No. 2," the suit alleges.
Barber responded on Tuesday that the town would follow the same process with roads at the Costco site as it had with Lehner Road where Pyramid built its hotel. First, he said, the highway superintendent would provide a report, determining if the road or roads no longer had a purpose. If the roads had no purpose, the town board would then declare them abandoned, said Barber.
"We don't know until we get to the site plan," said Barber. "We're not there yet."
Also, the plaintiffs hired Ferrandino & Associates since F&A had conducted detailed analysis of socio-economic impacts on behalf of Costco proposed in Yorktown, New York, court papers say; F&A determined the draft environmental impact statement "did not include socio-economic studies and failed to address significant impacts to community character, community services and traffic," the suit says.
About the March tree-cutting, the suit says, "Although the Town issued a cease and desist order, both the Town Supervisor and the Town Planner asserted the tree cutting was authorized by NYSDEC in an interview with the media."
The day after the clear-cutting, Supervisor Barber told The Enterprise that Jacqueline M. Coons, Guilderland's chief building and zoning inspector, contacted the DEC, and was told tree-cutting is not a physical alteration of the land and therefore not illegal.
"They're leaving logs on site," said Barber at the time. "I'm not sure what constitutes 'physical alteration.'  Apparently, it's a question that comes up relatively often."