Containers: Bringing the outdoors in
Thursday, April 25, 2019 - 11:07
Houseplants can range from ordinary to exotic to strange: prickly pear cacti appear as green, spiky mittens; king sago palms look like they belong on a tropical island; and aloe vera and snake plants look like reptiles.
At the garden center in Robinson Ace Hardware in New Scotland, Dianna Carl, a garden associate there, points out lipstick plants, which sprout dark burgundy bulbs that eventually spit out long red flowers. She also identifies corn plants, which grow leaves similar to corn, and string of pearls, which looks like peas strung together in a chain, pooling together in a flower pot.
While spring brings the opportunity to begin gardening outdoors again, many people have turned to indoor gardening in recent years. Coverage of indoor gardening has reported more people are doing it, including more young people, with headlines like "Instead of houses, young people have houseplants," from The Economist and "Millennials are filling their homes — and the void in their hearts — with houseplants" from The Washington Post.
Lee Ryan, a master gardener from the Cornell Cooperative Extension of Albany County, who hosts a presentation on houseplants, says she believes indoor gardening has become more common, in particular with elderly adults in senior living centers or condos who no longer have an outdoor garden to work with or the ability to care for one.
Employees at Robinson Ace Hardware in New Scotland have noticed that more people have been buying houseplants in the last few years, with the main appeal being that they are easy to care for. Popular choices include ferns, snake plants, spider plants, spiderworts, and cacti and succulents.
Carl, 62, worked as a dental assistant before starting her job in the garden center a year-and-a-half ago. But she has had a lifetime of caring for plants. As the summer months approach and the store becomes busier, she has been compiling information for customers to read on the various plants for sale.
Carl first advises people to not get intimidated and to not give up if their first try at growing a houseplant is unsuccessful. She also will ask customers about the amount and direction of light in their homes.
For homes with large amounts of light, she recommends something like cacti. For less light, she will recommend something like the snake plant, swiss cheese vine, or the staghorn fern.
Carl also says the type of heating system in a home should be considered so that precautions can be taken to prevent the plant from drying out.
"You've got to learn to read your plant like you would learn anything," she said.
While people often ask Ryan about bringing outdoor plants indoors, she doesn't recommend it save for some herbs like basil or rosemary, or shade-dwelling flowers like begonias.
The plants that can be grown indoors usually come from tropical climates where they are used to room-temperatures year-round and need less sunlight due to growing under the jungle canopy, although it can vary based on the plant.
"Your cactus and your orchid won't be anywhere near each other in the home," she said.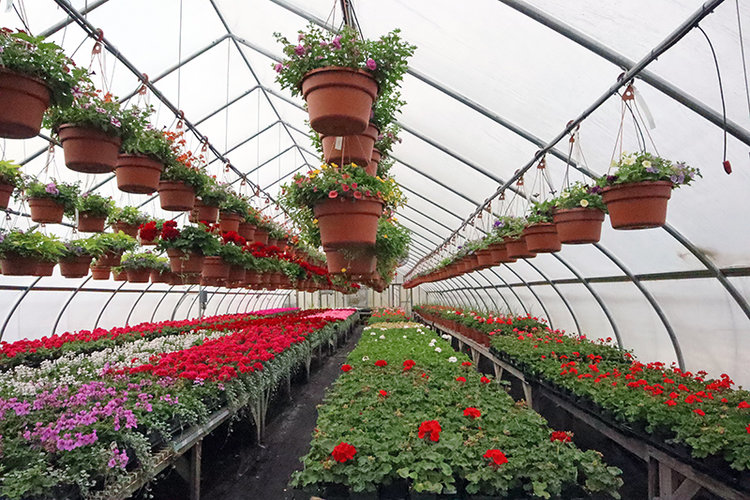 The Enterprise — H. Rose Schneider
Rows of flowers and other plants sit on tables or hang from baskets in a greenhouse at Robinson Ace Hardware in New Scotland. Dianna Carl, who works in the garden center there, said that production starts in the winter in the greenhouse, where Carl said it's comforting to be in the warm structure while snow is falling on the roof. Soil is deposited by a machine into containers, and starter plants or seeds are planted.
---
One of the reasons Carl believes that houseplants have become so popular again is the idea that they can purify the air. How effective plants are at purifying air, however, is debatable. A 1989 study  by the National Aeronautics and Space Administration found that plants "can play a major role in removal of organic chemicals," but the scale has been debated.
Carl has a list of the best plants to purify air, which include peace lilies, dracaena, aloe vera, weeping fig, snake plants, spider plants, and ZZ plants.
She also keeps a list of plants that are poisonous to pets or people, which includes the peace lily, devils ivy, sago palms, poinsettias, elephant ears, and cyclamen.
Houseplants can also have an incredibly long life. Carl said that plants she inherited from her mother after her death are alive more than 40 years later. A plant's lifespan, she said, often is just a matter of having the proper nutrients, soil, humidity, and other factors.
According to information from the Cornell Cooperative Extension of Albany County, people shopping for houseplants should examine the health of a plant before buying, looking for wilting, discoloration, white spots, or signs of insects like aphids, gnats, or mites. But buyers shouldn't be alarmed if a plant drops some leaves or if the tips of leaves turn brown once it is moved to its new home, as some plants are very sensitive to environmental changes but will recover after adjusting.
After bringing plants home, their owners should be on the lookout for issues such as cold damage by a draft from a window or door, dryness, too much or too little sunlight, or soil that is too moist.
Gardening and caring for plants makes Carl happy and she believes it's this reason that many others are buying houseplants.
"They're green, they're alive, they bring life into a home," she said.