Turn off your phone and talk to actual humans, Screen-Free Week to take place April 29 to May 5
Friday, April 12, 2019 - 17:19
VOORHEESVILLE — Modern children spend more than seven-and-a-half hours a day in front of a screen, according to the United States Department of Health and Human Services. Just as worrisome — and more than likely a situation of cause and effect — is that only one out of every three children is physically active on a daily basis, according to Health and Human Services.
"Our school actually had a speaker come in ... A local psychologist [talked about] how kids need to get more exercise, have more downtime, and not feel the pressures that they're cognitively and socially developmentally not prepared for, with [regard to] self-esteem and acceptance," said Lori Storrow, a parent with children in the Voorheesville School District.
"These are all things [self-esteem and self-confidence] that the kids haven't developed on their own yet; [they] rely on social media in order to get approval, when the approval should come from themselves," Storrow said. "So that's a huge struggle right now: They don't have their own self-confidence yet and they're judging their own self-worth upon other people's opinions — we just went outside and played."
Storrow is also an organizer of Voorheesville's first Screen-Free Week.
Screen-Free Week is a national event where children and their families pledge to turn off their electronic devices — cell phones, computers, gaming systems, iPods and iPads, and televisions — for an entire week in order to try new activities or participate in new experiences.
At Voorheesville Elementary, Storrow said, the goal is that students leave their phones and tablets at home. In the middle school, the hope is that students won't use their phones at recess or during lunch.
At first, the expectations may seem minor; however, those small steps — a dinner without phones, could become an entire evening without electronic devices, which could lead to entire days without checking social media — could lead to systemic changes for a family.
The message that she wants to get across to students, Storrow said, is: "Give yourself a break" and "embrace the moment." She wants kids to try to replace their digital connections with "meaningful … personal connections."
Storrow began to organize the event, she said, because she saw too many children growing up who weren't having an actual childhood. She wants to give kids an opportunity, she said, "To re-prioritize themselves — and their parents."
The role that parents play in all of this is decisive and divisive.
Earlier and earlier — as early as kindergarten, Storrow said — parents are giving their kids phones and electronic devices. According to the American Academy of Pediatrics, there are "multiple developmental and health concerns" for young children who have too much exposure "to all forms of digital media."
Storrow doesn't allow her two children to be on social media or to have electronic devices, although there is a television in the home, she points out, as well as a shared computer that her kids use only when supervised. When asked why, she said, "Because I find that we're becoming a world of robots … You see families go out to dinner and everyone's looking at their phone. And to me, I'm very saddened by seeing all of that — that no one can go places without their phone. It's like their lifeline."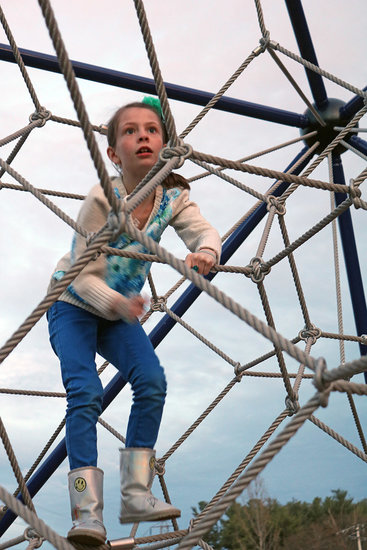 The Enterprise — Michael Koff
You can't do that on television: Maria Storrow, 8, climbs on a jungle gym at Voorheesville Elementary School's recently built playground. 
---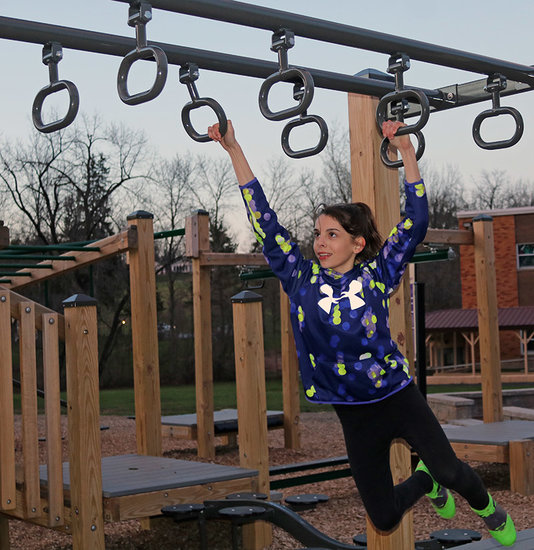 The Enterprise — Michael Koff
Monkeying around: Sofia Storrow, 11, swings across the monkey bars at the Voorheesville Elementary playground. Organizers have planned events for every night of Voorheesville's Screen-Free Week.
---
A week of screen-free events
The architects of Voorheesville's first Screen-Free Week — the Voorheesville Parent Teacher Association; Voorheesville Community and School Foundation; Voorheesville Public Library; and Voorheesville Community Alliance for Healthy Choices — have planned a number of events and arranged a number of deals for families who wish to participate in the week-long festivities.
On Monday, April 29, there will be a playground night for elementary students complete with an ice-cream truck on site; Subway restaurant will be offering a 20-percent discount to any customer who comes in and says, "Happy Screen-Free Week," Storrow said, and, "they can bring that food over to the playground for a picnic."; and a parents-versus-children basketball game will take place at the town park on Swift Road.
On Tuesday, April 30, three local churches will be collaborating on "Unplugged-A-Palooza," a family-fun night with games, crafts, and food. The event will take place at Saint Matthew's Church
On Wednesday, May 1, Jaycee's Pizza Depot in Voorheesville will be offering half-priced large pizzas if you say, "Happy Screen-Free Week," when ordering; and Jeffrey Vivenzio, principal of Voorheesville Elementary, will be leading a bike ride that takes place along the Albany County Helderberg-Hudson Rail Trail, from 4 p.m. to 6 p.m.
On Thursday, May 1, Emma Cleary's Café in New Scotland will be offering a 15-percent discount for dinner customers who say, "Happy Screen-Free Week," when ordering; and there will be a group walk that will take place on the rail trail, it starts at 6:30 p.m.
On Friday, May 2, the Voorheesville Public Library will be offering screen-free activities, as well as hosting a family-fun night and potluck dinner.
On Saturday, May 3, parents and children will have the opportunity to participate in Community Cares Day; the library will be offering a free family yoga class; the swimming pool at Voorheesville's middle and high school will be open to the public; and Storrow said, "What we're really excited about is WildPlay Element Park [at Thacher State Park], which is offering 25-percent off for Voorheesville residents participating in this event."
On Sunday, May 5, the Voorheesville PTA will be holding its Color Run event, which is also a fundraiser for the organization; parents and children will have another opportunity to participate in Community Cares Day; and, in the afternoon, from 4 to 8 p.m., the Across the Street Pub in Albany (whose owners live in the village, Storrow points out) will be offering diners a 10-percent discount if they say, "Happy Screen-Free Week," when ordering
Storrow said that, for each day a child participates in that day's events, he or she will be able to collect a ticket and enter into a drawing to win one of the prizes that are, collectively, valued at about $1,800.
"Including things as large as a hoverboard, a week of camp at Indian Ladder [Farms], $500 worth of training sessions at a local gym," she said, adding that another one of the prizes will be the high school principal's parking spot.