Dusk envelops a Westmere neighborhood as the house at 48 Van Wie Terrace burns on Thursday afternoon
Friday, March 29, 2019 - 11:16
GUILDERLAND — It felt like a light rain was falling at twilight on Westmere residents as they gathered in small, quiet clusters outside of their tidy homes on Thursday afternoon to watch smoke that billowed like an erupting volcano from the house at 48 Van Wie Terrace.
The mist was from fire hoses and the twilight at 4 p.m. was because thick smoke blotted out the sun.
A wide yellow hose snaked along the edge of the street, which was blocked off by a police car as fire trucks lined the road. Flames occasionally leapt from the peak of the roof of the single-story wood frame house but it was hard to see the bright orange tongues of fire since the smoke was so dense.
A TV cameraman said he couldn't focus because of the smoke.
At one point, when the smoke briefly thinned, firefighters in heavy brown turnout gear could be seen lifting a ladder on the roof, carried to the center of the inferno by an extended arm of a fire truck.
The air all around was dense, making it hard to breathe; an acrid smell clung tenaciously to hair and clothes. At another point air horns blared, a signal to the firefighters inside to get out.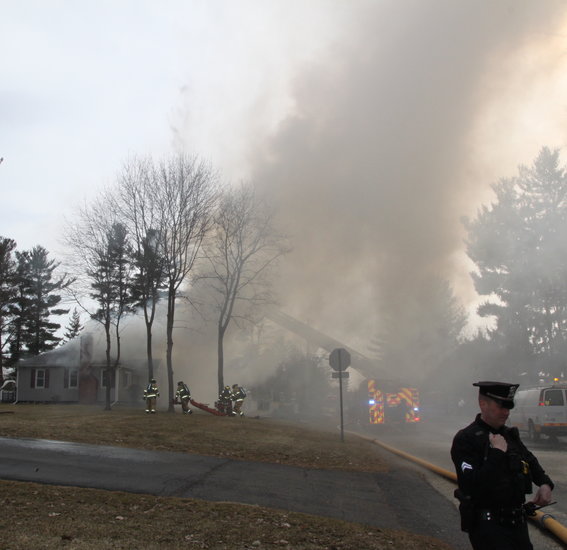 The Enterprise — Melissa Hale-Spencer
A giant plume of dark smoke fills the sky, dwarfing the house on fire at 48 Van Wie Terrace, at lower left, as firefighters battle the blaze Thursday afternoon.
---
Those who watched shook their heads and spoke in hushed tones of their neighbors, Jill George-Denn and James Denn, longtime residents of  48 Van Wie Terrace. They repeated to each other that no one was hurt, that even their dog was safe. They spoke of a fire two years ago that had gutted the home of other neighbors, just down the street at 52 Van Wie Terrace.
They talked about what good neighbors the Denns are.
One neighbor said she had arrived on the scene before the fire trucks. She said the Denns' daughter, Aimee, a graduate student, had been working at a computer, writing a paper. "The internet flickered and all of a sudden, there was smoke," she said. "She got out and I helped her secure the dog," the neighbor said.
"They love their dog. They'd walk by here every day with the dog," said Danny Moak, who has lived at 40 Van Wie Terrace for a quarter of a century he estimated. The Denns' dog, he said, is a beautiful black Lab named Fred.
Moak said he and his wife love dogs, too, and thought about going to the Denns, when they realized the house was on fire, to get the dog, worrying that no one was home to do it, but then they learned the Denns' daughter had been home and had gotten out safely with the dog.
"They're the nicest people," Moak said. Jill George-Denn sells real estate, he said; another neighbor said James Denn works for the state.
"They did a lot of work on the house. There's a pool in back. It's really nice. They take good care of their yard," said Moak.
He also said the Denns are the kind of people who look out for others. Moak pointed to a house on the street where he said an elderly woman lives. "They mow her lawn all the time," he said.
Jill George-Denn stood across the street from her house, watching it burn. When a reporter approached, she apologized for not being able to talk. "I'm sorry. I can't talk now," she said in a kindly way.
Nearby, weary firefighters were helped by others out of their heavy equipment. They took off their air packs and helmets and sank into black canvas chairs that had been set up in rows. Ranks of fresh firefighters replaced them.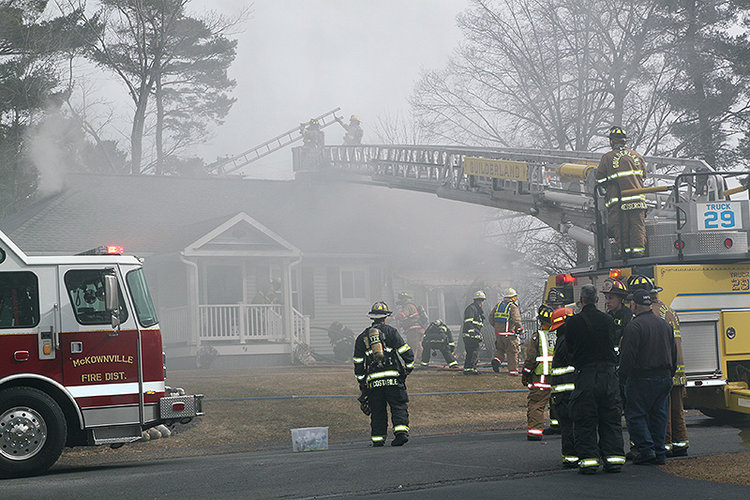 The Enterprise — Melissa Hale-Spencer
Firefighters hoist a ladder on the roof at 48 Van Wie Terrace where licks of orange flames were occasionally visible through the heavy smoke Thursday.
---
Chief's view
Westmere fire Chief Tony Carrow said that the call came in at about 3:30 p.m. on Thursday and his department and others in the town of Guilderland were quickly on the scene while Colonie firefighters staffed Guilderland stations.
"On arrival, there was heavy fire and smoke visible from the outside," said Carrow. "We refer to it as the AD corner," he said, explaining the firefighters' system of labeling the front side of a building as A and traveling clockwise to give each corner another letter in alphabetical order.
"The fire was right above the first floor, almost between the first floor and the attic," Carrow said. "There was an occupied attic or dormer area." A knee wall — a short wall supporting rafters — and the narrow spaces between it and the center of the attic area proved to be a challenge, said Carrow.
"We realized the fire was in void spaces in the attic area," he said.
"We did a transitional attack," Carrow said, explaining that a crew went inside to fight the fire while it was also knocked down outside.
"It was very staff-intensive," he said. "You have to break into the walls to, one, locate the fire and, two, extinguish the fire."
An aerial device on a Guilderland fire truck lifted volunteers to the roof where they placed a ladder to give them support as they cut a hole in the roof.
"The roof ladder gives them a platform to work off of; it distributes the weight," said Carrow. "We vent the roof to remove super-heated gases."
The venting improves visibility for the firefighters working inside, he said, and also reduces the intense heat. "The smoke exits through the vent hole," he said.
"We knew for a fact the fire was burning for some time," said Carrow. "We decided to evacuate firefighters from the building for their safety."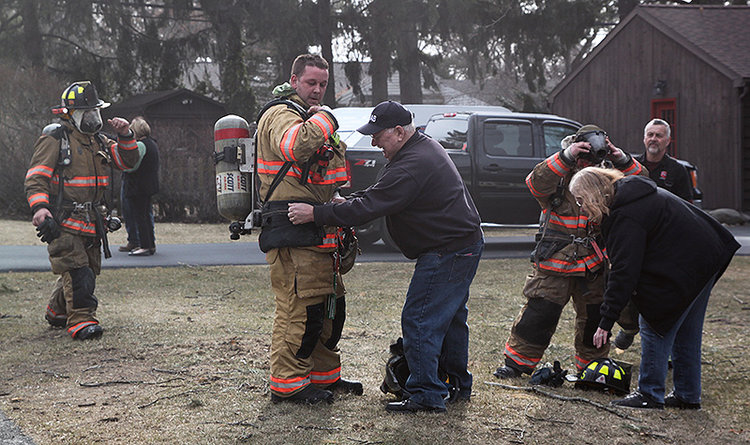 The Enterprise — Melissa Hale-Spencer
Spent firefighters are helped as they remove their heavy gear. Fresh volunteers replaced them. At center, firefighter Matt Mattice is helped by Ray Wolfe.
---
No one was hurt fighting the fire, he said. Crews are periodically removed from fighting a fire, he explained. "When they come out, we send them over to rehab," he said.
The firefighters remove their air tanks, which Carrow referred to SCBA, for self-contained breathing apparatus. "They get their vitals taken and are given fluids," he said.
"It's a big circle," he said of how crews are removed, replaced, and refreshed.
The fire at 48 Van Wie Terrace was knocked down in 30 to 40 minutes, Carrow said. "Then, after that, extra time was needed to check for hotspots."
Carrow said it would be premature to comment on potential causes of the fire and that the department works with police and fire investigators who handle that.
In addition to the fire, Carrow said, "There was an electrical distribution issue in the area."
Because some of the neighboring houses experienced power surges, Carrow said, "We had National Grid terminate power on the block."
Electric power was restored to the block in about four hours, he said.
Albany County assessment rolls list the property at 48 Van Wie Terrace as having a full-market value of $199,615.
Addendum
"I am in shock and disbelief," Daniel George-Denn, Jill and James's son, wrote The Enterprise in an email on Saturday. "My family put blood, sweat, and tears into their home for more than 20 years.
"Most importantly, the house was always full of love and warmth. I also know that if anyone can get through anything, it is my family.
"I'd also like to thank the firemen, police, and entire Guilderland community for their support and kindness."
On Sunday morning, Jill George-Denn sent an email to The Enterprise, writing of herself and her husband, "As both lifelong Guilderland residents, we have deep connections to our neighbors and the surrounding community. Both Jim and I were one of nine siblings; I grew up on the Carman Road end of Guilderland and Jim grew up off of Krumkill Road.
"We would like to express our sincerest gratitude to all that assisted us the day of the fire at our home, especially the fire departments, police, and EMTs."
She concluded, "As a Licensed Realtor with CM Fox Real Estate of Guilderland I know just how important a home is and what community and neighbors truly mean."