FFA students travel cross-country, hear president speak
Thursday, March 28, 2019 - 11:33
BERNE — Future Farmers at Berne-Knox-Westerlo have traveled to the heart of America's farmland and have stories to share.
At Monday's school board meeting, students from BKW's chapter of the Future Farmers of America recounted a trip to the FFA National Convention in Indianapolis, Indiana, in late October and early November, where they joined 69,000 other members to listen to speeches, and attend workshops and career expositions.
On their way there, the students made a number of stops to educate themselves on agriculture.
Tenth-grader Graycie Swain explained how the students stopped at Batavia Turf in Genesee County.
"They grow, like, thousands of acres of turf," she said, explaining how it can be used for urban agriculture. "And you can grow that on roofs anywhere."
Chapter Secretary Kayleigh Reynolds-Flynn, a senior, spoke of how they stopped at a seed farm in Ohio and watched how seeds were cleaned and marketed. They also stopped at the Coldwater Creek Treatment Train in Ohio, she said, which takes runoff from pastures and cleans the water by having it run through a series of ponds.
Chapter President Callie Hempstead, a junior, described how, at a dairy and swine farm, the students witnessed the birth of a calf and also watched cows be rotated on a conveyor belt for milking.
"Some of the cows like to go around twice; it's just fun," she said, to laughs from the audience.
Swain described how the students also saw piglets raised on a farm, where they are kept in crates that protect them from being crushed by other pigs. They also learned how to give a pig an ultrasound.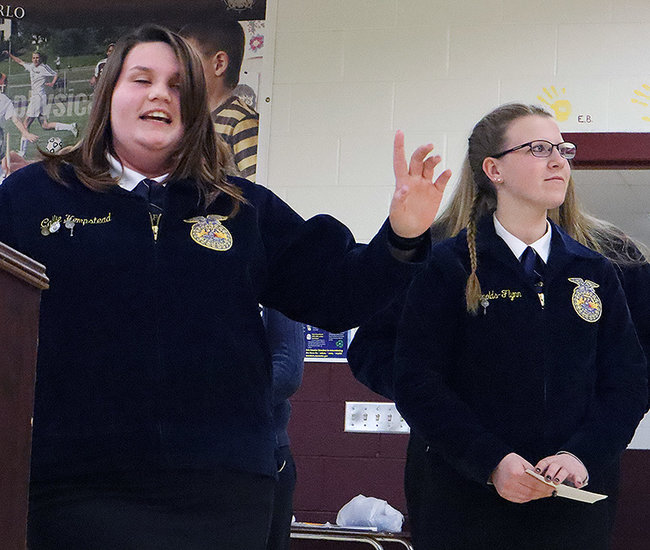 The Enterprise — H. Rose Schneider
Sophomore Callie Hempstead speaks about the trip taken by members of the Berne-Knox-Westerlo chapter of Future Farmers of America.
---
Hempstead said that one of her favorite stops was at the Louisville Slugger Museum and Factory because she currently attends a program on machining and manufacturing.
"Seeing how the bats were made on the CNC [Computer Numeric Control] machine showed me that agriculture is tied to more than just farming," she said.
At the convention, the students listened to speeches by both President Donald Trump and Agriculture Secretary Sonny Perdue, said Ryan Bungay, a sophomore who is the chapter's treasurer.
"Hearing this from the president of the United States of America and being in the same room is definitely a once-in-a-lifetime opportunity," said Bungay. "The last president to address the FFA convention was George H.W. Bush in 1994."
Bungay also said that the retiring address from former FFA Secretary Erica Beirer was moving, as she shared her story of being diagnosed with cancer a month after being selected the national FFA secretary.
The students said they had fun on their trip. One of their stops included taking a photo in front of a water tower painted like a cow; the students posed so that it looked like they were tipping it over. They also attended a concert for FFA members featuring Garth Brooks.
Michaela Kehrer, the chapter's advisor and the agricultural science teacher at BKW, said that the district's FFA chapter, in its second year, now has 50 members. The students have also attended other events and activities, including participating in "Farming is Risky Business," in which students played a game where they could lose or gain money invested in farming.
Kehrer later told The Enterprise that the cost of these trips are offset through chapter fundraising and grants, though she did not name the amount of this particular trip.
Additionally, junior advisor and elementary school teacher Sarah McArdle said at the meeting that she joined other teachers to attend an agricultural education lobbying day.
When asked by the board if any students will be pursuing careers in the broad field of agriculture, Reynolds-Flynn said that she will be attending the State University of New York College of Agriculture and Technology at Cobleskill as the first freshman in a new program on dog training. She hopes to be a New York State Trooper.