'Mamma Mia!' here they go again: Voorheesville Dionysians celebrate 50th anniversary
Thursday, March 21, 2019 - 14:53
VOORHEESVILLE — This spring is the first time that the theatrical rights to perform "Mamma Mia!" are available to high-school drama clubs. Yes, even the Voorheesville Dionysians — who are celebrating their 50th anniversary — have to pay a licensing fee to perform copyrighted material.
"I have a … thought for you," said Chris Howard, a Dionysian and 1969 Voorheesville graduate, "isn't it interesting and wonderful that Dionysus is a Greek god, and that the production of 'Mamma Mia!' is a story that takes place on a little Greek island? I was just so tickled that the setting for this [musical] is a Greek island and Dionysus is the Greek god of theater."
"Mamma Mia!" is a "jukebox musical" based on the songs of ABBA, a Swedish pop group from the 1970s.
The story begins with Sophie, played by Sydney Wilson, who is set to marry Sky, played Gryphon Homer, wanting her father to walk her down the aisle. However, she has no idea who he is. Her mother, Donna, played by Sydney Worthley, is no help. So, Sophie invites three men to the wedding who she thinks may be her father. Singing, dancing, and laughs ensue.
The musical has eight lead roles, said Robert Whiteman, the play's director, and a supporting cast of 35. In addition, he said, the art club has lent a hand, painting scenery. In all, about 50 students are involved with the production.
"It just seemed like a good fit for the talent we have this year," Whiteman said of the choice to perform "Mamma Mia!" adding, "And a nice departure from the previous two years."
Last year, the Dionysians put on a production of "Tarzan," which required the majority of the cast to play gorillas and sing in a pop-rock style, Whiteman said, whereas two years ago, the club performed "Mary Poppins" which "is very traditional, legitimate theater singing."
"Mamma Mia!" he said, provides even more of a challenge for the cast because performers are asked to do a lot of dancing while also singing pop songs from the 1970s.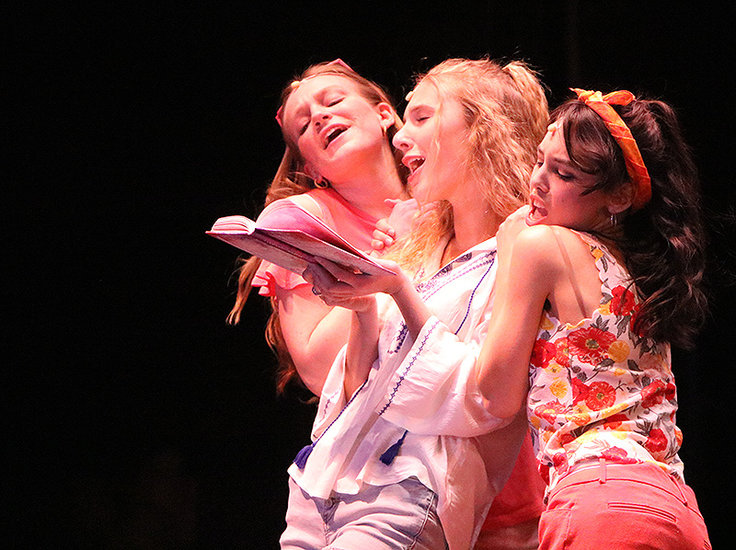 The Enterprise — Michael Koff
Decadent details: Sophie, played by Sydney Wilson, center, along with friends Ali, played by Leah Reilly, and Lisa, played by Kiera Woods, read a diary kept by Sophie's mother in her youth. 
---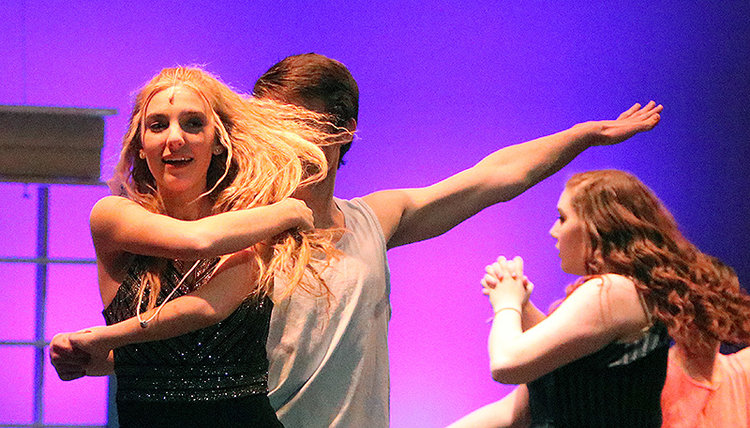 The Enterprise — Michael Koff
Life's a whirl: Sophie, played by Sydney Wilson, is twirled by Sky, played by Gryphon Homer, the night before their scheduled wedding.
---
A fifth-grade teacher at Altamont Elementary, this is Whiteman's third production at Voorheesville.
Compared to other high-school drama clubs, he said, the Dionysians are unique not only in performance but involvement. "Voorheesville is a relatively small high school compared to Bethlehem and Guilderland," he said. "And yet, it has a wonderfully strong drama program that really attracts kids from all over the spectrum."
Shaped by Dionysus
It's that inclusivity that has drawn students to the Dionysians for 50 years.
"I think it's so hard to be a young person, and when you can find something like theater or sports ... It really helps a young person figure out what they want to do with their life and inspires them to go on. And for me, that's what theater did," said Howard.
What started in the second grade (she was passed over for one of the "good parts" in "Peter Rabbit") has become a lifelong passion for Howard; her most recent theater experience was in October with the Schenectady Civic Players. "As an adult and raising my own family, I worked at the Albany Civic Theater, Schenectady Civic [Playhouse], Schenectady Light Opera, and Home Made Theater in Saratoga," she said.
While Howard has had lifelong love affair with the theater, the group has had a few performance-averse members for whom being a Dionysian has had little to do with pursuing the limelight; however, much was still gained by being a member.
Jennifer Hampston became involved because the Dionysians needed help selling tickets. Her daughter, Katie, currently a junior at Voorheesville, joined the group because it was looking for gymnasts to cast in "Mary Poppins." Hampston was a member all four years of high school but never had the desire to be on stage.
"A lot of my friends were in the group and they were actually actors and actresses, but I really didn't want to do that," Hampston said. "But they definitely needed a lot of backstage help as well. And so, that's where I kind of found my niche."
In 1988, Hampston was the student director for the group's performance of "Our Town." People were "shocked," Hampston said, when, at the end of one of the performances, she got on stage to thank someone who had been very helpful in putting on the play. "I was pretty shy and did not want to be on stage," she said.
But that single, small act would end up having a huge impact on Hampston.
"I think, to be honest, I was extremely shy in high school. I would not imagine myself being able to get up and speak in front of people," she said. "And I did it that one time … And it was a small thing, but it definitely helped me."
Speaking on stage, Hampston said, was the first step toward "getting a little bit out of my shell," and becoming more confident in her own abilities.
And, she said, being a student director taught her about being in a position of leadership. Now, as a mother, Hampston has been very involved in the Voorheesville school community, serving for four years as president of the Parent Teacher Association.
As PTA president, she said, "I had to get up and speak in front of people at open houses," and overcoming that anxiety was something she learned to do all those years ago as a Dionysian. "It was an important first step for me, even if it was a little bit of a baby step," Hampston said.
Theater, Howard mused, may have helped her decide on a career — and foreshadowed her husband's future vocation.
Howard played Annie Sullivan in "The Miracle Worker," a play based on the autobiography of Helen Keller, a deaf, blind, and mute activist, author, and lecturer. Sullivan, who was "The Miracle Worker," was Keller's teacher. Keller was the first deaf-blind person to earn a bachelor of arts degree.
"That actually was really important," Howard said of playing Annie Sullivan, "because I went on to become a speech pathologist. And I really wonder if playing that role in high school inspired me into being someone who would help [others]."
In the Voorheesville production of "The Miracle Worker," Howard said, "my now-husband played Dr. Anagnos. And guess what? He's now a doctor."
"So, art imitates life or life imitates art — or something like that," she said with a laugh.  
Asked why the theater has continued to be such an important part of her life, Howard said, "It took me a long time to put this together ... My love of theater is that it is really like a team sport." Some people root for the Giants and Yankees, Howard's teams are the casts of "Les Misérables" and "Hamilton."
And, there's the storytelling, Howard said, which, if done well, offers people an escape. "People leave with some hope; they feel better," she said.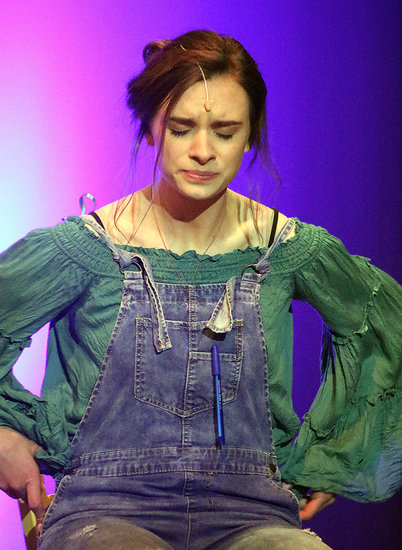 The Enterprise — Michael Koff
Living old memories: Donna, played by Sydney Worthley, shows her emotion when she realizes her about-to-be wed daughter has invited the three men who might be her father to come to the party.
---
Local Dionysian Makes Good
Yvonne Perry, a Dionysian from 1980 to 1984, made her love of performing a career.
"I remember when I was in sixth grade and we wrote our own play, and I wanted the lead so badly but [the teacher] didn't give it to me because you didn't audition, the teacher just assigned roles," Perry recalled. "I couldn't wait to get into ninth grade so that I could audition for the play." As a ninth-grader, she earned second lead in the group's production of "The Matchmaker."
For most of high school, Perry said, she didn't think that being a professional actor was possible; no one in her family was a performer and she had no real acting role model. "But by the time I was a senior," she said, "I saved my babysitting money and I took acting classes in Albany every Saturday."
She did well enough in those Saturday classes to make her think that acting was something she could do for a career — but first, she had a chauvinist guidance counselor to set straight.
"I remember going into my guidance counselor and him saying, 'What kind of college do you want to go to? What do you want to major in?' And, I remember I said, 'I think I want to be an actor; I'd like to study theater, but I don't know where to go,'" Perry recalled.
"I remember the guidance counselor said to me, 'Maybe you should go to a secretarial school instead — so you have something to fall back on.'"
She walked out of that meeting and picked up a book that was just a list of colleges and the majors they offered; she looked for one with a theater program.
Proving her guidance counselor wrong, Perry's audition for admittance to Adelphi University went so well that she was brought back for a second audition for a chance to earn a full scholarship; however, she placed second.
After graduation, she moved to New York City and began doing voiceovers and radio work. After a stop in San Francisco, Perry returned to New York and was cast in "Candid Camera," the hidden-camera prank show. In 1992, she earned a contract role on the soap opera "As the World Turns." After four years on the show, she moved to Los Angeles but didn't have the success she had had in New York.
Perry ended up back in the Capital Region, earning a master's degree from the University at Albany, where she taught for 12 years; for the past five years, she has taught at Skidmore College.
Still performing, Perry is an associate artist at the Capital Repertory Theatre in Albany, the only professional theater in the area that operates under union rules; there are only 75 such theaters in the country.
Asked what role the Dionysians played in her career, Perry said, "It's where I began to develop my work ethic." Mr. Andrews, an English teacher and the director of many of the Dionysians plays, she said, drilled that discipline into her.
"He would get so frustrated when kids didn't know their lines or they came  late to rehearsal or they weren't focused or they didn't try hard enough or they treated it like a joke," Perry said. "He didn't treat it like a joke."
Looking back, she said with a laugh, Andrews may not have necessarily known what he was doing, but he taught her discipline.
"I will tell you honestly that I don't think that I'm the most talented actor out there," Perry admitted, but it's not always about being the best actor. Often, she said, it's the actor who shows up prepared, the one who has done the research, put in the work, learned the role, has a good headshot and résumé, and has her marketing materials together. It's that type of discipline, Perry said, that she now preaches to her own students.
The dawn of the Dionysians
The Dionysians owe their name to the club's first president, Karen Sotherland.  "Karen was so well read," Howard said, "Once [she] told us that Dionysus is the Greek God of wine, theater, and revelry … There was just no doubt, we didn't even think about choosing another name."
However, prior to the fall of 1967, theater performances at Voorheesville were, to use a polite word: "Casual," Howard said. "There were no lights, no sound, no money, no tech. The the curtain opened; the set was whatever we kids did." Teachers were entrenched and didn't want to change, she added.
But like so many other things in the late-'60s, Howard said, things began to change. In Voorheesville, change arrived in the form of a new teacher: Richard Weeks. Students, according to Howard, could tell the new teacher was someone who knew his stuff.
"Richard Weeks comes along and suddenly our sets get better, and we have a couple of lights, and real makeup, and parents start kicking in with costumes and helping with the makeup," she said. "You start to see parents getting a special section in the program [acknowledging their involvement]. And it's because we all kind of figured out that Dick Weeks really knew what he was doing."
To continue with the sports and theater metaphors, after a few short years of proving his bona fides in the minors, Weeks was called up to the majors: in this case, the Milne School at the University at Albany.
****
Opening night is this Friday, March 22, at 7:30 p.m., in the Lydia Tobler Performing Arts Center at Voorheesville's secondary school. Additional performances take place on Saturday, March 23, at 7:30 p.m., and Sunday, March 24, at 2:00 p.m.