Fire guts Guilderland septic business
Thursday, March 21, 2019 - 13:13
GUILDERLAND — The building at 100 Deer Path Lane in western Guilderland that housed John VanWormer Septic Systems was a "total loss" after a fire on Tuesday, March 19, said Altamont Fire Chief Paul Miller on Wednesday.
The business offers septic services and has a portable-toilet rental service called Big John's Portable Toilets, according to its website.
The call came in at about 1:25 p.m., for a roof on fire, Miller said, adding that he believed it was an employee who called.
Altamont firefighters arrived within 15 minutes to find a lot of smoke coming out of the building.
Initially, firefighters got water from a hydrant about 1,100 feet away, Miller said, until several tankers arrived, from Altamont, Pine Grove, and Duanesburg.
Firefighters started by making an interior attack, Miller said, but "quickly pulled out because the roof was starting to collapse already."
Initially, the fire was concentrated in the front portion of the building and had gotten up into the roof. Miller said. He said there were several vehicles in the front portion of the building, and also in an attached structure in back.
The building also had fuel tanks inside filled with kerosene, but none exploded, Miller said, and there were no injuries.
The effort to control the fire went slowly at first, "until we got a good water supply established," Miller said.
He described the building as a mostly metal structure, "like a large barn."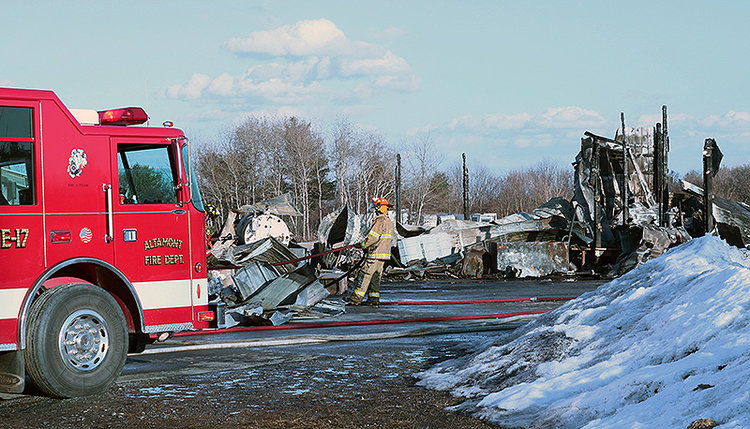 The Enterprise — Michael Koff 
Firefighters sort through the rubble Tuesday afternoon, looking for hotspots, in a structure behind the main building at 100 Deer Path Lane that contained many vehicles.
---
The fire was under control in about two hours, he said, but firefighters remained there, checking for hotspots, for a total of about five hours.
Miller said the owner was on the scene. Miller believed he had insurance. Efforts to reach VanWormer on Wednesday were not successful.
The 14-acre parcel had a full-market value of $167,266, according to Albany County assessment rolls.
Responding were, Miller said, Altamont, Guilderland Center, Guilderland, Fort Hunter, Westmere, Knox, Pine Grove, and Duanesburg. A number of companies were on standby, which he listed as McKownville, Voorheesville, Slingerlands, East Berne, and Carman.