Thruway Authority to discuss replacing East Old State Road bridge
Thursday, March 7, 2019 - 15:21
GUILDERLAND — The state's Thruway Authority may finally rebuild the 64-year-old East Old State Road bridge over the Thruway, which town planners, eager for sidewalks, have anticipated for more than 15 years.
The authority will hold an informational meeting at Guilderland Town Hall on Tuesday, March 12, from 5:30 to 7:30 p.m. and will take questions from the public, according to a release.
The new bridge will have increased clearance so that it meets current standards, with wider travel lanes and shoulders, the release said; the project includes reconstructing the approach on both sides of the bridge.
The existing bridge was built in 1955 and carries approximately 5,300 vehicles per day, the release said.
Renderings will be on view at the event, according to a Thruway spokeswoman who would not divulge her name. Planning is still in the early stages, the spokeswoman said, declining to say how much the work would cost or when it would begin.
A notice on the town website says that another informational meeting about replacing the bridge was scheduled to be held in December 2018. That earlier notice said that a preliminary proposal involves closing the bridge for about six months, with construction to begin in April 2020.
An item included under "Future Projects" on the website of the Thruway Authority says that $4.2 million has been approved for construction of the Old State Road bridge. The estimated letting year — or the year that it goes out to bid — is listed as 2019.
Talk years ago of rebuilding the bridge never materialized.
More than 15 years ago, on April 1, 2003, a Pathways Committee, chaired by Lindsay Childs, submitted a Preliminary Sidewalk Master Plan to the town board for its consideration; the sidewalk master plan proposal was the result of the committee's three years of work, the plan says.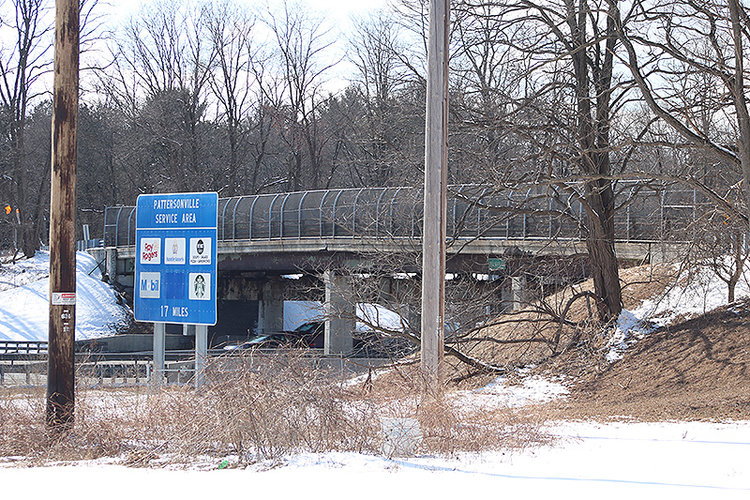 The Enterprise — Michael Koff 
The East Old State Road bridge over the Thruway, built in 1955, is viewed from below.
---
The sidewalk plan was "a direct spin-off of the Comprehensive Plan and the residents that expressed, overwhelmingly, their desire for a pedestrian-friendly town," the plan said. The preliminary plan made many recommendations among places throughout the town that the committee said needed better sidewalk connections.
The plan stated that the Thruway Authority was planning to rebuild the Old State Road bridge in 2005, and that a town sidewalk plan would encourage Thruway officials to include wider pedestrian space on that bridge in the authority's plan for its reconstruction.
In the final report of June 2005, East Old State Road east of Lydius Street was deemed a long-term, rather than more immediate, priority.
Reached this week at his home in suburban Richmond, Virginia, Childs said that the reason the committee had wanted to see the bridge improved was to get better pedestrian and bicyclist connectivity between the various portions of the Pine Bush.
Childs said he had just refreshed his memory by taking a look at the Old State Road bridge on Google Maps, and that there were effectively no shoulders on it. "I wouldn't want to be on there," he said, "as a pedestrian or a bicyclist."