Seeking forgotten graves
Primary tabs
Tuesday, February 25, 2020 - 15:21
The Enterprise — Melissa Hale-Spencer
Pointing to the past: Chris Albright notes the inscription on a headstone rescued years ago from a house that was to be burned. The stone, which now stands in his yard, says, "Lucinda, consort of Captain Henry V. Combs." Lucinda was born in the 1780s and died on Feb. 28, 1811. The stone was erected by her brother, Josiah Wilson.
NEW SCOTLAND — A surveyor and a local history enthusiast are on a mission.
Cynthia Elliott, the surveyor, and Chris Albright, the historian, want to track down and record the often forgotten small graveyards and family burial plots scattered throughout New Scotland.
For Albright, the fascination is lifelong. He and his brothers, as boys exploring the woods near their home at the foot of the Helderberg escarpment, discovered a small, forgotten cemetery. 
This week, Albright took a visitor on a bumpy ride on his Ranger, through fields he's kept open, clearing brush after a neighbor died. Off the roadway, through undergrowth and brambles, on a small rise on the shoulder of the escarpment is a row of headstones — large and stately at one end, small and irregular, as if hand-hewn, at the other end.
A half-century after Albright found them as a boy, the stones are still there, weathered over time, their inscriptions barely legible.
Over the decades, Albright, now 60, has pieced together the history of many local families. The graves are near the homestead of Jacob Cooper — the stones that formed the foundation of Cooper's home remain — which is noted on the 1767 Bleeker map, Albright says.
Surveyor J.R. Bleeker made the map for the seventh patroon of Rensselaerwyck, Stephen Van Rensselaer II, depicting the location of the 276 families living in the 24-by-48-mile manor in 1767.
Back in the home he built himself to mirror a colonial dwelling, Albright reaches for Volume I of a set that contains the "Minutes of the Commissioners for detecting and defeating Conspiracies in the State of New York." This first volume covers 1778 and 1779.
He turns adroitly to a bookmarked page that records a meeting on June 21, 1779 "at the House of Jacob Cooper at the Hellebergh." The account tells of Charles Rosseter, a deserter from General John Burgoyne's army, being brought before the board. Suddenly, two-and-a-half centuries melt away and the Revolutionary War seems immediate.
The late Arthur B. Gregg wrote in a March 31, 1933 column for The Enterprise — one of a series made into the book  "Old Hellebergh" — of the commissioners' description of the Helderbergs in that era as  "regular nests of robbers and hatcheries of treasonable designs."
Drawing from the minutes, the very records in the volumes that Albright has, Gregg writes of how Jacob Cooper was attacked by Tories and how he had shot and killed one of them. The minutes say the board resolved to "immediately proceed to the Hellebergh in Order that the above Business may be more expeditiously carried into execution."
Gregg writes, "This was an event in the life of our locality. The august and powerful body, 'the commissioners,' who could order one to jail for indeterminate periods and whose influence might even hang a man — these men were holding 'court' right in our midst.
"I cannot emphasize too strongly the importance of this occasion, for, search where you will through the minutes of the Board, you will find never before or since would the three orignial Commissioners as a body, leave their headquarters in the city of Albany to hold regular sessions elsewhere.
"Can you not visualize the serious atmosphere that shrouded the whole district, as men and women and children spoke in awed and subdued tones, afraid almost to breathe while the Board was in session 'right in Jacob Cooper's house.'"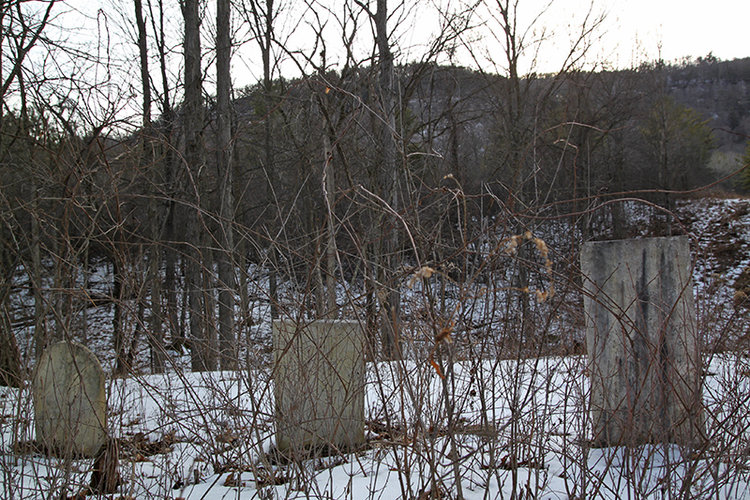 The Enterprise — Melissa Hale-Spencer
Facing the Helderbergs, a row of gravestones has stood for many decades near Jacob Cooper's 18-Century homestead.
---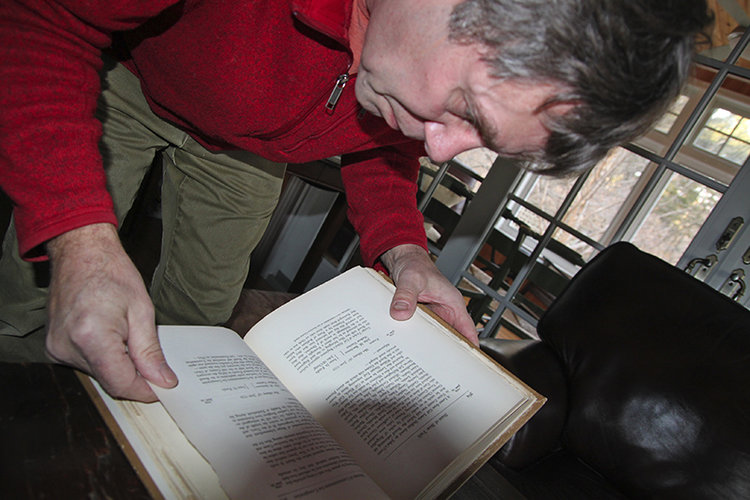 The Enterprise — Melissa Hale-Spencer
Paging through history, Chris Albright finds the passage in the "Minutes of Commissioners for Conspiracies," that details a meeting in 1779 "at the house of Jacob Cooper at the Hellebergh" where a deserter from Burgoyne's Army was interviewed.
Back in the present, in the bright sunshine of Albright's yard, standing at attention against a picket fence, is a more recent gravestone with a history of its own, which Albright relates. Years ago, when a landowner wanted to demolish the farmhouse that had stood near routes 146 and 158, the fire department was going to burn it.
The late Roger Keenholts, Altamont's historian at the time, arranged access to the house before it was burned and  this headstone was discovered, used as part of the cellar floor. It was placed across the street near the side of the road but was then damaged by a truck.
Mark Hessler repaired the broken corner and kept the headstone safe in Guilderland Center until he moved out of state and entrusted it to Albright. The stone says, "Lucinda, consort of Captain Henry V. Combs."
Lucinda was born in the 1780s and died on Feb. 28, 1811. The stone was erected by her brother, Josiah Wilson.
Albright did research and discovered that, when Captain Combs married another woman, they named their first-born daughter Lucinda, he said.
Albright has posted a photo of Lucinda's headstone on his "Helderberg Family Tree" on Ancestry.com, a genealogical website.
"I've photographed a lot of headstones from people who lived around here. It's an open tree on Ancestry.com," Albright said, explaining that some of the family trees on the website are private.
Currently Albright has a list of over 30 small burial plots in New Scotland. Some he learned of from published sources; others through word of mouth, he said.
He notes that there are four large cemeteries in New Scotland:
— The New Scotland Presbyterian Church cemetery on New Scotland Road;
— The Onesquethaw cemetery south of Clarksville;
— The Jerusalem cemetery in Feura Bush; and
— The Mount Pleasant cemetery on New Scotland Road.
"We're trying to identify them all," Albright said of burial plots. "It falls in line with my interest in local history and the genealogy of families in town."
He went on, "It helps fill a gap if you don't know when someone was born or died and you can look at the headstone …
"I talked to Alan Kowlowitz," Albright said of the president of the New Scotland Historical Association, "and he said it could be of interest to the new historic commission."
New Scotland passed an historic preservation law last November, establishing a commission that is solely advisory.
Under the new law, before a demolition permit is issued for a structure older than 100 years in New Scotland, the town building department gives the commision 30 days' notice to evaluate and document the building for historic or architectural significance — unless the structure poses an immediate threat to health or safety.
The commission members were recently named: Kowlowitz and Deborah Mahan, representing the village Voorheesville, and Albright, Gwen Spicer, and Andrea Lain for the town of New Scotland. Village historian Dennis Sullivan and town historian Robert Parmenter are ex officio members.
The commission will meet for the first time at the Osterhout community center in New Salem on March 3 at 7 p.m. 
Albright encourages anyone who knows of a burial plot in New Scotland to email him at NewScotlander@gmail.com.
Kowlowitz, who pushed for the new law and will chair the commission, called Albright "our secret weapon."
He also said, "When one thinks of a historic site, one often thinks of buildings. Graves are also historic sites."
Kowlowitz went on to name other types of historic sites besides structures, such as archaeological sites or an old lime kiln
"We need an inventory of historic resources in New Scotland," Kowlowitz said, and the mapping of grave sites is just a start. "It will take a lot of work," he said of listing the town's historic resources and may involve applying for grants.
The surveyor
Cynthia Elliott has been a surveyor for decades, mostly surveying farmland, and has become fascinated with graveyards. She is also interested in local history and is a member of the Clarksville Historical Society.
New York State law requires that, if there are more than two gravestones on a piece of property, a surveyor must make note of it, Elliott said. "A landowner must allow a descendent to visit if they wish — not in the middle of the night," she said.
Elliott surveyed "an extraordinary property" last month with two Shaker cemeteries, she said. "I had to tell the new owner, a city guy, that he had to leave a 20-foot right-of-way for a walking path."
Shaker cemeteries, she said, have "just one stone in the center" regardless of how many bodies are buried there.
In 2013, Elliott surveyed a property with a large Shaker cemetery. "I had to contact Brother Arnold up in Maine," she said. "There was just one stone for 450 souls." Arnold Hadd, who lives at Sabbathday Lake Shaker Village in New Gloucester, Maine is one of the last three living Shakers in the world, according to a MaineVoices interview he did last year for the Portland Press Herald.
Elliott said of the current project to find New Scotland's many small cemeteries, "Our goal is not to make it so people tromp on private property." Rather, she said, the goal is to see that graves are not lost.
"With the mobile society we have today and the way vegetation grows, we don't want to lose them," Elliott said of grave sites.
Also, she said, if construction is planned for a site, "It would be good to know where they are on a tax map."
New Scotland's supervisor, Douglas LaGrange, has given Elliott and Albright tax maps so that they can mark the approximate location of grave sites on the maps, she said.
That information will then be transferred to the town's building inspector, Jeremy Cramer, Elliott said.
She suggested Boy Scouts or Girl Scouts might be enlisted to help with the transfer of data to a thumb drive.
Planning decisions in town are made through the tax map, Elliott said. "This would give information to the building department," she said of mapping the grave sites.
As a surveyor, Elliott said, she has become skilled at figuring out where grave sites might be. "A-hundred-and-fifty years ago, we were not stupid," she said. "They didn't bury someone next to a stream, but on a hill … Relatives were smart and respectful. As a society right now, we are not respectful."
Elliott has a map of New Scotland from Corner Gateway, she said, noting she could mark grave sites on that to produce a map that looks historical.
She stressed of the project, "This is not to prevent people from doing things to their property. I'm a strong property-rights advocate."
She concluded, "Information is power."
Elliott's friend Valerie Newell, who had served on the New York State Association of Cemeteries Board, she said, "will become a member of the group."
Sue Kidder, who was the longtime director of senior services for New Scotland, is also involved in the project, Elliott said.
"We've been brainstorming as to how to allow this to go forward without too [much attention] ... We don't want teens taking stones apart," said Elliott.
"Sue has done a lot for the seniors and, when we lose one," she said, pieces of history are lost, too.
Elliott herself drives the town's bus to take its seniors on trips. "I've driven the bus to take them to wakes," she said.
Many of the town's elderly residents are aware of burial sites, she said, and people, in getting closer to death, see the importance of grave sites.
"If we can label the ones we know about," Elliott said of burial sites, "and reach out together, we can protect them."