'He sees treasures' where neighbors see trash
Wednesday, February 5, 2020 - 19:19
GUILDERLAND — Ladders, a chandelier, an office chair, and a large sheet of plywood half-buried in snow. Plastic tubs full of cardboard boxes and odds-and-ends, set down beside the driveway as if on the way to the curb and then forgotten. Piled-up vinyl siding, scraps of flooring, and what looks like an aquarium. 
These are just some of the items strewn about on the lawn of 110 North Reineman St., off Schoolhouse Road, that resulted in a civil trial in Guilderland Town Court on Jan. 28 for homeowner Sharf Din. 
Judge Denise Randall explained to those gathered — Din and his family and, on the other side of the courtroom, about 10 neighbors, as well as the town attorney, James Melita, and Lou Vitelli, a Guilderland building inspector — that the remedies she can order are limited. Even if the people prevail, she said, she cannot order a property owner to do something or to stop doing something. She can only assess fines, she said.
Randall said she would make a decision within 30 days. She told Din that "it might behoove you, while you've got family here to help you, not to make matters worse, not to accumulate anything else in the meantime." 
Tammy Din, Sharf's wife, told The Enterprise that Delmar optometrist Tom Little, who spent his career in Afghanistan helping people as a team leader with the International Assistance Mission and was killed there in 2010, helped bring her husband to this country. Sharf Din had been a shepherd, she said, and wanted to raise his two daughters somewhere safe, after his wife's death. He had lost his house, his orchards, and his animals, she said. 
 "He has good intentions. He wants to fix up the house. He has grand ideas," she said of their Guilderland home.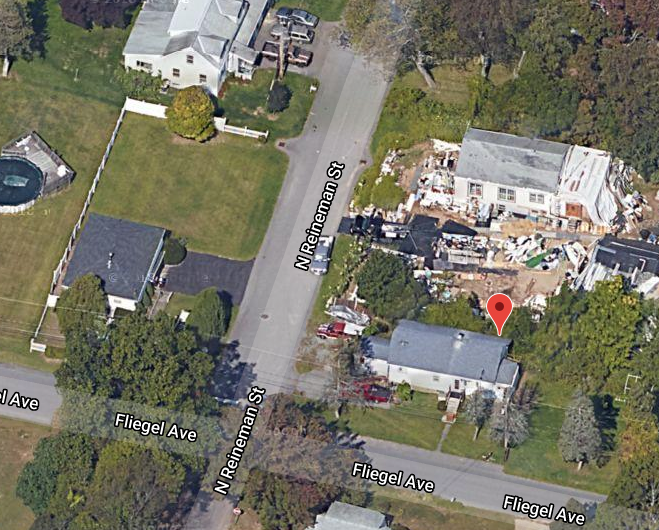 — Image from Google Earth
There is a stark contrast between Sharf Din's property, right, at 110 North Reineman St. off Schoolhouse Road, and the surrounding homes.
---
Tammy Din told Judge Randall, "My husband is not being malicious. He has trouble seeing it the way other people see it." 
He holds onto things partly because he has "lost so much," she told the court. He came here from Afghanistan 40 years ago, after losing his wife and his home. "He feels like he has to hold onto everything," she said. 
"He doesn't see what you see. He sees treasures," she said. 
There is also a cultural difference, she said, explaining, "He comes from a place where there's absolutely no rules. In his country, you want to build something, you build it. You want to tear it down, you tear it down. Nobody says anything." 
Building inspector Lou Vitelli testified that he had been working with Din for years to try to get him to clean up his property, due to complaints from neighbors. 
Vitelli said he had issued an order to remedy in April 2015, followed — when the yard was not cleaned — by an appearance ticket for accumulation of rubbish. Since then, Vitelli estimated, he has done inspections of the property weekly, and that Din has appeared in the Guilderland Town Court about the accumulation of rubbish on his property "numerous" times. 
Din is charged with violating two subsections of the town code related to accumulation of "garbage or rubbish." One says that these materials must be kept in suitable receptacles and cannot be kept near any public place longer than is reasonably necessary. The other prohibits storing these materials for any purpose other than being collected. 
Town attorney James Melita submitted as evidence documentation from some of Vitelli's many visits to the property, together with photos taken at those visits. 
Sharf Din had no lawyer at the trial. He did not do many of the things he is allowed to do as someone representing himself: He did not make an opening or closing statement. He did not ask questions of any witnesses, but simply asked the witnesses he called — family members — to say whatever they wanted to say, in a narrative style rather than in response to questions. 
A few days earlier, at a time when Din's wife could not be present, the proceeding had been adjourned to Jan. 28 when she could be there to translate. Din is not a native English speaker; his first language in Pashto.
Din told The Enterprise during a break in that proceeding, "I'm doing my house. I no agree anything you guys tell me. I'm cleaning, I'm working. I'm not trespassing nobody." 
At the Jan. 28 trial, neighbor Brenda Heritage described the condition of Din's property as "deplorable" and testified that she has seen trucks bringing in loads of debris over the years that look like the leftovers from construction jobs. Heritage said Din has made efforts to remove debris and that he has sometimes made progress, but has never cleaned up the property completely. 
Heritage testified that her concern was for her property value and said, "I'm here because I'm tired. The neighbors are tired." 
Experts weigh in 
To better understand Sharf Din's clutter, The Enterprise consulted with two experts — one, a native of Afghanistan, is an expert in Afghan law; the other, a clinical psychologist, is an expert on hoarding disorder. Both experts spoke to The Enterprise in general terms as neither had firsthand knowledge of Din's case.
Mehdi Hakimi, the executive director of the Rule of Law Program at Stanford Law School, said that, under Afghan law, individuals are entitled to reasonable enjoyment and use of their property — unless such use is limited in certain cases.
"Limitations on property rights could arise due to private interests such as situations where property use causes harm to, or infringes upon, others' rights," he wrote, answering Enterprise questions in an email. 
Limitations could also be imposed due to public interests, he said, such as local zoning ordinances, restrictions on agricultural land usage, environmental restrictions, and protection of historical and cultural sites.
But, he stressed, there is a gap between rules and reality in Afghanistan.
"Due to the weak rule of law in the country, there is a major disconnect between the rules on paper and the reality on the ground," he said. "For instance, in blatant violation of local laws, people — especially the powerful and well-connected — block off streets and substantially  interfere with the general public's freedom of movement. Moreover, buildings are constructed in violation of the zoning rules, and parks and rivers are turned into dumpsters in some areas." 
Hakimi concluded, "Unfortunately, this growing disregard for rules has turned into somewhat of a norm, particularly in urban centers. The Afghan government's unwillingness or inability to enforce the rules — at all levels — has emboldened further violations, including rules governing property use."
Gregory S. Chasson, a licensed clinical psychologist and associate professor in the psychology department at Illinois Institute of Technology, is an expert on hoarding disorder. 
"Individuals with hoarding and saving tendencies really have a strong attachment to their stuff, to the point that, if they lose it or have to get rid of it, it feels a lot like losing a loved one," Chasson told The Enterprise. 
Often they have a strong sense of responsibility about the items they accumulate, Chasson said. Perhaps they feel responsible for saving items that contain information that could, in the future, benefit someone they love. Or they may feel responsible about not contributing to waste in the environment. 
Individuals who hoard may believe that the items they save will be useful later, Chasson said. "They have intentions of tapping their creativity to make new uses, new functions, for the items." 
He remarked that hoarding is highly positively associated with perfectionism. "Individuals with hoarding often want the environment to be a certain way. They have a vision, a dream, of what something will look like or be like, and then they feel demoralized or overwhelmed by trying to do that, and so they just sort of throw their hands up and procrastinate and avoid, and things just start to accumulate," he said. 
All of us experience these feelings to a smaller degree, Chasson said. There is also a biological component to this disorder, he said, involving genetics and brain activity. "So it's a cluster of different things," he said. 
Treatment requires "a lot of slow, purposeful work," according to Chasson. There is evidence to suggest that cognitive behavioral therapy works, but there are few providers, and treatment can be expensive. 
One possibility is to look for a professional organizer who is certified to work with people with hoarding disorder, Chasson said. One way to look for a local organizer would be through the website of the Institute for Challenging Disorganization, he said. 
Chasson also noted that the website of the International OCD Foundation has a "hoarding center" that contains a lot of useful information and also offers a database of providers who treat hoarding or obsessive-compulsive disorder. 
There are also providers who offer "facilitated self-help," Chasson said, involving the use of a workbook, "Buried in Treasures: Help for Compulsive Acquiring, Saving, and Hoarding," by David Tolin, Randy O. Frost, and Gail Steketee. 
The hearing continues 
Tammy Din told the court, "I love this man, and I support him in every way I can." 
The couple bought their house on North Reineman "with the hope of having a property of our own," his wife said. 
Tammy Din said she knows her husband "has a problem with collecting things." They have had issues with neighbors before, she said. When they previously lived in Albany, she said, "The property next door had a fire, and people were telling us they wished our house would burn down too." 
She also said, "I want our house to be finished too. I want to live a normal life." She asked for "some understanding," and said, before trailing off, "If we can take steps to clean it up —" 
Din's daughter, Husn Din, also testified, saying, "I understand about homes and property values, losing value, and I appreciate your saying that. There's limited things as a daughter, as a wife, that we can take care of."
Husn Din said, "I want him to come home to a calm home." It is a struggle, she said, "for him to even let go." 
She has helped him a couple of times to bring in professionals to reduce the clutter, his daughter said. She recalled, "The minute you say, 'Let's do something with this,' he says, 'Oh no, I might need it.'" 
When Din's nephew indicated he wanted to speak, Randall warned, "I'm going to be honest. There have been some admissions against interest said up here. The purpose is to provide a defense." 
The family's testimony seemed to rouse empathy in the 10 or so neighbors in attendance.
During a break in the proceeding, Norris Ackert, who owns a nearby apartment building, at 225 Schoolhouse Road, told The Enterprise, "If I were 30 years younger, I'd offer to help myself." 
Din's nephew, Qaadir Din, testified after the break, saying that he had personally helped take away about five Dumpsters worth of items from the property. "The vehicles are out, the appliances are out," he said. "What I see is mostly the granite and construction materials." 
His nephew said he would devote more time to helping Din clean up his property. He asked the court, "What is the amount you can have before it's a violation? I'd like to get him to that point."
In his summation, Melita said there was ample evidence of a "continuing violation." and that the family had testified that "they were on the way there, but they just never quite got there," referring to the goal of removing the accumulated items. 
Melita said he had received authorization from the town board to take the matter to county court if he wished, but that he did not want to. 
"The town could go to more drastic measures — put heavier tax burdens on the property that he probably couldn't afford, and seek to take over the property — but we don't want to do that. But that's the road we are going down," Melita said.
In the town-hall lobby after the trial, Melita told The Enterprise, "I think this was a bit of a wake-up call for Mr. Din." 
Vitelli told The Enterprise, "We try to work with people. We just want to get people to comply. He's been coming to the courts a good period of time to seek a solution. I think what's happened each time is that they've offered him extended time, but then nothing has happened." 
Several neighbors said Din seemed like a nice person, and that their concern was with their property values. 
Bruce Mance said he was out of a "fiduciary duty." As executor of the estate of his late sister, who lived directly across the street from Din, he needed to sell her house and divide the proceeds among her heirs. He had been told by an appraiser that he was likely to get half or two-thirds of the value, "if you can find somebody who wants to live across from that."