WellNow raises hackles with proposal for sign variance 
Monday, January 13, 2020 - 17:03
GUILDERLAND — "At night, it looks like it belongs on the Las Vegas strip," said Martha Harausz. 
She was talking about the lights on the sides of the WellNow building at the corner of Western Avenue and McKown Road. The emergent-care facility, a joint venture with St. Peter's Health Partners, has not yet opened but has had columns of light lit at night.
The building is on the site of the old Passonno Paints, which was demolished. Harausz lives a block away, at 1445 Western Ave. Area residents have raised strenuous objections to the sign proposal in letters posted on the town's website.
Patrick Sexton, territory director for WellNow, said that the facility is set to open Feb. 5 and that it will handle such medical needs as colds, flus, strains, fractures, work-related injuries, and occupational medicine such as Department of Transportation physical exams or employer-paid testing — for example, drug screens.
The project developer is Jankow Companies, and the engineer is Hershberg & Hershberg.
The emergent-care facility was earlier granted a variance to permit the building to be constructed within 25 feet of a front property line and to permit parking spaces to be developed within the same setback, according to the town's chief building and zoning inspector, Jacqueline M. Coons.
Coons said she plans to do a final inspection this week, when the WellNow fire alarm is completed. 
This is the fourth emergent-care facility in Guilderland, joining Concentra at 1971 Western Ave. in Westmere, Albany Med EmUrgentCare at 5 New Karner Road, and Priority 1 Urgent Care in Hamilton Square Mall, next to Market 32. 
Michael Hipp, director of operations for Jankow Companies, said that the company does not have responsibility for signs, and that matter is handled by WellNow, AJ Signs, and the town of Guilderland. Calls to AJ Signs were not returned.
The application
Thomas Wheeler of AJ Signs is applying to the Guilderland Zoning Board of Appeals for an area variance to install six times what the town code allows in combined square footage to mark a business. 
The town code allows just 50 square feet. AJ Signs wants to install one sign on each wall — north, south, east, and west — with each being 23 feet long and 3.79 feet tall.
The town's sign code counts only boxes drawn around the actual content of the sign rather than the entire sign, according to Coons. In this case, that works out to 65 square feet per sign, she said. 
Each of the wall signs "will be a set of individual channel letters internally lit with LEDs," according to the project narrative posted on the town's website, referring to light-emitting diodes.
The applicant also plans to put up a new 48-square-foot panel in the existing free-standing sign structure.
The total square footage of the four wall signs and the free-standing sign is calculated at 308. 
The variance application says, "This is a commercial area. The additional signage will not produce any undesirable change to the character of the area or neighborhood."
It also says, "There is no other method to alert the public to the location of the urgent care facility. This section of Western Avenue is a busy roadway. People traveling from the east or west will need adequate time to make a decision to turn into McKown Road and into the facility." 
Sexton told The Enterprise there isn't anything that makes an emergent-care facility need more signs than other types of businesses. 
The zoning board will hold a public hearing about the matter on Wednesday, Jan. 15, during its 7 p.m. meeting.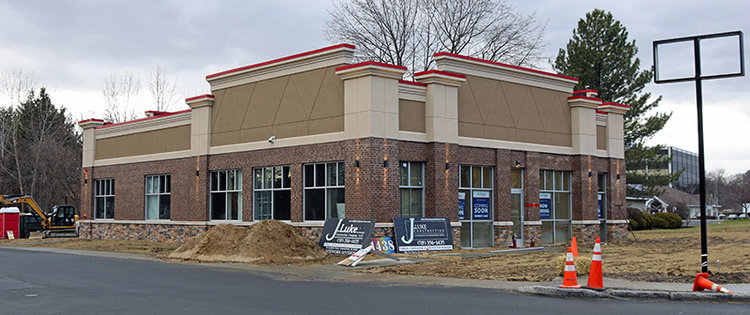 The Enterprise — Michael Koff
The WellNow Emergent Care building at 1438 Western Ave. replaced the paint store that long stood on the site. Guildrland's zoning board is considering a variance request to allow for lit wall signs, one on each side of the building, each 23 by 3.79 feet in size, as well as a free-standing 48-square-foot sign; its frame is visible at right.
---
The opposition
The town website had 18 letters posted from residents as of Wednesday, all but one against the variance; the other suggested reaching a compromise. 
One letter, from James McKeough of Top Ridge Drive in Woodscape, says in part, "Giant lighted signs will NOT be needed to find the place. Let's not forget, we are in the age of GPS which will direct you to the clinic with ease." 
McKeough told The Enterprise, "There's a Burger King up the street. You've got a national chain, and they're complying." 
"I am always amazed that a community doesn't have more power to create and maintain its immediate environment," wrote Harriet Temps of Glenwood Street. She continued, "This is our home, where we live, and we should be the ones to decide issues like this and our town government should support us in those decisions. We do not want to day in and day out look at enormous signs in our neighborhood … We have zoning laws that have been approved and put in place for a reason." 
The Wren family of Waverly Place suggested, "Many other businesses along Western Avenue function very effectively with one zoning-compliant sign in front of their structure. Four non-compliant signs should be considered a disproportionate proposal that smacks of an attempt to settle for a variance for fewer/smaller signs, which also should not be granted." 
Ellen Manning, president of the McKownville Improvement Association, wrote that the group is unanimously opposed. "For decades," she told the board in her letter, "residents of McKownville have worked to preserve the residential character of our neighborhood while accepting that a moderate amount of commercial development may occur in the LB [local business] zone.
"Although development along the south side of Western Avenue is predominantly commercial in nature, the north side of Western Avenue and all secondary streets remain almost exclusively residential," Manning continued. "The New York State Office of Historic Preservation recognizes McKownville's unique character and has determined that a portion of our neighborhood is eligible for inclusion on the State and National Registers of Historic Places."  
Lisa Frazzetta, president of the Woodscape Homeowners' Association wrote that the organization's board of directors is unanimously opposed. Her letter said, "Over the years and increasingly, departure from strict adherence to sensible, protective zoning regulations has resulted in a number of unwelcome changes. … We, on possibly the furthest East, most threatened end of Guilderland, appeal to the Zoning Board of Appeals Chair and Members to not allow this and other new construction to further encroach and alter the nature and appearance of Western Avenue and its residential side streets … ." 
Jeremy Walz of Mercer Street wrote, "We like the character of our neighborhood, letting these eyesores be erected will set a precedent that is completely against this character and will lead to the ruin of one of the things we love about our Guilderland neighborhood."
Precedent 
In February 2018, Crossgates Mall Manager J. Michael Gately had his variance requests approved for signs on Pyramid's dual-branded hotel on Western Avenue. The variances increased the total size of the signs for the hotel to 359 square feet, or seven times the maximum of 50 square feet allowed under the zoning code.
He also received variances, Coons said, for having eight signs where two are permitted, and six signs installed higher than 20 feet above grade. 
The month before, in January 2018, Cumberland Farms received a variance allowing it to post 291.2 square feet of signs at its location at the southeast corner of Western Avenue and Route 146. The company had originally applied for 500 square feet. The maximum allowed under the code is 50.