On New Year's Day, fallen tree throws young snowmobiler's life into disarray
Tuesday, January 7, 2020 - 21:20
GUILDERLAND — Twenty-two-year-old Christopher Lysogorski's life changed in an instant on New Year's Day when his snowmobile ran over a fallen tree hidden beneath the snow. 
"The night before, everyone was celebrating, looking forward to 2020, and the next day this happens," said his aunt, Kate Rumrill. 
Lysogorski, who lives in Guilderland, was riding in the Tug Hill region of the Adirondacks with a friend. "It had been a great day, great conditions," his aunt said. 
The two young men were heading back at about 6:30 p.m. to the parking area to return home, with Lysogorski in the lead. "Apparently there had been a storm on New Year's Eve that downed a tree, and it was covered with fresh snow," Rumrill said. 
Lysogorski was ejected from his machine and suffered fractures to his cervical vertebrae. His spinal cord was not severed, although it was damaged, his aunt said.  
He also broke his collarbone and his thumb. 
The accident happened close to the road, and other snowmobilers were around, including two nurses, said Lysogorski's aunt. Paramedics were called, and Lysogorski was taken first to Lewis County Regional Hospital to be stabilized, and then to Upstate Medical University in Syracuse, a level-one trauma center, where he remains. 
Lysogorski, who graduated from Guilderland High School in 2015, had a 12-hour surgery starting in the "wee hours" of Jan. 2, his aunt said, to "repair and clean up" the fractures to the vertebrae in his neck and to put in plates and screws to immobilize his spine and protect the spinal cord. He has been on a ventilator since the surgery. 
"It's kind of been up and down over the weekend," Rumrill said.
Early Saturday morning, Lysogorski's right lung collapsed. Doctors put chest tubes in to try to relieve the pressure, she said, and had just been able to get the right lung to begin to come back, when his left lung collapsed. 
They then took extreme measures, she said, and put him on an ECMO — or extracorporeal membrane oxygenation — machine, to oxygenate his blood so his lungs wouldn't have to work as hard. 
Until the swelling goes down, Rumrill said, doctors won't know the extent of his injury. For now he is heavily medicated, to keep him comfortable and also keep him immobile, to avoid further injury. 
He's a healthy kid, his aunt said, "a typical 22-year-old." 
She talked about him through tears, saying that he works as a mechanic and loves snowmobiling, skiing, and snowboarding in winter and, in summer, spending time on the weekends at his parents' place on Sacandaga Lake.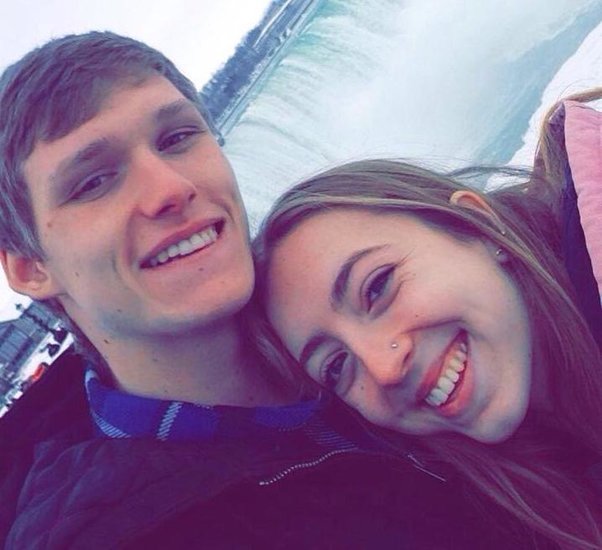 — Photo from Kate Rumrill
Christopher Lysogorski, left, has had the same girlfriend, Cheyenne Rusinovich, since the two were in Guilderland High School, his aunt said.
---
When he was younger, he drove race cars at Lebanon Valley Speedway. He is very close with his father, Ralph Lysogorski, who is also mechanically inclined, and the two sometimes repair cars together.
He has many friends and has been dating the same young woman, Cheyenne Rusinovich, since they were both students at Guilderland High School. 
"He is full of life, always smiling, a happy, happy guy," said Rumrill. 
His friends have been to see him, as have many members of his large family, which includes a sister and a brother, three grandparents, aunts and uncles, many cousins, and three nephews whom he adores, Rumrill said. 
It has been "devastating" for his family, especially his parents, but they are all doing their best to remain hopeful and positive, Rumrill said, adding that they appreciate the "outpouring of love" they have received. 
His doctors were able to take him off the ECMO machine on Tuesday, Rumrill said, and to keep him on only the ventilator. 
His family hopes Lysogorski will be able to walk again. 
Long-term, the family hopes that he will be able to get the "absolute best care" at Spaulding Rehabilitation Center in Boston. Rumrill said that there are only a few facilities in the country that specialize in rehabilitation after spinal-cord injuries, and Spaulding is one. 
The family is encouraged to have seen him make several motions, Rumrill said; he shrugged a shoulder Friday morning and reached an arm out on Saturday morning. "It wasn't just a reflex; it was a movement," she said of the motion on Saturday. 
Rumrill and her daughter, Christina Rumrill, started a GoFundMe account called "Christopher Lysogorski Recovery" to help with expenses; it had reached $11,561 of its $100,000 goal as of Tuesday afternoon. 
When Lysogorski first arrived at the hospital Wednesday night, his parents and girlfriend all raced there from Guilderland to meet him and he was able to talk to them, said Rumrill. "They were able to hug him," she said. 
Her nephew is "just so vibrant and full of life — that's what gives us hope that he's going to fight for any functionality," his aunt said.