[Home Page] [This Week] [Classifieds] [Legals] [Obituaries] [Newsstands] [Subscriptions] [Advertising] [Deadlines] [About Us] [FAQ] [Archives] [Community Links] [Contact Us]

Sports Archives — The Altamont Enterprise, April 12, 2012
---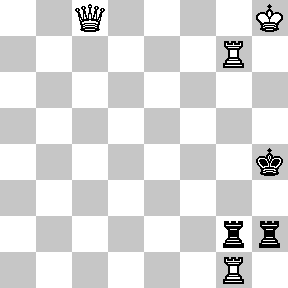 White to play and mate in two moves

Chess Solution
1. Qc2 threatening Qh7 mate
If 1…R:c2, 2.Rh7 mate
If 1…R:g7 or R:g1, 2.Q:h2 mate

New Capital Region team upsets Albany in Capital District Chess League Tournament
By Peter Henner

The Capital District Chess League Tournament is now well underway, with the Schenectady Geezers jumping off to an early 2-0 lead. This year, six teams are competing, including the Albany and Schenectady club teams, a new Capital Region Team, and the Uncle Sam and Rensselaer Polytechnic teams from Troy.

The Albany team, in its opener, gave up a 2-2 draw to a lower rated Capital Region team. Although Glen Perry defeated Jason Denham on Board 4 and Gordon Magat defeated Chris Caravaty on Board 2, I lost to Cory Northrup on Board 3 and Dean Howard lost to Dave Finnerman on Board 1.

In my game, I tried to take advantage of inaccurate opening play by Northrup, and ran into trouble, but still got back to what should have been a slightly superior game before simply blundering a piece.

Howard got into his usual time pressure, and this time was unable to save the position, playing the last 16 moves with less than 30 seconds to play.

Philadelphia

In the last few years, the country's largest organizer of chess tournaments, the Continental Chess Association has sponsored world class chess tournaments in Philadelphia four times a year: the Liberty Bell Open in January, the Philadelphia Open over Easter weekend, the Philadelphia International and the World Open in late June and early July, and a major tournament over Thanksgiving weekend.

The top section of each of these tournaments is rated internationally, as well by the United States Chess Federation, and the tournaments have sufficient prize funds to attract hundreds of competitors. Since Philadelphia is less than five hours from the Capital District by car, several local players typically compete, usually lured by the opportunity of high-level competition, but sometimes also by the prize funds.

This year's local players included Deepak Aaron, who raised his rating 20 points while scoring 5-4 to finish in a tie for 24th through 34th out of 79 in the Open section; Patrick Chi, who finished eighth out of 74 in the Under-2200 section, and raised his rating to 2191, just below the 2200 threshold for Master; Phil Thomas, who scored a disappointing 2? - 4? to finish 56th out of 80 in the Under-2000 section; and Dilip Aaron, who finished 22nd in the Under-1800 section with a score of 4-3.

The $5,000 first prize in the Open section was won by Grandmaster Magesh Panchanathan, with a score of 7-2.

Typically, the last round of these events feature draws between the top-rated players, who are willing to take a draw to avoid the danger of a loss and finishing out of the prize money. However, GM Panchanathan won first place by winning his last-round game against Tamaz Gelashvili who holds a 2700 USCF rating.

GM Panchanathan recently married Anuprita Patil, a rated expert, and Chess Life Online has an impressive wedding photograph of the couple. Patil also played in the Open section and scored 3? - 5?, an excellent result for an expert playing against the world's top players. Presumably, the tournament director would have avoided any situation where she would have been paired against her husband.

Aaron's victory in Scholastic Championship

Deepak Aaron repeated as New York State Scholastic Champion with a last-round victory over another Master, Justus Williams.

Going into the last-round game, Aaron had a score of 5-0 and Williams was at 4-1, so Williams needed to win while Aaron needed only to draw to take the championship.

The game is a good illustration of the themes in the Sicilian defense: White plays for an early King-side attack, while Black plays for a Queen-side attack. In the game, Williams missed his chances and ultimately Aaron's King-side attack prevailed.

D. Aaron – J. Williams
New York State 2012 Scholastic Championship

1. e4 c5 2. Nf3 d6 3. d4 cd 4. N:d4 Nf6 5. Nc3 a6 6. Bc4 e6 7. Bb3 Be7 8 Be3 0-0 9. f3 Qc7 10. Qd2 Nbd7 11. 0-0-0 Nc5

This is a typical Sicilian formation. White has castled on the Queen-side to prepare for a King-side attack. Black can attack the White King on the open c file.

12. g4 b5 13. h4 Bd7 14. h5 b4 15. Nb1 a5

Now Black is clearly better 15…d5 would consolidate Black's advantage in attacking first since if 16. g5 dc, 17. gf Nd3+ wins. After 15…a5, White recovers.

16. g5 Ne8 17. g6 a4 18.Bc4 b3 19. h6 fg

Now White has an edge 19 gh+ would have locked it in.

20. ab ab 21. N:b3 Bb5

The first of two serious mistakes by Black 22…Nc4 23. fe Q:c4 and Black is up a pawn and can defend against White's attack.

22. hg Rf7 23. R:h7

A fatal blunder. After 23…R:f3 or Ng7, Black is clearly better.

23…K:h7

Black could have declined the sacrifice with 23…Bc4, but is still lost after 24 N:c5 R:g7 25. R:g7 N:g7 26. Qc3.

24. Qh8+ Ke7 25. Rh1 Bh4

Black can resign now.

26. Q:h4 Kf8 27. Qh8+ Ke7 28. Bg5+ Kd7 29. B:b5+ Kc8 30. Q:e8+ Kb7 31. N:c5+ Ka7 32. Q:e6 Q:c5 33. Q:f7+

Black resigns.

This week's problem

In Deepak Aaron's first game of the Scholastic Championship, his opponent, rated 1776, had been playing well and had an even game until he played 25. cd. Now Aaron traps his opponent's Queen. How does he do it?

---