[Home Page] [This Week] [Classifieds] [Legals] [Obituaries] [Newsstands] [Subscriptions] [Advertising] [Deadlines] [About Us] [FAQ] [Archives] [Community Links] [Contact Us]

Editorial Archives — The Altamont Enterprise, April 12, 2012
---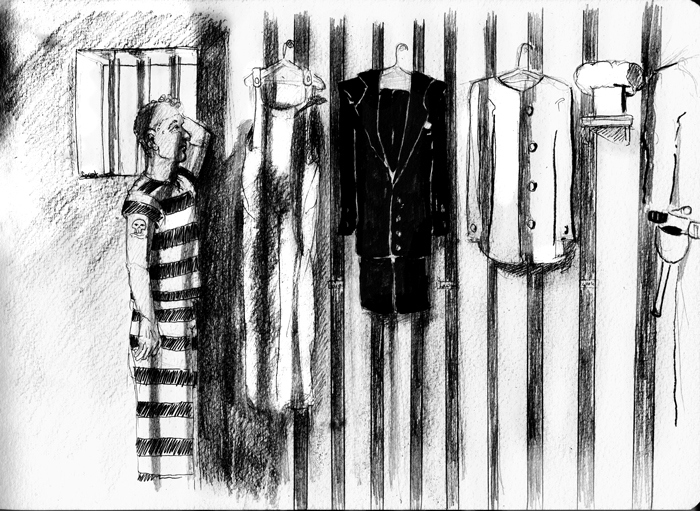 Editorial
Doing time should lead to better times

Doing time: We've all heard the phrase and most of us probably think we know what it means. But when we talked to a prisoner this week, we got a new perspective.

Ed Zinzow was arrested for driving without a license, and then he kept on driving. It was a misdemeanor charge and he violated his probation. Zinzow was sentenced to a year behind bars. Out of 12 months, he has to do eight. He landed in Albany County's jail in November.

He's now counting the days till June 18, the day he gets out.

One of the things that helps him pass the time productively is work. Sheriff Craig Apple started a program this year putting inmates to work. "The message is: If you come to Albany County," the sheriff said of the jail, "you're not here to sleep your time away for 23 hours a day and play basketball for the other one, or watch TV. You're here to work. This is a correctional facility and it's supposed to correct behavior."

Last week, Zinzow worked with other inmates to clean up the park in Preston Hollow that was ravaged by the remnants of Hurricane Irene. "I just thought it would be a good way to do my time — go out to different places, and work, and get gratification out of helping somebody else," said Zinzow. "I enjoyed doing the job."

The feeling was mutual.

"We lost everything," said Brenda Wood, a Rensselaerville resident who has worked on the park. "Memorial benches were damaged, our entire Little League field was devastated. All our dugouts, benches, backstops, concession stand, equipment and landscape was either washed away completely or badly damaged."

Wood went on, "Thanks to the help from the inmates of Albany County, we are beginning the slow task of raking, shoveling, cleaning and carting away debris."

Local residents put on a luncheon to thank the inmates for their labors.

"Everybody here loves them," said Wood's husband, Gerald, of the inmates who helped clean the park. Residents felt safe, he said, because the inmates were closely supervised by corrections officers.

"I just thought it was nice," said Zinzow, "because you got to be out in the wilderness, a little more freedom out there to get things done. They took care of you; they even offered us lunch. It was decent."

The new sheriff is to be commended for the initiative, which each weekday sees about 45 inmates working on public projects. It's good for the community and good for the inmates.

Apple has other plans that are equally important to make the Albany County Correctional Facility live up to its name. "I want to get them in a GED program," he said of the General Educational Development program that allows dropouts to earn the equivalent of a high school diploma. "I want them to have skills after they leave here so that they don't land back here," said Apple. "Most people get out and have nowhere to go. People don't know how to be productive citizens and the recidivism rate is sky high."

A study released last year by the Pew Center on the States, State of Recidivism: The Revolving Door of America's Prisons, recounts some sobering statistics. Incarceration levels in the United States by 2008 had risen to a level where one in 100 American adults was in jail; even more disturbing: One in 31 adults in the United States was either incarcerated or on probation or parole.

Total state spending on corrections —now at $52 billion — has quadrupled in the last 20 years, making it the second fastest growing part of state budgets, trailing only Medicaid.

Prisoners, once released, often return to jail. The Bureau of Justice Statistics for the U.S. Department of Justice reported in 2002 on offenders released from state prisons and found just over half were back in prison in three years.

To better understand the "revolving door" of recidivism, the Pew Center studied the rates in different states and isolated what worked best. New York's recidivism rate is 40 percent. In other words, 4 out of 10 released New York prisoners, after three years, are re-arrested, reconvicted, or returned to custody.

"Without education, job skills, and other basic services, offenders are likely to repeat the same steps that brought them to jail in the first place," the report quotes Louisiana governor Bobby Jindal as saying.

A 2003 study from the Bureau of Justice Statistics shows that 68 percent of state prison inmates did not have a high school diploma compared with 18 percent of the general population who had not finished 12th grade.

The Pew study shows that more spending doesn't decrease recidivism. Oregon is considered a national standout with a recidivism rate of 23 percent. Oregon officials, the report says, attribute their success to a comprehensive approach to reform. Oregon inmates receive risk and needs assessments when they are admitted to prison, and targeted case management during incarceration, along with detailed transition planning that begins six months before release.

Compare that with a typical release from a county lock-up in New York, where prisoners are set free with no plan and no place to go.

Probation officers in Oregon then use a sanction grid to impose swift, certain consequences for violations.

The report also quotes Chief Justice William Ray Price Jr. of the Supreme Court of Missouri on how nonviolent offenders need to be taught the right lessons. "Drug and alcohol addiction must be broken; discipline and job skills must be learned," he said.

A 2006 study of two groups of prisoners in three states found that the inmates who had taken educational programs in prison were, three years after release, more likely to be employed and less likely to be arrested again than those who hadn't. Several states have recently passed laws that allow prisoners to reduce their sentences by taking classes. This is in keeping with a finding of the Pew study, citing recent research has shown offenders respond better to rewards than to the fear of punishment

The Pew Center cites a report by the National Research Council, Evidence-Based Adult Corrections Programs, that shows a combination of surveillance and treatment is more effective at reducing recidivism than reliance on monitoring and control alone.

Protecting public safety can go hand in hand with cutting costs. The Pew report points out that, if just the 10 states with the greatest potential cost savings (New York is second behind California) reduced their recidivism rates by 10 percent, they could save more than $470 million in a single year.

But more than just saving money, society would be better off. Communities aren't safer if prisoners, once released, repeat their crimes.

---