[Home Page] [This Week] [Classifieds] [Legals] [Obituaries] [Newsstands] [Subscriptions] [Advertising] [Deadlines] [About Us] [FAQ] [Archives] [Community Links] [Contact Us]

Editorial Archives — The Altamont Enterprise, March 8, 2012
---
Editorial
Crude cheers slash the heart of the game

For when the One Great Scorer comes
To write against your name,
He marks — not that you won or lost —
But how you played the Game.
— Grantland Rice

School sports, we are frequently reminded as budgets are being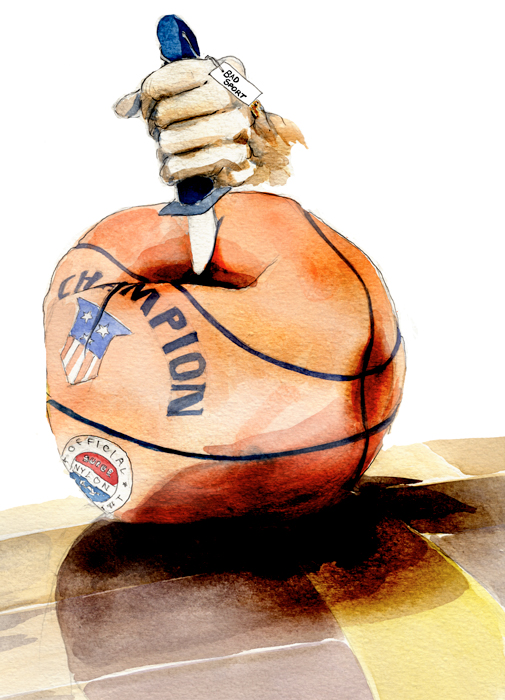 built and cuts debated, are an important part of education. Guilderland's policy on sports begins by saying the district's athletic program "is founded on the principle that the playing field is indeed an extension of the classroom and the athletic experience contributes to the growth of mind and body."

We believe that is true and Guilderland, over the years, has garnered many awards for sportsmanship. The district's policy advises athletes to "play hard, play to win, but play fairly within the rules. Do not allow your temper to distract you from the fundamentals of good sportsmanship. Maintain self-control. Respect your opponent. Never taunt….Be an example for our school, teammates and opponents."

School sports affect many students who never set foot on the playing field. "A win against a rival has long been a theme that all students and adults have in common," Dominic Paratore of Altamont, who identifies himself as a "Dutchmen fan," wrote recently in a letter to us. "This helps bring together different groups of students, not just athletes, and can unite the school."

He's right. Feeling a part of something larger than yourself and taking pride in it can be inspiring.

Paratore wrote us because he dislikes Guilderland's loyal student fans, who call themselves the Red Sea, being monitored by administrators.

Our sportswriter, Jordan J. Michael, talked to some of the Red Sea members. One told him, "OK, so you tell me not to say, 'You suck.' I'm sorry, but that's part of the game."

We disagree.

We know what it feels like to make a mistake in public. The printed pages of a newspaper are unforgiving. We run a written correction as soon as we find out about our mistakes, but they can't be erased; they are there for everyone to see and comment on.

Athletes, too, are in the public arena; it comes with the territory. But jeering at their mistakes is uncalled for. School administrators are right to insist that fans not be vulgar or insulting. It undermines the sort of learning that school sports are supposed to teach.

Our letter-writer said the chants he's heard from the Red Sea are heard at sporting events throughout the country. Plenty goes on at events throughout the country that aren't appropriate for school.

We rather like the language used in the Suburban Council's Sportsmanship Code: "Visiting team members, students and adult spectators," it says, "are guests to be accorded all the courtesy and consideration that a friendly, well-mannered and well intentioned host would normally give. The visitors, in turn, are to act as invited guests…."

We are reminded of the ancient Greek culture on which so much of modern Western society is founded. In the Odyssey, people are measured by the way they fulfill the social contract of host and guest. Nausicaa feeds and clothes the beggar and sends him to her father's house for shelter. Alcinous and Arete welcome Odysseus, a stranger, into their home, and give him a place of honor at their table.

Contrast that with Polyphemus, the one-eyed son of Poseidon. When Odysseus and his men enter Polyphemus's cave, they expect to be treated as guests, but the cyclops says he does not fear Zeus, and will not give them hospitality, but will instead eat them. In return, Odysseus blinds Polyphemus and steals his flocks of sheep.

Not that we recommend blinding inhospitable students, but a recurring theme of the Odyssey is relevant: Treating guests with respect is an important social contract and doing otherwise is less than civilized, less than human.

Besides, according to Guilderland players, negative chants do no good.

"It can be distracting when it's negative,' said sophomore Matt Cerutti, a break-out player for the Dutch basketball team. "But it really helps when they're supportive, and they usually are. It makes us better."

In a tight game, he said, such support puts pressure on the other team. The Red Sea members pride themselves on their loyalty — cheering on the football team in the midst of a downpour — and such loyalty should be encouraged.

The lesson here is a large and life-enduring one: Achieving status by putting down others is hollow. But succeeding by extolling — or cheering for — the worth of self or team is fulfilling and sustaining.

---