[Home Page] [This Week] [Classifieds] [Legals] [Obituaries] [Newsstands] [Subscriptions] [Advertising] [Deadlines] [About Us] [FAQ] [Archives] [Community Links] [Contact Us]

Editorial Archives — The Altamont Enterprise, March 15, 2012
---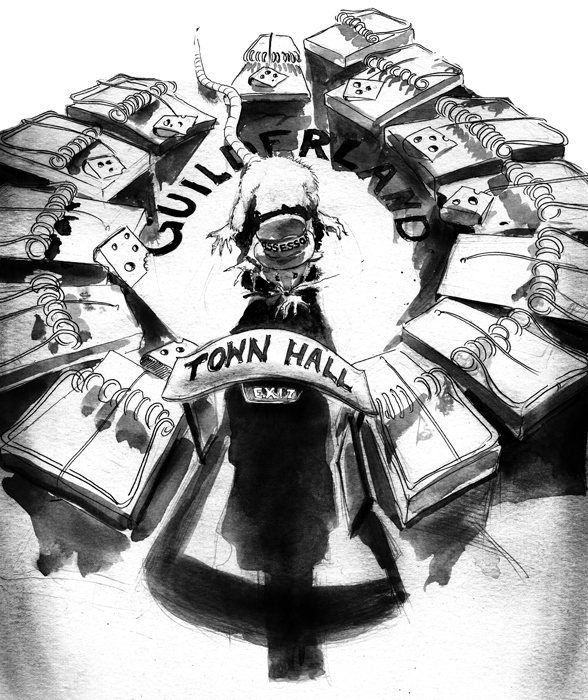 Editorial
Public official shouldn't be in the Mouse Trap Game
When school groups or young Scouts visit our newsroom, we often play a game called "Rumors." As the kids sit in a circle, one whispers to the next a simple sentence. By the time the news has circulated around the circle, it is quite different than it was at the start.
That is why, we tell the kids, a newspaper is useful to a community. Our reporters check out the rumors and we print the truth.
This week, we heard rumors that Guilderland's assessor was arrested at Town Hall and marched out by police, wearing handcuffs.
John Macejka, who was appointed to be the town's assessor in the fall of 2008, told us that last Wednesday he was summoned to the supervisor's office in Town Hall. Then — "totally out of nowhere," Macejka says — Supervisor Kenneth Runion told him he was fired.
"When I left Runion's office, I was told I would be escorted to my desk by a police officer," Macejka told our Guilderland reporter, Anne Hayden. "Thomas Funk led me to my desk and watched me clean it out, and then escorted me out of the office. I asked him if it was a criminal matter, and he said, no, it was just protocol."
So, Macejkka wasn't arrested, and wasn't shackled. He was escorted out of Town Hall. That part of the rumor was easy to check, but the deeper truth — the reason why he was abruptly fired in the midst of an appointed term — is harder to come by.
Macejka says he doesn't know why, and we believe him. The unanimous vote by the all-Democratic town board did not give any reason for the firing. Macejkka noted that Allen Maikels made the motion and Brian Forte seconded it; both men took office in January. "I have never met either one of them, or talked to them about the assessor's office," said Macejka.
Forte told us he voted on the town attorney's say-so and couldn't disclose why. Carol Wysomski, the long-time Guilderland assessor who retired in 2008, said she agreed to fill in when she was called on Thursday and has no idea why Macejka was fired.
Macejka is entitled to a reason, and so is the public.
Runion has not returned our calls, seeking comment. Macejka said Runion told him "something about three complaints over the course of 10 days from residents."
Assessors are often unpopular and residents are frequently upset with them as they set the value for their homes and properties on which taxes are based.
From our observations over the four years Macejka has been in office, he's done a good job. He's always answered our questions, even in difficult situations, and provided the documentation to back up his explanations. Working with less staff than the previous assessor and without doing a town-wide revaluation, he has fairly aligned property values, bringing the state-set equalization rate up from 79 percent to 92 percent.
We've written in this space before about the cumbersome process needed to fire tenured school administrators and teachers. That process is governed by section 3020-a of the State Education Law. An average proceeding takes 319 days and costs over $94,000, according to a 1997 survey by the New York State School Boards Association.
That process needs to be streamlined. Some schools find it cheaper and easier just to keep bad teachers on the payroll. But Macejka's firing is too far at the other end of the spectrum. No law requires a "just cause" for his firing; there is no written statement of charges, and there is no hearing process so that he may defend himself before an impartial officer.
Macejka was appointed to the assessor's post after two Republican board members — Warren Redlich and Mark Grimm, who did not seek re-election — made the assessor's work a campaign issue. Redlich had accused the assessor's office of examining only some vacant, agricultural, and commercial properties in the 2005 revaluation.
Macejka said this week, "I was brought into the position at a tumultuous time, when Wysomski was under fire from Grimm and Redlich. I was told when I was hired that it was partially to placate Grimm and Redlich. I was not told that, when their terms were up, my term would be up."
Is Macejka's firing political as he suggests?
"I want an assessor who is independent of politics," Redlich said at the time Macejka was appointed. At that time, too, Runion said Macejka was the most qualified of the candidates the board had considered. Councilwoman Patricia Slavick also said he was well qualified, having used the same software as Guilderland when he was Rotterdam's assessor. "He would come in and hit the ground running," she said.
So what went wrong?
We call on the town board members to let the public know. Guilderland citizens are entitled to the truth about the person who sets their property values.
---