[Home Page] [This Week] [Classifieds] [Legals] [Obituaries] [Newsstands] [Subscriptions] [Advertising] [Deadlines] [About Us] [FAQ] [Archives] [Community Links] [Contact Us]

Editorial Archives — The Altamont Enterprise, January 12, 2012
---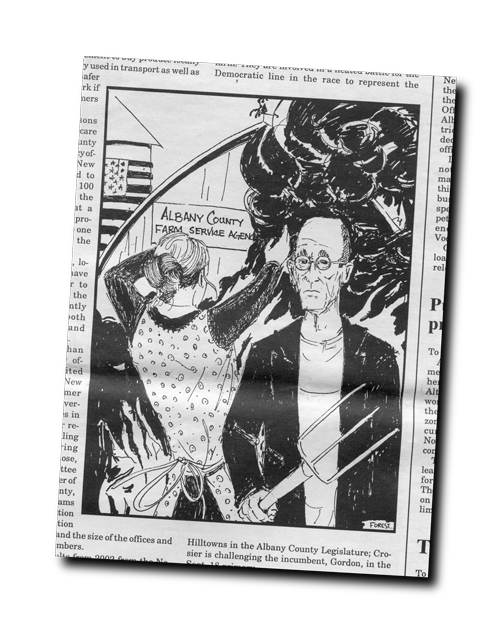 Editorial
Saving our farms is still a burning need
When Tropical Storm Irene hit this summer, Albany County farmers knew where to turn for help — the Farm Service Agency located in New Scotland. Just last week, Altamont apple farmer Jim Abbruzzese was at the Martin Road office, filing papers for flood-related damage.
He called the office "invaluable."
On Monday, though, the United States Department of Agriculture announced it was consolidating 131 county offices in 32 states with an eye to saving money. But at what cost?
One of the offices slated for closure is Albany County's. It fits the criteria of having fewer than two employees and it's less than 20 miles to the nearest FSA office — Schoharie's office is 18.2 miles from the Martin Road office, as the crow flies.
"In the past few decades," said the USDA announcement, quoting Agriculture Secretary Tom Vilsack, "U.S. agriculture has become the second most productive sector of the American economy, thanks to farmers adopting technology, reducing debt, and effectively managing risk. These are lessons from which we can all learn…Today, we are answering the challenge by announcing a series of efforts to help us continue to streamline operations, make the best use of taxpayer resources, and provide the best possible service to the American people."
That rhetoric is so ripe farmers could fertilize their fields with it. How is closing essential offices, like ours in Albany County, providing the best possible service?
When the office was slated for closure in 2007 — the annual savings would have been $60,000 — public uproar ensued. At a hearing then, several speakers pointed out that Albany County is facing strong development pressure, making the need for farm support more crucial.
Farmers with small operations, especially dairy farmers who have to milk twice a day, simply can't spare the time to travel, they said. Mary Ann May, a hay and sheep farmer in Westerlo, pointed out the importance of Albany being the state's capital. "We have legislators who can see our operations," said May.
Beyond that, the local office, headed by Thomas Della Rocco, reaches out to farmers in need. In 1988, Abbruzzese recalled, when frost destroyed two-thirds of his crop, Della Rocco "reached out to me." Abbruzzese "went through the process" of applying for disaster relief and was rewarded with a check that sustained him through a difficult time.
His orchard is here to this day, an anchor for the Altamont area. "This office has kept me in business," said Abruzzese. "It's an asset to the whole community. Everyone enjoys coming out to the farm and getting fresh fruit."
Albany County has 484 farms, according to results from 2002 from the National Agricultural Statistics Service.
We've written time and time again about the disappearing farms in our county and about the value of farming to this region. Working farms preserve open space, which not only maintains scenic vistas and a country feel, but also prevents traffic congestion and an overburdening of municipal services. Farms also keep taxes in check since they don't require the schools and services that suburban and commercial development do.
The current movement to buy produce locally — saving the energy used in transport as well as providing fresher, safer food — can only work if we have local farmers to buy from.
These are reasons why we should all care that the Albany County Farm Service Agency office is slated to close. If farmers here are struggling, recovering from Irene's ravages and facing heavy development pressure, does it make sense to pull out the support they have?
At the hearing four years ago — packed with 100 people — no one spoke in favor of the proposed closing. Many were passionate in their statements.
"I think you should be outraged," said Peter Ten Eyck, who owns the only other surviving apple orchard in Albany County, where dozens used to dot the landscape. "I think you should be indignant." He said that too often farmers "get things out of pity, not out of respect."
We respect our local farmers and we urge you this time, as we did four years ago, if you respect our farmers to speak out. A public hearing is tentatively scheduled from 10 a.m. on Feb. 7 at the Martin Road FSA office.
Farming is the largest industry in New York State and it is important to our economy in Albany County and to our quality of life. The word "service" is imbedded in the very identity of the Farm Service Agency. We pay taxes to our government so that it will provide needed services. This is one we need.
---