[Home Page] [This Week] [Classifieds] [Legals] [Obituaries] [Newsstands] [Subscriptions] [Advertising] [Deadlines] [About Us] [FAQ] [Archives] [Community Links] [Contact Us]

Editorial Archives — The Altamont Enterprise, December 15, 2011
---
Editorial
The truth goes marching on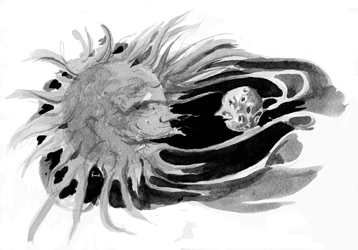 Life ebbs and flows in our newsroom.
This week, a loving woman poured out her heart about her mother, who had just died. She brought in a wedding picture to run with her mother's obituary. Her father had said that was the picture he wanted because it showed the start of their life together.
Maggie Heath was a woman who had loved our newspaper. Her daughter said she'd drive to Stewart's each Thursday, arriving at 1 p.m. to buy one just as they were delivered. Now we're honored to have her life recorded on our pages.
The words matter.
Her daughter blushed as she told of how her mother loved to sing Conway Twitty's "I'd Love to Lay You Down." "That was the most racy thing I ever heard come out of her," she said with a laugh. Marguerite Ann Heath will be laid to rest in a Conway Twitty shirt.
Her family carefully constructed this sentence to conclude the obituary: " In honor of the way Marguerite lived her life, her family asks you to forgive someone today, say 'I love you,' more often, play extra time with your children, and don't ever forget to take the chance to dance!" It's good advice and we plan to follow it.
Later that same day, a young couple came to our office. They wanted to announce news of their wedding this weekend. She was from Mexico; he, from Guilderland. Both devoted Christians, they had met at a Bible conference.
They were in our office for the better part of an hour, their happiness casting a glow over the place, as they worked out the wording for their announcement.
Heads leaning together, voices quiet, they looked over a draft we printed and carefully added and subtracted information.
Again, the words mattered.
So, this week, like any other, we're printing a newspaper as we have for the last 127 years. There is front-page news of a tragic death in an Altamont home fire. There is school news as the Guilderland district considers reshaping the school day to economize. There is news of crime, news of victory and defeat in sport.
Woven in the words are the lives of people.
The many pieces that make up a community are set down in black and white. They will go to area homes — a silent speaker of true things as our first editor, D.H. Crowe, wrote 127 years ago.
In this era, the words will also be posted online, where they will become part of searchable archives. Maggie Heath's great-grandchildren and generations beyond that will be able to read how she fell in love with her husband at first sight, how they eschewed the luxurious for the simple pleasure of one another's company.
The words matter and they will live on.
— Melissa Hale-Spencer
---