[Home Page] [This Week] [Classifieds] [Legals] [Obituaries] [Newsstands] [Subscriptions] [Advertising] [Deadlines] [About Us] [FAQ] [Archives] [Community Links] [Contact Us]

Editorial Archives — The Altamont Enterprise, November 24, 2011
---
Editorial

What makes a home?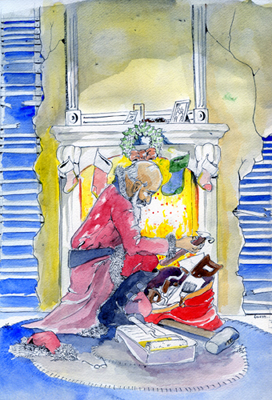 Gleaming hardwood floors. Gone. Carefully chosen wallpapers. Gone. Real plaster walls. Gone. Most of the inherited family furniture. Gone.
But still — Jill Hotaling calls this home. "I dug my heels in," she says. "This is my home. I love it."
She and her husband, Jim, have lived in their Schoharie home for the last quarter of a century. They raised their four children there. The walls, now gutted to the studs, hold memories.
The muddy water left by Tropical Storm Irene on Aug. 28 flooded four feet high on the first story of their two-story house.
"Look at the numbers on this beam," says Jim Hotaling, pointing, and explaining that, in the 1940s, Sears and Roebuck sold the first pre-fabricated homes, shipped in pieces to be assembled in towns across the country. "It's amazing what you can find when you tear the place apart."
Mrs. Hotaling holds up two rag dolls — Ann and Andy — made by her mother long ago. They had been in the home's crawl space but, before the flood, she had taken them out and placed them on a bookshelf in her sewing room. They were perched above the high-water mark.
Mrs. Hotaling fluffs their red wool hair and hugs them. "You cherish the things your mother made," she says, describing the painstaking way her mother had put the thick wool hair in one strand at a time.
The Hotalings, both retired teachers, have been living in a camper parked in their driveway for the last three months as they put their lives back together, piece by piece. They are among the scores of flood survivors and volunteers who have come to help that eat at the Loaves and Fishes Café run by the Schoharie Reformed Church.
Volunteers at the café, aware of the miraculous when they chose its name, describe the food that arrives unbidden. "It's like manna from heaven," says Janis Bassett, another retired teacher who helps run the eatery. "It just comes in."
The feeling of care at the café is palpable. Two residents from the Schoharie County ARC (originally the Association of Retarded Citizens) were among those serving hearty fare last Friday. "We make the meals and bring them here," said Wendy Beevers who brought the pair. "They like to help others."
What a great example they set, contributing what they can.
Since the week of the flood, the pages of our newspaper have been filled with stories not just of devastation but also of people pitching in to help their neighbors. Even now, three months later, we publish not just our own articles but letters and notices of fund-raisers, work parties, and thanks. As we shopped at the Altamont Agway yesterday, owner Dan Dymes told us that a story we wrote about his drive to help flooded farmers netted $8,000.
This week, we have a letter from Tom Smith, a retired Guilderland teacher who lives in Schoharie, detailing at length the help he has received. "Our house is less of a disaster than it was," he writes, "as we leave the demolishing phase and enter the rebuilding one. I just could not let Thanksgiving pass by without giving voice to my gratitude for all the help that has emerged and continues to be offered from a school and community that, in my book, are as good as it gets."
How moving to hear, from someone who could be bitter about the devastating and random destruction of his home, words of praise and thanks instead.
Many months of hard work lie ahead not just for Tom Smith or for Jim and Jill Hotaling but for all the flood survivors who have chosen to rebuild. We salute them as we continue to tell their stories.
As we sat in the Loaves and Fishes Café this past week, we heard a woman thanking the volunteers who served her. "This feels like home," she said.
That brought to mind lines from one of our favorite poems — Robert Frost's "The Death of the Hired Man." It tells the story of Silas, a proud man who has worked in spurts over the years for a struggling farmer, Warren, and his wife, Mary. One day, Mary comes upon Silas, old and sick, huddled against their barn.
As she and Warren puzzle over why Silas has come to them rather than his wealthy brother in his hour of need, Warren says, "Home is the place where, when you have to go there,/ They have to take you in."
That was the line that struck us as we visited the Loaves and Fishes Café last week. To us, it seemed the miracle wasn't like the Biblical one where a few fish and loaves were multiplied to feed many. Rather, the miracle was one where strangers helped, often anonymously and without prodding, others in need.
That could be seen as the center of Thanksgiving — Native Americans teaching the newcomers how to survive in the wilderness.
The kindness of strangers was evident as the Hotalings, in their shell of a home, looked last week through family pictures that had been salvaged. "One lady took some of our pictures to her house and put them in her barn to dry out," Mr. Hotaling said. "I didn't even know her name, but one day she showed up on our doorstep and said, 'Here are your pictures back.'"
There was a picture of Jill Hotaling as a lovely young bride, her mother beside her, glowing in a stylish pillbox hat, her father tall and proud in a powder-blue coat. Her parents, long gone, were still vivid.
"You just don't realize how important these things are to you," she said, "until you don't have them anymore."
---