[Home Page] [This Week] [Classifieds] [Legals] [Obituaries] [Newsstands] [Subscriptions] [Advertising] [Deadlines] [About Us] [FAQ] [Archives] [Community Links] [Contact Us]

Editorial Archives — The Altamont Enterprise, November 10, 2011
---
Editorial
Budget should not be a mystery to citizens
Every citizen should be an activist.
For decades, we at The Enterprise have written about town budgets each fall so residents would be informed and thereby empowered. And for decades, we've had problems with the town of Westerlo.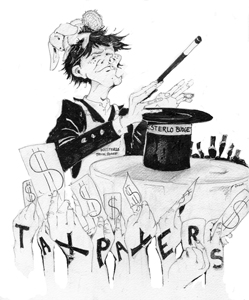 New York State Town Law requires that a town's preliminary budget be filed by Sept. 30; the town board must be presented with a tentative budget by Oct. 5, at which point the board adopts a tentative plan; and the final budget must be adopted by Nov. 20.
This timeline gives citizens who care a chance to review the proposed spending plan and make their views known.
Last week, the town's supervisor, Richard Rapp, who has been at Westerlo's helm for almost 40 years, said that budgeting is in its earliest stages. How can it be in its earliest stages more than a month after a preliminary budget, by law, was supposed to have been filed?
Aside from being illegal, this tardiness circumvents a process that is supposed to allow citizens a say in their government. Even candidates running for town board didn't know what was in the plan.
"Right now, without seeing the budget, I don't know where they could trim the budget at all," said Anthony Sherman, a Democratic candidate, when our Hilltown reporter, Zach Simeone, asked him where the town should cut in order to meet the state's new 2-percent tax-levy cap.
This week, Governor Andrew Cuomo launched a website to inspire citizens to get involved in their local governments, to rally for consolidation and decreased spending.
Cuomo had pushed for a tax-levy cap during his campaign and saw that it was passed once he took office. It took effect this past summer, helping his popularity to skyrocket. In a video speech, released Monday, Cuomo says, "The cap has stopped automatic tax increases and brought much needed scrutiny to government spending. Of the nearly 400 municipalities that have proposed their budgets, the vast majority, close to 85 percent, have stayed within the cap," he says, comparing that to the average 6-percent increase in previous years. The governor concludes, "We are making a difference."
Not in Westerlo.
Rapp estimated last week that the tax-levy increase for the general fund will be 11 percent and for the highway fund will be 14 percent — an overall increase in the town's tax levy of roughly 12 percent not including taxes to be levied for the library.
That's six times more than the state-set cap.
The five-member Westerlo Town Board may well move ahead and adopt the budget as finally proposed.
The governor is proud of his tax-cap law. "I want the people to have the power as opposed to the politicians," he says on his website video. "If you want to raise taxes, you can raise taxes…The people decide, not the politicians."
There are four Democrats on the Westerlo Town Board who generally vote as a bloc, and we expect the budget vote will be no exception. Requiring a supermajority of the body that has all along set tax rates hardly empowers citizens.
The school votes are a different matter. Our local school districts have traditionally had to pass their budgets through public vote and the new tax-cap law follows this same pattern. In order for a school district to raise the tax-levy limit over 2 percent or the rate of inflation, whichever is less, at least 60 percent of the voting public has to approve.
If Westerlo citizens got to vote on a 12-percent tax-levy hike, we're quite sure the plan would be defeated and the town board would have to come up with a new plan.
The New York State School Boards Association fired off a response Monday to Cuomo's video message: "The property tax cap may well serve its intended purpose, but it's going to come at a cost to educational programs and services in school districts, unless the state loosens its reins on school districts by providing significant mandate relief."
Cuomo's video, though, focuses on "the cost of bureaucracy" in schools. "Over the past 15 years," he says, "the number of supervisory staff has increased 34 percent, while the number of teachers has increased 9 percent, and student enrollment has actually dropped 4 percent…The salaries of top administrators are off the charts, more than 2,000 administrators or managers make at least $150,000 a year. Over 40 percent of school superintendents receive salary and benefits of $200,000 a year or more."
A fair analysis of school budgets would show that about three-quarters of the cost is for staff, and the bulk of employees are teachers and support staff like bus drivers, cafeteria workers, and custodians. The only significant way to cut costs is to contain salaries — and not just of top administrators — which would save both jobs and programs.
That said, state requirements, particularly for pensions, play a huge role in both school and town budgets. When the bubble burst and the stock market faltered, so did the state's investments, increasing the shares local governments have to pay for retirement plans. At the same time that towns in Albany County are paying more for retirement costs, the sales tax revenues that largely funded towns' expenses have been dwindling along with the worth of property in many areas.
In short, revenues are down while expenses are up.
Towns provide essential services — from collecting garbage to fixing and clearing roads. Citizens call our news office frequently to complain when their needs aren't met. "How can the town close Krumkill Road?" a New Scotlander asked us recently. "I need that road." We referred the caller to our story on the millions of dollars it would cost to repair Krumkill. And then we braced ourselves for the next call, complaining about taxes that are too high.
We agree with the governor's views on the importance of empowering citizens — and have devoted ourselves to that task for decades. Yes, citizens should attend budget meetings at their schools and in their towns. Local governments are small enough that they can, indeed, react. A public vote, as the schools have been subject to for years, would ensure that they do.
But it's not as simple as reducing "bureaucracies and inefficiencies" as the governor would have it.
The bottom line is, you have to pay for what you value.
---