[Home Page] [This Week] [Classifieds] [Legals] [Obituaries] [Newsstands] [Subscriptions] [Advertising] [Deadlines] [About Us] [FAQ] [Archives] [Community Links] [Contact Us]

Editorial Archives — The Altamont Enterprise, September 8, 2011
---
Editorial
The federal flood insurance program needs to be expanded and enforced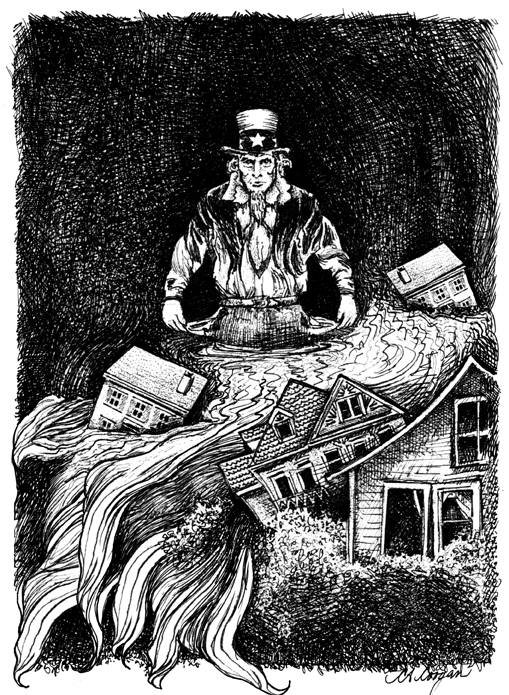 Tropical Storm Irene swept through our lives on Aug. 28, and, for some, the effects were devastating.
We have been heartened over the last two weeks to witness and record the volunteer help that has materialized in the midst of and in the aftermath of the historic storm.
"There were no sheriffs or cops in the area," said Jeff Vogel of Gallupville, as washed-out bridges isolated the hamlet. "They were MIA, no communication," he said. "The only saving grace was the fire department."
The Gallupville Lutheran Church set up a shelter for those who were displaced from their homes. "It was a tight community effort," said the pastor, Peter Departolo.
Similar scenes played out across our region. People called or wrote our news office to tell of a basement pumped out in Voorheesville for a resident who was out of town, or of firefighters working around the clock to rescue those stranded by flood waters.
Ruth Dickinson, a new Altamont resident, wrote of how she watched with amazement "the dedication of the village employees." She continued, "They seemed to be everywhere — volunteer firemen, volunteer medical personnel, village crews, and support persons. They were efficient, hardworking, and pleasant."
Marie and Bill Hornick of Clarksville wrote about the closed school that became a refuge for the displaced, staffed by members of the Onesquethaw Volunteer Fire Company. Its members "came to our houses and urged us to leave; we did," wrote the Hornicks. "Some had to stay until roads were cleared. The drills, practices, knowledge, courage, and willingness of our neighbors in the Onesquethaw Volunteer Fire Company was in evidence throughout the whole day. They were calm and ready when we needed help."
Such help has continued after the water receded. You can read about it on our letters pages and in our news columns this week.
We noted a sign on the counter of the Fox Creek Market in Berne on Saturday; it was posted under a photograph of the Fox Creek raging over the road. Two local beauticians, the sign said, would give free haircuts at the firehouse on Sunday to anyone hurt by Irene.
A local hardware-store owner, who read our story about the collapse of part of the Agway building in Berne, called to offer jobs to its displaced workers.
In short, many are volunteering to help with what they have to offer.
While this kind of community insurance is valuable, it should not let the federal government off the hook. Small-town workers and local volunteers have been heroic in the last two weeks, but it is not enough.
Floods like those we've just witnessed underline the dire need for insurance. While the president's disaster declaration will bring Federal Emergency Management Agency funds to Albany County, many counties where people were hurt by Irene's floods will get no such help. Also, even for counties getting FEMA aid, the low-interest loans for homeowners and business owners still have to be paid back.
Floods are the most common hazard in the United States, according to FEMA, and yet only 5 percent of Northeasterners have flood insurance.
The federal government has a program — the National Flood Insurance Program, administered through FEMA — that allows property owners to protect themselves. But it has been poorly run and is now on shaky ground, continuing through a series of extensions; the current extension is to expire on Sept. 30.
A half-century ago, Americans who lived in flood zones simply couldn't get insurance. When their homes and businesses flooded, they relied on federal relief. This didn't suit their needs and was also costly for taxpayers. The National Flood Insurance Program, known as NFIP, is based on a good idea — if the federal government is going to end up paying for rebuilding after a flood, it would be more efficient and less expensive to rebuild through insurance. To manage the risks and protect taxpayers, only property owners in municipalities with flood-plain management laws can buy the insurance.
Congress created the national program in 1968; it works in partnership with private insurance companies that sell flood insurance to homeowners, renters, and business owners if their municipality participates in NFIP.
So far, so good.
But problems arose because many municipalities were not enforcing their flood-plain rules (for example, requiring sturdier construction in certain areas) and not enough people were buying flood insurance. Congress tweaked the program in 1972, requiring insurance for a mortgage from a federally regulated lender if the property being purchased was in a flood zone; in 1994, penalties were added for lenders that did not comply.
As so-called 100-year floods have become more common in recent years, the best solution, although politically unpalatable, would be to simply forbid building or rebuilding in flood plains. In the meantime, municipalities should enforce the laws they have in place; it will protect their citizens in the long run.
The National Flood Insurance Program is now more than $20 billion in debt. Severe problems with NFIP were detailed two years ago by the Government Accountability Office. The GAO found that government overseers had no way of knowing what profits the insurance companies were making, or if those profits were appropriate. The NFIP program takes in about $2.3 billion a year in premiums; insurance companies keep roughly $1 billion, the GAO report said.
But this amount pales beside the annual losses. Last year, insurance companies paid out over $13.6 billion in catastrophe losses.
And that points to the largest problem detailed by the Government Accountability Office. The private companies didn't market flood insurance, merely offering it if requested. If any insurance program is to work, people have to buy into it.
The GAO faults FEMA since it pays bonuses to the insurance companies based on overall sales increases, which the auditors said primarily rewards new companies, rather than paying bonuses to companies that bring in a more diverse group of policy holders.
In an attempt to attract more people to buy the federal flood insurance, Congress limited the annual increase in cost of premiums but, when real-estate prices rose dramatically before the recession, the revenues from premiums did not keep up. The aftermath of Hurricane Katrina then left the program billions of dollars in debt.
The solution is not to drop the program, as some in Congress are now advocating. The solution is to fix the program. Oversight needs to be provided to be sure the cut taken by insurance companies is fair, and flood insurance must be marketed more broadly. The average policy costs about $600 a year, according to FEMA, but begins at about $130 in low-risk areas.
Many people were shocked last week to learn that their business or homeowner's insurance did not cover damage from floods. Each of the municipalities we write about is part of the program. If NFIP were marketed more aggressively, more people would have the insurance. Who, at this point, wouldn't have been glad to pay a few hundred dollars, in order to recoup thousands?
Most importantly, with aggressive marketing, the program would have a better chance of solvency to protect those who suffer from future floods.
— Melissa Hale-Spencer
---