[Home Page] [This Week] [Classifieds] [Legals] [Obituaries] [Newsstands] [Subscriptions] [Advertising] [Deadlines] [About Us] [FAQ] [Archives] [Community Links] [Contact Us]

Editorial Archives — The Altamont Enterprise, August 18, 2011
---
Editorial
If the state won't regulate, towns must protect us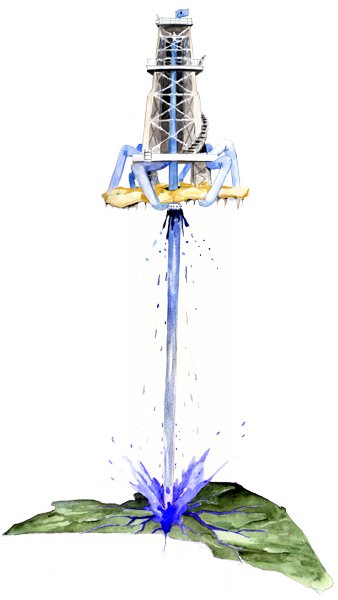 When the state's Department of Environmental Conservation last month issued its revised and much awaited 900-page report on hydraulic fracturing, the department's commissioner, Joseph Martens, said in a statement, "This report strikes the right balance between protecting our environment, watersheds and drinking water, and promoting economic development."
We disagree with the words on both sides of his fulcrum.
What the DEC has recommended is that hydrofracking be prohibited in the unfiltered New York City and Syracuse watersheds, within a third of a mile of other public drinking water supplies, and on the surface of state parklands.
Where does that leave the rest of us who live in the towns covered by The Enterprise in southwestern Albany County that lie on the Marcellus Shale formation? Many of us in rural Albany County rely on private wells for our drinking water.
Also, Martens assumption, frequently asserted by the companies making profits, that the drilling will lead to economic development is unproven.
Susan Christopherson, an economic geographer and professor at Cornell University, has studied what has happened in other areas with shale gas drilling, most notably nearby Pennsylvania, and found claims of job creation exaggerated. Out-of-state experts get the high-paying jobs while jobs for locals tend to be part-time, short-term, and low paying.
Worse, the boom can add to public costs — for everything from schools to police and emergency workers — that may leave municipalities worse off in the long run.
We'd like to advocate a statewide ban on hydrofracking. We believe government resources that will be spent on issuing drilling permits and enforcing the rules such as they are could be better spent on encouraging clean renewable energy sources, like solar power, or on getting Americans to simply consume less energy.
But we're realistic enough to see that the estimated trillion dollars of retrievable gas that lies untapped in the Marcellus Shale is not going to stay there. People who own land where they could stand to make a sizable income from allowing drilling are going to do it under the DEC guidelines. And politicians don't have incentive to stop it.
Governor Andrew Cuomo, riding a rising tide of popularity after getting a timely budget passed, capping taxes, and seeing same-sex marriage legalized, has no intention of changing the position that helped get him elected. His campaign stance favored the development of the Marcellus Shale to "provide a badly needed boost to the economy of the Southern Tier." He even stated that many environmentalists agreed on the importance of producing more domestic natural gas to reduce reliance on more damaging coal.
But natural gas is not "clean" in the sense that solar or wind energy is clean. Trapped gas is freed by injecting water mixed with chemicals and sand at high pressure into wells to fracture the rock. A congressional investigation this year concluded that oil and gas companies had injected over 32 million gallons of diesel fuel or hydraulic fracturing fluids containing diesel fuel into wells in 19 states between 2005 and 2009.
None of them sought the required permits for the method, which is a violation of the Safe Drinking Water Act. A 2004 report from the federal Environmental Protection Agency found that the use of diesel fuel in fracturing fluids posed the greatest threat to underground sources of drinking water since it contains toxins like benzene, toluene, ethylbenzene, and xylene. Benzene is recognized as a human carcinogen, causing cancer, by the Department of Health and Human Services, the International Agency for Research on Cancer, and the EPA. Chronic exposure to toluene, ethylbenzene, or xylenes also can damage the central nervous system, liver, and kidneys.
In addition to these toxins, the drilling produces air and noise pollution and truck traffic that can harm the quality of living and put an end to tourist traffic. Beyond that, the specter of drilling has the potential to bitterly divide communities as some seek profits by leasing their land while others oppose the drilling.
For these reasons, a dozen municipalities — including the city of Buffalo and a number of towns in the Finger Lakes region dependent on tourism — have passed bans on hydraulic fracturing in their communities. A score of other communities are considering bans.
The gas companies state such bans won't hold up in court, and they have a point. The DEC alone, according to state law, has the power to issue drilling permits. The Environmental Conservation Law has a clause in Section 23 that supersedes any local law or ordinance "relating to the regulation of the oil, gas, and solution mining industries." In other words, a town, by law, cannot ban mining or drilling.
The Democrat-controlled State Assembly had passed a home-rule bill last session so that localities could ban the drilling for natural gas but the bill died in the Republican-controlled State Senate.
However, other strategies may work. That clause in Section 23 that we just quoted continues, "but shall not supersede local government jurisdiction over local roads." In fact, Alexander Grannis, who was the DEC commissioner before Cuomo appointed Martens to the post, referred to this section of law and stated, "Local governments have the same authority over the use of local roads by oil and gas operations as for any other road uses, and DEC encourages local governments to use this authority to protect local roads."
Towns, for example, can regulate such things as weight of trucks and hours of use, which could hamper drilling efforts.
Another tack taken by a law firm in Ithaca, as detailed this week by reporter Saranac Hale Spencer, is for a town, without passing a ban per se, to pass zoning laws that would make hydrofracking impossible.
The Helderberg Hilltown of Knox served as a model in the 1980s when it passed a law regarding sewage effluent that was stricter than the state law. On Sept. 12, 1989, the state's highest court ruled in favor of the tiny town of Knox, which has fewer residents than the DEC has employees.
Martens has estimated that the DEC will make final its impact statement near the end of this year, a necessary step before it begins to review permit applications for drilling.
That gives local municipalities just a few short months to draft laws that would protect residents from the disruption and pollution that will come with hydrofracking. We urge them to act now.
---