[Home Page] [This Week] [Classifieds] [Legals] [Obituaries] [Newsstands] [Subscriptions] [Advertising] [Deadlines] [About Us] [FAQ] [Archives] [Community Links] [Contact Us]

Editorial Archives — The Altamont Enterprise, June 16, 2011
---
Editorial
A true apology comes from the heart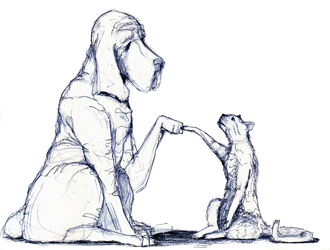 "Forgiveness does not change the past, but it does enlarge the future."
— Paul Boese, Dutch botanist
Has the legal system become a substitute for basic human interaction?
Often, we're called on to cover stories where it seems, instead of involving the police or filing a suit, people might better resolve their problems with an honest conversation.
This week, Beverly Brooks came to our newspaper office with a letter to the editor written by her husband, James Brooks. She was upset and so was he.
James Brooks has worked as a maintenance mechanic for the Berne-Knox-Westerlo School district for 16 years. One of his duties as a licensed water treatment operator is to perform quarterly tests, required by the state, to make sure that water from BKW's septic system is not polluting the Fox Creek.
Brooks began filling out paperwork during the first quarter of the year but could not collect the required samples because there was no discharge. He put away the paperwork and the bottles for later. Then, he hurt his back and was on a long medical leave.
When Brooks came back to work, he found a form that said, on April 27, he submitted test results to the lab.
His name was on a form he hadn't submitted.
When our Hilltown reporter Zach Simeone began covering the story, he first visited the Brookses in their Knox home to look over the documents they had collected. Sure enough, there was the form with Brooks's signature and, in handwriting that clearly wasn't his, the test date of April 17. Other documents proved that was during his medical leave.
Brooks couldn't have submitted the form that bore his name.
Simeone checked to see if this was a bigger story about falsifying records to cover up a problem with pollutants. It wasn't. A spokesman for the state's Department of Environmental Conservation assured him that BKW had no record of poor test results.
For Brooks, though, the affront was real and personal. He consulted twice with the State Police and learned from them that there were no grounds for arrest. The state's Penal Law backs this up; it defines identity theft as when someone "knowingly and wiht intent to defraud assumes the identity of another person by presenting himself or herself as that other person." There is no evidence in Brooks's case that there was intent to defraud.
Brooks also met with the school's superintendent. The district's lawyer was there, too. He got no satisfaction.
"He feels violated," his wife told us. "If the school acknowledged it, found out who did it, and they apologized, that would make a difference," she said.
Our reporter found out what happened by talking to Peter Shunney, BKW's head of maintenance. Shunney said he changed the date and submitted the test results for the second quarter to the lab.
Shunney's explanation rings true. He wasn't defensive. He didn't equivocate. He didn't blame someone else.
He owned up to his role and simply explained what happened. He called the lab and found he could use the same bottles Brooks had set aside and, since the paperwork was already filled out, Shunney left it except for changing the date to the current one.
"It was more or less an error on my part," said Shunney. "I should have changed the name but I didn't really think about it to be honest with you."
Honesty — how refreshing. Admitting an error — how brave. The final step would be an apology to Brooks.
A true apology is hard to make. It means seeing where you were wrong and taking responsibility for it. It means understanding that, even if you didn't mean it, harm was caused to the other person.
"A stiff apology is a second insult," said G. K. Chesterton, the English writer. "The injured party does not want to be compensated because he has been wronged; he wants to be healed because he has been hurt."
A true apology is worth the work and pain because it makes the injured party whole again.
We don't blame Brooks for feeling violated. He values his good name. And he went through weeks of frustration in trying to find out what went wrong, to no avail.
If an apology is to be complete, the injured party must accept it. If Brooks, despite what he has been through, is able to see that Shunney meant no harm in submitting the paperwork to the lab, perhaps he will be able to accept the apology and forgive him.
That would be a model for us all.
---