[Home Page] [This Week] [Classifieds] [Legals] [Obituaries] [Newsstands] [Subscriptions] [Advertising] [Deadlines] [About Us] [FAQ] [Archives] [Community Links] [Contact Us]

Editorial Archives — The Altamont Enterprise, April 28, 2011
---
Editorial
Cultivate community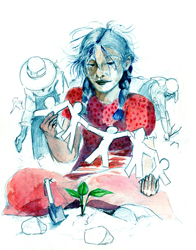 Art by Forest Byrd
So much of how we each define ourselves has nothing to do with earning a living. Our homes are more than just required shelter, with the essentials that let us eat and sleep. Gardens are no longer necessities — we can easily buy food grown by others or even purchase ready-made meals.
Yet the human need to till the earth persists. So does the urge to keep ourselves warm with more than the mundane and to feed ourselves with creative fare.
This week, our annual Spring Home & Garden edition highlights individuals who have raised the ordinary to the extraordinary.
Robert Bemis uses his background in computers and graphic design to create unique quilts that can be hung as artwork or layered in bed for warmth. The quilt he sleeps under each night has a border he invented that "does a little dance," dipping into the traditional pattern.
Jane McLean fell in love with a turn-of-the century pantry in a run-down old house in Knox and convinced her husband, John Elberfeld, to buy it. They have restored the place and gone on to trace its roots, revealing some rich local history that they now share with others.
Ellen Zunon who lives in Guilderland has taken to cooking meals that were prepared nearly a century ago by her Dutch grandmother. Using her grandmother's 1922 cookbook as a guide, Zunon has taken a thoughtful inventory of her modern kitchen and compared it — one utensil at a time — to the tools used by her female forbearers.
But she reaches far beyond her home, keeping a blog based on recipes from both of her grandmothers. Her "Grandma Minnie" kept a handwritten notebook of recipes collected from friends and relatives in the Mohawk Valley in the early part of the 20th Century.
Zunon has made her grandmother's meat loaf, escalloped potatoes, apple fritters, and Tip-Top Cake, but she probably won't try the Prohibition-era dandelion wine. A notation in bold handwriting on the bottom of that page cautions, "Warning! Don't drink too much of this hootch."
Zunon weaves family history, photographs, and folklore on her blog along with the recipes — forming a modern link to a heritage that can otherwise be easily lost. Most of her blog's readers are family members, now spread far and wide.
So much that we take for granted as a given part of our lives, of what we plan to pass on to future generations, disappears without a trace. We admire Elberfeld and Zunon for unearthing and sharing pieces of the past.
Margaret Roach has preserved the story of her personal journey from city to country life in a memoir published this year. It reads rather like a romance, with her house and garden playing the role of her lover.
While working in New York City, Roach falls for a little ramshackle country cottage; she describes the fierce attraction using the French phrase, coup de foudre — clap of thunder. She then spends 20 years of weekends refurbishing the house and grounds, making them her own.
In 2008, at age 51, she leaves her high-powered career behind for a more contemplative life, regaining her appetite as she feeds herself from her garden.
Roach, too, reaches out through a blog — A Way to Garden — but her audience is far wider than Zunon's. On her website, she shares both "horticultural how-to" and "the 'woo-woo'" — the spiritual side of gardening. So, although Roach consciously chose a life that was more still and solitary than the one she had led before, she connects through her gardening and her blogging with a wide swath of people.
For those who have plots in Guilderland's Community Gardens, the connections are more direct. One of the gardeners, Fan Chen, describes the community gardens, which stretch over five acres and are tilled by 65 families, as "a mini United Nations."
People who have moved to Guilderland from the Ukraine, Latvia, England, France, Russia, Bolivia, and Argentina have found common ground at the gardens.
Chen, who is originally from Taiwan, has been part of the project since it began in the 1980s. In the summer, she eats only what she grows and feels better for having Chinese greens.
"It's a social thing," she said. "It means a lot more to me than having a garden in my yard, because you always see someone to talk to, and learn new things. I always feel so good in the garden — I hear the insects, and the birds, and even the air feels different. There is something magical about it."
Gardening for Ludmila Popova came out of hard times. She is from the Ukraine, where the economy crashed after the dissolution of the Soviet Union. "It was a bad crisis," she recalled, "and people lost their jobs or didn't get paid for their work, but had to eat."
She came to this country six years ago to pursue a degree in chemistry and still likes gardening because it represents something with guaranteed, tangible results. "Not all experiments work," she said. "In fact, most of them fail." She can always find someone to talk to at the community gardens.
When Sally Cummings, a life-long gardener from England, started gardening her plot last year, Gunnar Dvelis, who was born in Latvia and raised all over Europe, helped her by using his rototiller to turn her soil. "I couldn't believe it when he had the whole thing done in two days," she said. "That was before I found out he was 92! He said, 'If I keel over, call 9-1-1.'"
Dvelis is now 93 and his wife wanted him to give up gardening, worrying about his health. So Cummings, 20 years his junior, returned the favor, offering to share his plot so he could do as little or as much work as he was able.
We find such examples of neighbors helping neighbors heartening. Beyond that, Dvelis gives his surplus bounty to the local food pantry.
How better to live up to the name "community"?
A final example on our pages of the true meaning of community is found on this week's front page. We got to write a happy ending to a sad story that began on our front page last Dec. 23.
Just before Christmas, Rebecca Michael — a young mother coping with an IQ of 69 while raising two children with disabilities — was on the verge of being evicted from her trailer-park home.
One of our readers, Vasilios Lefkaditis, was moved by the story and has come to her rescue. In the real-estate business, he has found a home for the Michaels.
"Truthfully, I did it because we're either a community or we're not," Lefkaditis said this week. "When it comes to expertise, I'm steep in real estate, lawyers, and courtrooms. This fell right into my wheelhouse."
His kids are friends with Michael's kids who can't get over the space they now have. They had lived most of their lives in a small, dilapidated trailer. "We're not on top of each other," said Michael. "They think it's funny I have my own bedroom now."
The children's health problems are stabilizing now that they have a permanent home. For now, Michael will pay rent with federal funding while she builds her credit rating with the goal of owning the home outright.
"The ultimate game plan, through various programs, is to sell it to her on a cost basis," said Lefkaditis. "We're not looking to make a profit."
What is Lefkaditis getting out of this? He is a modest hero. His response is something we should all take to heart: "Maybe," he muses, "if I find myself in that position one day, someone will do it for me."
Michael and her children have now what so many of us take for granted — a home. The children each showed off their own rooms this week with pride. We're basking in the glow of their happiness, pleased that we're part of a community where someone cares enough to act on that compassion. We hope it inspires others to do the same.
---