[Home Page] [This Week] [Classifieds] [Legals] [Obituaries] [Newsstands] [Subscriptions] [Advertising] [Deadlines] [About Us] [FAQ] [Archives] [Community Links] [Contact Us]

Editorial Archives — The Altamont Enterprise, March 31, 2011
---
With art by Forest Byrd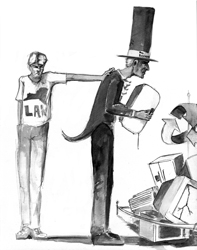 Editorial

The strong arm of the law is needed to preserve the health of our planet
As modern Americans, we all use appliances and electronic devices. We've become a throw-away society, each of us changing up for new models and rapidly discarding the old. This leaves behind masses of waste, some of it dangerous for the environment — for the Earth that we humans all inhabit.
We're pleased to report this week that New York is helping to lead the way with proper disposal of appliances and recycling of electronics.
New York is the second state — after West Virginia — to join the federal Environmental Protection Agency's Responsible Appliance Disposal program. RAD is a voluntary program that helps consumers get rid of their used appliances safely.
The New York State Energy Research and Development Authority (NYSERDA) will work with retail and wholesale companies to recover chemicals from old freezers, refrigerators, dehumidifiers, and window air conditioners. RAD partners recover refrigerant and foam and see that it is reclaimed or destroyed; recycle metals, plastics, and glass; and see that PCBs, mercury, and used oil are recovered and properly disposed of.
The Environmental Protection Agency is so concerned about the dangers of mercury that it has issued elaborate instructions for cleaning up a broken compact fluorescent light bulb, which contains only about 4 milligrams of mercury, an amount that would cover the tip of a ballpoint pen. That amount, according to Stanford University research on mercury, is enough to contaminate up to six thousand gallons of water beyond levels that are safe to drink. Mercury is a dangerous metal, David Carpenter, the director of the State University of New York Institute for Health and the Environment, told us earlier, because it moves around. Spilled chemicals can enter the food chain and affect public health.
Refrigerants and foam pose a different but equally insidious sort of risk as they deplete the ozone layer. A quarter of a century ago, people were stunned by the appearance of a hole in the Earth's ozone layer over the Antarctic. The ozone layer had protected humans from harmful ultraviolet rays. The thinning layer, according to the EPA, has been linked to skin cancer like melanoma and basal cell carcinoma; eye disease such as cataracts, degeneration of the macula, and squamous cell cancer of the cornea; and immune suppression, including resistance to infectious diseases and skin tumors and diminished effectiveness of vaccines.
In 2009, RAD partners, according to NYSERDA, prevented emissions of an estimated 4,000 pounds of ozone-depleting substances and 1.41 million metric tons of carbon dioxide equivalent greenhouse gases by recovering foam and refrigerants from appliances.
This is essential if we are to prevent further climate change and the resulting disasters. Federal law currently requires refrigerants be recovered and universal waste like mercury be properly managed but laws do not require properly managed recovery of appliance foam, which, the EPA says, represents a significant source of ozone-depleting substances and greenhouse gases.
Until the law is changed to require this, as it should, we commend the volunteer efforts of RAD participants and urge individuals to be sure their appliances are disposed of properly.
At the same time, we applaud a state law, passed last year, that goes into effect on April 1. The Electronic Equipment Recycling and Reuse Act puts the onus for recycling and reclaiming dangerous materials in electronic equipment on the manufacturers.
We've been aware that some consumers, faced with having to discard a television or computer and not wanting to pay the fee for recycling, have tossed the used equipment — sometimes even dismantling it to disguise it — into landfills where it oozes mercury, lead, cadmium, nickel, zinc and other contaminants.
The new law requires manufactures of what it terms "covered electronic equipment" or "CEE" to establish a convenient system for the collection, handling, and recycling or reuse of electronic waste. CEE includes computers and their accessories, such as keyboards, monitors, and printers; televisions; and "small electronic equipment" like video recorders and game consoles and portable digital music players.
The law establishes statewide collection standards that increase gradually over the first three years, and it sets manufacturer-specific acceptance standards based on market share, or how much a particular manufacturer sells.
Companies, like Sony, Panasonic, Toshiba, and RCA, will now have to recycle the same amount of material, per pound, that they sell each year in New York State.
The manufacturer's website must list locations where consumers may return electronic waste. And those manufacturers providing computers, hard drives, and other CEE with internal memory where confidential data is stored must provide customers with instructions for destroying such data before they recycle the product.
The new law also includes a disposal ban. Starting this April 1, manufacturers, retailers, and those who operate e-waste collection sites can no longer send electronics to landfills. As of Jan. 1, 2012, businesses and municipalities come under the ban. And on Jan. 1, 2015, the ban is extended to individuals and households.
Guilderland residents, starting this Friday, will be able to take their covered electronic equipment to the town's transfer station and leave it there, free of charge. They will no longer have to pay a fee of $25 per item. Regional Computer Recycling and Recovery will pick up the discarded items, dismantle them, and sort and process the pieces.
"The goal of the law," said Greg Weir, superintendent of the Guilderland transfer station, "is to make the manufacturers more aware of the materials they use, and sort of force them to use more environmentally friendly or recycled materials. If they don't, they pay."
That's why New York's law is a good one. The disposal costs are shifted from the consumers to the manufacturers, which should lead them to design electronic equipment that is easier and less costly to recycle. That will mean more re-usable parts and fewer toxins for the Earth.
A similar law for appliances like refrigerators and air conditioners — putting manufacturers on the hook, forcing them to innovate — would be a wise one. The volunteer approach is a worthwhile start and has made some headway but the force of law is needed if we are to save our health and the health of our planet.
---