[Home Page] [This Week] [Classifieds] [Legals] [Obituaries] [Newsstands] [Subscriptions] [Advertising] [Deadlines] [About Us] [FAQ] [Archives] [Community Links] [Contact Us]

Editorial Archives — The Altamont Enterprise, March 17, 2011
---
Protecting athletes' brains
One small test has big Impact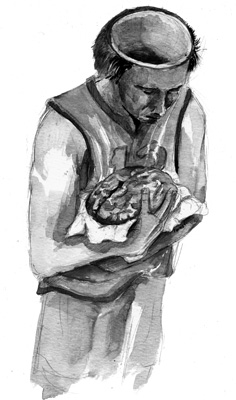 With art by Forest Byrd
Our brains, more than any other part of our bodies, define who each of us are — how we think, what we are able to do, the way we configure our lives. Our brains are vulnerable and worth protecting.
Vessels filled with fluid surround the brain. If someone hits her head hard, her brain compresses into her skull and then bounces back and hits the other side of her skull. This is known as a concussion.
About one in 10 people who suffer a concussion lose consciousness. Other symptoms include being dizzy, throwing up, losing balance, getting confused or irritable, being sensitive to noise or light, having headaches, and losing memory.
Brain injuries that don't rise to the level of a concussion can cause damage, too. Performing autopsies on football players who have died violently, scientists have discovered tau proteins, indicating chronic traumatic encephalopathy, or CTE. The protein is released when nerve tissue in the brain is jarred. Repeated hits to the head, without time for repair, can lead to erratic behavior.
A large number of children and teenagers get concussed playing team sports. In the United States, as many as 3.8 million concussions related to sports and recreation occur each year, according to the Centers for Disease Control and Prevention, which has launched a program called "Heads Up: Concussion in Youth Sports."
It's something we all need to pay attention to. This month, in the midst of a semi-final sectional basketball game, a Berne-Knox-Westerlo senior fell to the floor. Seventeen-year-old Nena Ruiz had suffered her fifth concussion. Her coach did exactly what the CDC recommends — he took her out of play and sought medical attention.
Too often, in the heat of a game, especially an important sectional game, a coach will put an injured player back in, calling it just a "ding." Often, too, the player is eager to return to the action, not understanding the severity of the injury or the danger that could ensue.
"Sometimes players and parents wrongly believe that it shows strength and courage to play injured," says the CDC in its advice to coaches. "Discourage others from pressuring injured athletes to play. Don't let athletes persuade you that they're 'just fine' after they have sustained any bump or blow to the head."
The series of concussions Ruiz has suffered — women are more prone to concussions than men — has already changed the course of her young life. Ruiz wanted to play basketball in college or join the Army, she told our sportswriter, Jordan J. Michael, but her fifth concussion may have stymied those plans. "I already filled some paperwork out for the Army," she said. "But my brain is busted so I don't know if they'll want me."
We know kids aren't going to stop playing sports but we urge those who do, and their parents and coaches as well, to heed the CDC guidelines, insisting that safety comes first: Athletes should be taught the rules of play and techniques that are safe; they should wear the right protective equipment, like a helmet, that fits properly; and they should be aware of the signs and symptoms of a concussion.
School districts as well as recreational teams should develop policies that follow these guidelines, are well publicized, and strictly enforced.
While sports are a great way to stay healthy and learn important team-building skills, the CDC says, "There are risks to pushing the limits of speed, strength, and endurance. And athletes who push the limits sometimes don't recognize their own limitations, especially when they've had a concussion."
A great way to help athletes understand the effects of a concussion is to establish a baseline for measuring their cognitive function.
The Guilderland School District, along with three other Section II schools, has adopted a testing program that we advise others to follow. It is called ImPACT, which stands for Immediate Post-concussion Assessment and Cognitive Testing. Every Guilderland student who plays a contact sport takes a computerized test that establishes a baseline for his or her cognitive functioning. Then, when an athlete suffers a concussion, doctors and coaches alike have a baseline from which to measure the damage.
"We won't put a kid back into play unless he or she is ready," said Regan Johnson, Guilderand's assistant director for athletics. "ImPACT is there to hold a baseline. Say you get a concussion; take the test again and compare. If you are cleared, OK, you're free to go back out there if you're ready."
BKW's Nena Ruiz took an ImPACT assessment after her fourth concussion. She had no baseline to measure against, as her school does not require it.
The situation was different for Guilderland senior Jordan Weeden. He was among the 25 or so Guilderland athletes diagnosed with a concussion since the program started this school year after a pilot program last spring.
Weeden was hit with an elbow during varsity basketball practice and dropped to the floor, dizzy. His father, who himself had concussions playing football in high school and still suffers from headaches, didn't wanted Jordan to play football for that reason. Football causes more concussions than any other sport in America.
Jordan Weeden didn't play basketball for two weeks after his concussion; he had to take the ImPACT test three times before he passed it and was allowed back on the court. "It takes time to heal," he said. "It's like a brain bruise."
The school had a clear guideline, a way of setting limits, to know when he could return to the game.
Adhering to the state's slogan, "When in doubt, sit them out," Guilderland coaches do testing during a game on the sidelines if they suspect a player may have suffered a concussion.
"We've been right on most counts," said Johnson. "It takes the pressure off because the kids want to play. We save them from themselves. It's our job to educate and keep them safe. This is not a question of toughness."
He is right. There is nothing more important than teaching self-restraint to an athlete in such a situation.
The price for the ImPACT software — $425 annually — is well worth the cost. It may be tempting in tough times, when it has been proposed to cut 44 jobs and many valuable programs from the school budget, to see this program as an extra. It is not.
If we put our children on the playing field, we owe it to them to keep them safe and protect their future.
---