[Home Page] [This Week] [Classifieds] [Legals] [Obituaries] [Newsstands] [Subscriptions] [Advertising] [Deadlines] [About Us] [FAQ] [Archives] [Community Links] [Contact Us]

Editorial Archives — The Altamont Enterprise, February 17, 2011
---
Editorial
Good deeds take wing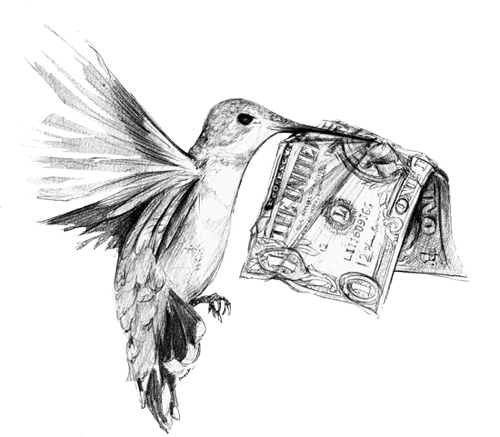 Illustration by Forest Byrd
Can a school teach kindness or caring?
A series of small events this week has convinced us it can. Those are values that may not be measurable in test scores but are the mortar that builds a society.
On Monday, we received a rather timid call from Dana Bonjolo, the mother of a 9-year-old. She said that her daughter, Olivia, has been collecting money for UNICEF. As a student at Pine Bush Elementary School, Olivia got the idea from the Halloween fund-raiser there.
Dana Bonjolo, who works at Carman Wine and Liquor, said her customers had commented on Olivia's hand-crayoned jar on the store counter. "They remembered collecting for UNICEF as kids," said Mrs. Bonjolo. "They didn't know it was still around. They said I should call The Enterprise."
The United Nations International Children's Emergency Fund was created in 1946 to provide food and health care to children in countries that had been devastated during World War II. Children in the 1950s here would, at Halloween, go door-to-door, trick-or-treating not for candy but to collect coins for UNICEF.
The acronym, UNICEF, remains but the program is now called the United Nations Children's Funds and it helps mothers and children in developing countries.
When Olivia Bonjolo got out of school on Monday afternoon, she counted the dollar bills that had been placed in her UNICEF jar. Altogether, she's collected $136.17.
"She has a huge heart," said her mother.
That same day, we heard from a teacher at Pine Bush Elementary School, Megan Doak. She has been teaching for two years and serves as the advisor to the school's student council.
Ms. Doak called to tell us about "a very special little girl" — fifth-grader Emily Lynch. Emily had inspired the others in the student council to hold a fund drive to help a 7-year-old girl, Hannah Hughes, who has leukemia.
Emily's father and Hannah's father work together, said Ms. Doak, and, when Emily found out that Hannah was going to need a bone marrow transplant, she wanted to help. The donor is Hannah's 4-year-old sister, Fiona. The family will travel to Boston Children's Hospital for the grueling procedure.
Pine Bush students have in the past raised money selling lemonade to help fight childhood cancer. Two-and-a-half years ago, Pine Bush second-grade teacher Laurie Haecker told us, "Alex's Lemonade Stand is a legacy left by a little girl named Alexandra Scott. She was diagnosed with cancer. At the age of 4, she had a lemonade stand to raise money to help her doctors…She died when she was 8 years old…My kids felt inspired by her story."
Ms. Haecker also said the project "teaches kids to have empathy…It's children helping children."
Emily Lynch took that idea and made a seasonal application. Rather than selling lemonade, which is thirst-quenching in hot weather, she decided to sell cocoa. Emily came up with the slogan, "Warm your heart for Hannah," as she and her fellow students assembled 300 bags of hot-cocoa mix to sell during school lunch periods.
Because purple is Hannah's favorite color, they wore lavender shirts with a design drawn by Hannah. Emily, who is 11, wrote a poem for Hannah that goes like this:
She's a sweet, smart, smiling girl, who loves the color purple.
She's seven years old and has a sister Fiona who is four.
She loves to color hearts and rainbows, especially when she's bored.
She's the kindest girl in the world; she's brave, amazing and smart.
Hannah has leukemia, and she is doing well.
TEAM HANNAH! We say! TEAM HANNAH! We say!
And she won't have that cancer for long!
We don't believe Olivia Bonjolo will save the many, many children starving to death every day. We don't believe Emily Lynch's spirited fund-drive will bring an end to childhood cancer. What is important, though, is that both girls have, on their own, at a tender young age, stepped up to make a difference, to help others.
We are reminded of a story that Wangari Maathai is fond of telling. She began her Green Belt Movement in the 1970s, urging African villagers to plant trees. Because of her campaign, more than 11 billion trees have been planted, and she was given the Nobel Peace Prize in 2004 for her work.
"I like to tell the story of the hummingbird," Ms. Maathai told the Royal Geographical Society, "because quite often we feel overwhelmed."
It is the story of a huge and raging forest fire, destroying the homes and lives of the many animals that lived there.
"They felt powerless," she said of the animals. "They felt there was nothing they could do. The problem was too much for them — except the little hummingbird.
"The hummingbird said, 'I'm going to do something about the fire.'"
So it flew to the nearby stream, and got a tiny beak full of water. Then, it put a drop of water on the fire and flew back to the stream, repeating this over and over.
The other animals — like the elephants with big trunks that could have brought much more water — belittled the hummingbird and its efforts as futile.
"What do you think you are doing?" they asked.
The hummingbird answered, "I'm doing the best I can."
"For me, and I hope for you, that's all we can do…" said Ms. Maathai. "Collectively, it can make a difference — so be a hummingbird."
We salute Olivia and Emily for being like the hummingbird, and we salute their school for helping them do the best they can. It should inspire us all.
---