[Home Page] [This Week] [Classifieds] [Legals] [Obituaries] [Newsstands] [Subscriptions] [Advertising] [Deadlines] [About Us] [FAQ] [Archives] [Community Links] [Contact Us]

Editorial Archives — The Altamont Enterprise, February 10, 2011
---
Editorial
Attack the heart of the matter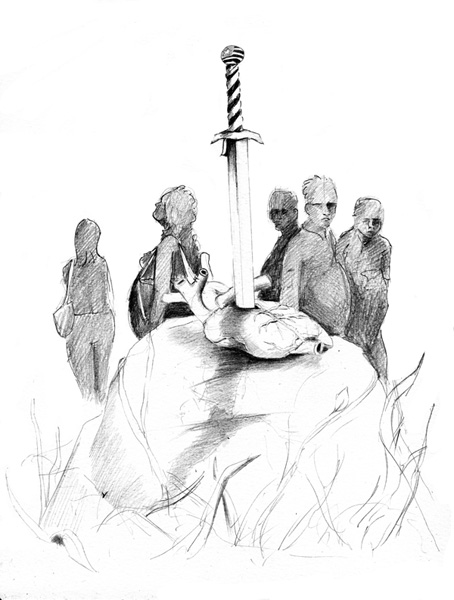 Illustration by Forest Byrd
In February, we send Valentines to those we love. Red paper hearts are everywhere.
The best thing we can do for those we love is pay attention to our flesh-and-blood hearts, the wondrous pumps that keep our blood flowing and our bodies running.
February is also American Heart Month. It's a good time to take stock of our heart health.
The American heart Association stresses seven ways to get and stay heart healthy:
— Get active;
— Control cholesterol;
— Eat better;
— Manage blood pressure;
— Lose weight;
— Reduce blood sugar; and
— Stop smoking.
We know it's easier said than done. But the statistics are stunning. Heart disease is the number-one killer of Americans. The American Heart Association offers step-by-step advice for accomplishing the seven goals. Taking the first step is hardest, but then one step follows another.
This week, we've written about a Guilderland woman who has been named a WomenHeart Champion, after completing a course at the Mayo Clinic. Deborah Flaherty-Kizer is spreading the word that women die from heart disease, too.
WomenHeart: The National Coalition for Women with Heart Disease was founded in 1999 by three women who, in their forties, had heart attacks and faced many obstacles, including misdiagnosis and social isolation. For decades, research on heart disease focused on men.
Women still come up short in the diagnosis and treatment of heart disease, according to two studies recently published in Circulation: Journal of the American Heart Association. One study showed that women have a 50-percent greater chance of being delayed in the EMS setting, and the other that women are less likely to receive the same care as men in the hospital setting.
Flaherty-Kizer stresses that patients and doctors alike need to realize that the typical signs of a heart attack in men — severe chest pain — are often not there in women. She listed these "non-chest" symptoms that women can have: neck, jaw, or shoulder pain; abdominal pain; nausea and vomiting; shortness of breath; or prolonged chest discomfort."
"If you think you're having a heart attack, call 9-1-1," she advised. "Don't delay."
That's good advice, but the lifestyle advice that prevents a heart attack in the first place is equally vital. Flaherty-Kizer herself suffers from a congenital heart disease, Ebstein anomaly, and has led a rich and full life. "You can thrive, not just survive, with heart disease," she says. She swims, takes ballet, and has completed two triathlons.
Flaherty-Kizer urges women to "know their numbers." Did you know, for example, that if your waist measures more than 35 inches, that's a red flag? Equally important is knowing where your cholesterol and blood pressure numbers are and what they should be. Both the WomenHeart and American Heart Association website give guidelines on where these numbers should be and how to get there.
Other numbers put out by the American Heart Association apply to all of us, male and female, thin and fat, sedentary and active. The cost to treat heart disease will triple by 2030, according to a policy statement printed in Circulation. Cardiovascular disease currently accounts for 17 percent of national health expenditures.
Right now, more than one in three Americans — 36.9 percent — has some form of heart disease, including high blood pressure, coronary heart disease, heart failure, or stroke. That number will grow to 116 million, or over 40 percent, by 2030, and the cost of medical care that goes along with it will grow from $273 billion to a whopping $818 billion (both in 2008 dollar values).
That's not even counting the billions of dollars that the association figures we're losing in productivity, estimated to increase from $172 billion lost last year to $276 billion in 2030.
Quite simply, we can't afford it. We can't afford it in dollars spent or lives lost.
Take stock now. Look at your own numbers. If they're too high, resolve today to make changes. It's the best Valentine you can give to those you love.
---