[Home Page] [This Week] [Classifieds] [Legals] [Obituaries] [Newsstands] [Subscriptions] [Advertising] [Deadlines] [About Us] [FAQ] [Archives] [Community Links] [Contact Us]

Editorial Archives — The Altamont Enterprise, February 3, 2011
---
Editorial
Encourage re-use but stop the theft of recycled goods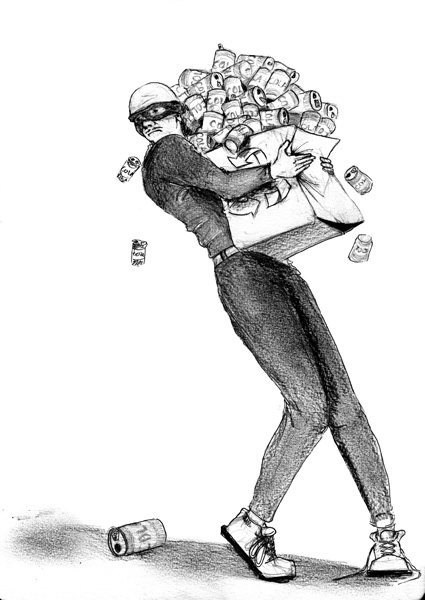 With art by Forest Byrd
We all have something to learn from Westerlo garbage.
Westerlo's waste goes to the Rapp Road landfill. A consortium of municipalities that use the dump, called the Capital Region Solid Waste Management Partnership — SWMP — Planning Unit includes New Scotland, Berne, Knox, Rensselaerville, Voorheesville, and Altamont as well as Westerlo. Guilderland withdrew two years ago and now takes its waste to Colonie, but the town is still affected because its residents feel the ill effects of the dump, including noxious smells
Last year, the state allowed the dump to make its fifth expansion into the environmentally sensitive Pine Bush. It's filling up fast, as the mountain of refuse visible from Washington Avenue Extension shows. There's no plan for where to put our garbage once its full.
Recycling more would reduce the waste and extend the life of the landfill. So it is important for all of us. Recycling is also important for each individual municipality since recycled goods bring in revenue.
A plainspoken and often outspoken councilman in Westerlo, Jack Milner, has raised some worthwhile questions about how that town's transfer station is run. The concerns are twofold. The first centers on a longstanding tradition of swapping used goods; the second centers on allegations of theft. We must distinguish between the two — the first is acceptable and even laudatory; the second is not.
At a town board meeting last month, Milner angered the crowd in the gallery by raising the first issue. Residents defended Westerlo's tradition of swap meets for re-usable items brought to the dump.
"It's a community thing," said Councilman Ed Rash. "For years, I was a great dump picker. When I first got married, that was all the furniture we had in the house."
We have no quarrel with this tradition. Swapping still takes goods out of the waste stream, and is a net gain for the environment since it saves energy to re-use, say, an old metal wash tub rather than melting it down and building another.
However, Westerlo's law should reflect this. We're pleased that the town board is looking at changing the law to allow swapping.
The second matter, theft of goods, is unacceptable. "There are some people that support their income by taking scraps to the port," said an onlooker at January's board meeting in Westerlo. Another said to Milner, "You're depriving the guy that has minimal income…He goes to the dump and brings in a load of steel so he can get more food on this table…Why stop him?"
Why? Because it's wrong to steal. Scrap metal can bring in thousands of dollars for the town, which benefits all of the taxpayers rather than just the individual who steals.
Milner said he'd like to see a new manager at Westerlo's transfer station, and has alleged operator Charles Benninger steals metal and sells it.
"For 28 years, I've been here, and for 28 years, I've taken stuff," Benninger told our reporter, Zach Simeone. "But so has the whole town."
Times have changed. Once refuse was just that; there was no harm in someone making use of another's worthless cast-offs. But now, some recyclable goods, like scrap metal, have value. Westerlo has had a law since 1992 that clearly states recyclable materials brought by residents to the town's waste facility become town property and it's a violation to remove them.
Swapping unused items is very different than hauling off and selling truckloads of metal. The town needs to craft a law that distinguishes between the two, and then that law needs to be enforced.
Another change is that municipalities now have to pay hefty sums to dispose of garbage according to regulations set up to protect the environment. The days of randomly burying waste are over. Money recouped by a town from recyclables can help offset that cost.
Over the past month, we have collected figures from the Hilltowns of Berne, Knox, and Westerlo, as well as from the Rapp Road landfill, and the New York State Department of Environmental Conservation, which show some startling differences among the Hilltowns. For example, the pounds of garbage per person taken to Rapp Road are nearly twice as much for Westerlo as for Berne. We strongly doubt that Westerlo residents generate more garbage; rather, we believe this indicates recycling is less strictly enforced. This means Westerlo residents are paying more — at $52 per ton — to get rid of their waste and, at the same time, are taking in less money from the sale of recycled goods.
Knox is far and away the leading Hilltown for garnering funds from its recycled metal. With just 2,700 residents, Knox got about $11,000 last year for scrap metal. On the other hand, Westerlo, with 3,500 residents, got just $2,430 for its scrap metal. Part of this discrepancy, we believe, is because of the problem of metal in Westerlo being taken and sold by individuals. But part of it is just wise management by the town of Knox. Knox saves money by transporting its scrap metal to a vendor rather than paying a hauler.
Other municipalities can learn from this. It's wise to check regularly for competitive prices and strike the best deal for recycled goods.
A well-run transfer station allows for re-use while ensuring that residents recycle and that individuals don't steal. That's what best serves an entire town and the environment as well.
---